Riding Tips
October 06, 2021
What to Wear Off-Roading
What to Wear ATV or UTV Trail Riding
ATV and UTV riders understandably focus on their machines, yet the outfits they wear for work or play on those quads and SxSs are critical, too. Properly chosen UTV and ATV clothing not only helps keep you safer and cleaner while out off-roading, it also makes hours spent on your vehicle a lot more comfortable.
Let's look at some of the basic considerations that go into choosing trail riding clothes and accessories.
What to Wear Trail Riding for Your Head
A helmet is by far the most essential piece of apparel you should always be wearing when you climb onboard your ATV or UTV. That's true whether or not your state mandates helmet use with off-road vehicles. Safety is a priority out on the trail, and a high-quality, well-fitting helmet can prevent a head injury in case of a mishap.
Always choose an off-road helmet that, at a minimum, meets the safety standards of the U.S. Department of Transportation (DOT). Helmets may also come with a SNELL label, reflecting the even more stringent safety rating issued by the SNELL Memorial Foundation in honor of racecar driver Pete Snell, who died in a crash in 1956.
If your helmet doesn't include a face shield, always wear shatterproof goggles. Make sure they fit with your helmet, and have a seal (typically foam) to keep dust and dirt out while allowing enough airflow to reduce fogging.
We've got a guide specifically focused on choosing the an ORV helmet for your needs, which we urge you read through for more in-depth information.
What to Wear Trail Riding for Your Upper Body
You'll want to wear trail riding clothes you don't mind getting dirty, but that are durable enough to stand up to some hard-core wear-and-tear. Always wear a long sleeve shirt to protect yourself from debris, as well as prolonged sun exposure. A riding jacket or protective vest provides additional protection in case you take a tumble, and protects you from flung debris and other elements while riding.
A good riding jacket should be well ventilated and offer articulation for unrestricted range of movement, and ideally should be water-resistant. Keep in mind it's often a good idea to size up a little with an ATV or UTV riding jacket so you can layer underneath it, particularly if you're planning on doing some cold-weather adventuring. A waterproof riding jacket or a separate, light rain shell will keep you more comfortable in the face of rain.
Check out some padded all-season vests for reinforced upper-body protection here.
What to Wear Trail Riding for Your Lower Body
You might swear by old jeans for off-roading, but there's something to be said for the extra cushion, roominess, and comfort offered by trail riding pants. Remember, whether you're straddling an ATV or seated in a UTV, off-roading involves a lot more body movement than you might suspect. You'll want an outfit you're going to be comfortable sliding and jostling around in for multiple hours and many miles.
Riding pants often come with reinforced padding in the knees, or can be integrated with separate kneepads. Additional padding can help make for a more comfortable ride, as well as be handy for kneeling in the mud or gravel beside your vehicle.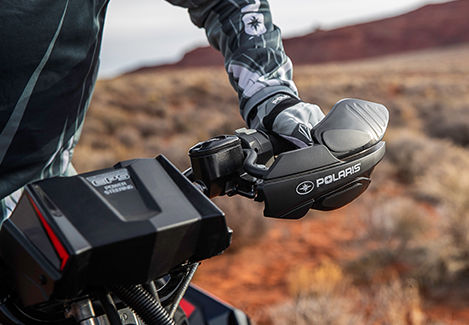 What to Wear Trail Riding for Your Hands & Feet
Riding gloves safeguard your hands against chafing and blisters from extended gripping of handlebars or steering wheels. Additionally, they provide protection from airborne stones and debris, and can provide protection if you're thrown to the ground in a fall or a crash.
Good features to look for in a riding glove include plenty of padding, a solid grip, and adjustable wrist straps for the perfect fit. For warm or hot-weather riding, consider lighter-colored, ventilated gloves. It's always a good idea to keep a pair of waterproof riding gloves in your gear, and these are essential in cold, wet conditions. Winter riders may want to consider snowmobile gloves for maximum insulation and functionality.
As far as footwear goes, you'll want water-resistant or waterproof over-the-ankle boots with good tread for maintaining your traction on or in your vehicle, as well as while scouting out sections of trail on foot, or getting yourself unstuck. Depending on the season and the conditions you're riding in, you may also want insulated boots.
For UTV riders, rugged lace-up work or hiking boots may suffice, while quad enthusiasts may want to consider ATV boots offering extra leg protection.
Wear high, thick, well-cushioned socks with whichever style of riding boot you choose.
Other Things to Wear Trail Riding
In terms of trail riding accessories, a riding bandanna or hoo-rag ranks high up there: This ever-useful cloth can be worn around your neck for extra sun and dirt protection and insulation, and when soaked in water provides a readymade cooling effect on a hot, dusty afternoon. It can also be pulled over your face to protect your mouth and nose from inhaling dust, sand, and dirt.
If you're planning on doing some heavy-duty mudding, waders are also a great idea.
Wearing the right UTV or ATV clothing makes trail riding much more comfortable, enjoyable, and safer. If you find yourself in need of many of the items listed throughout this article, make your way over to our Polaris apparel and accessories pages to get yourself prepared with gear for your next ride.