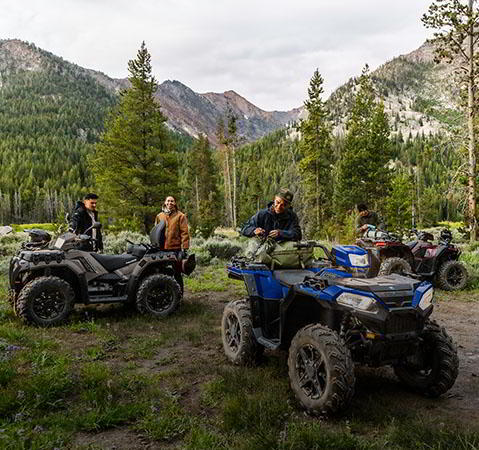 ALL-TERRAIN VEHICLE (ATV) TYPES
ATVs are engineered for everyone who wants to explore beyond the beaten path. Rugged and versatile, they can take on a wide range of terrains—making them ideal for outdoor enthusiasts, farmers, hunters, recreational riders and more. ATVs—also known as quads and 4-wheelers— are known for their compact, 4-wheeled design that delivers unmatched mneuverability and power for whatever thrilling off-road adventure you choose. Although typically created for one rider, some are 2-ups that feature passenger seating in back.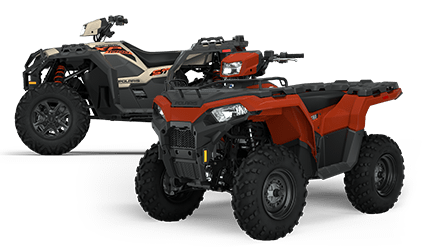 Built to take on task or trail. Rec and utility deliver the versatility, grit and performance you need to tackle tough jobs and thrilling adventures.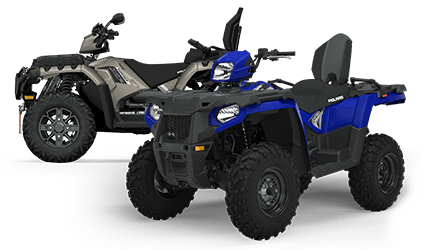 Designed for comfort and with seating for two. With plush seating and ample storage, Touring ATVs provide performance and comfort to discover the trails less traveled.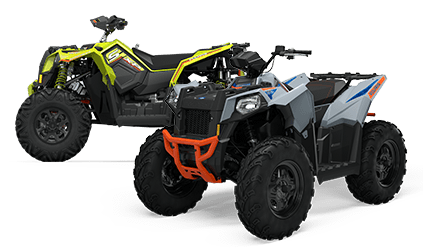 Designed for performance and control. Sport ATVs are a great choice for thrill seekers looking to take on tight turns and conquer virtually any terrain.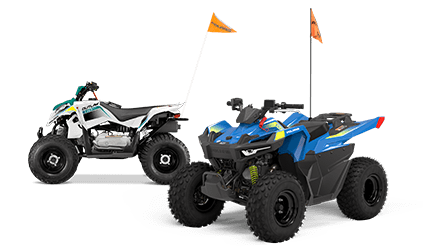 The perfect vehicle to introduce youth to off-roading. Youth ATVs are equipped with parental controls and other features designed to keep kids secure.



Parent Adjustable Speed Limiter
All-Terrain Vehicle Key Features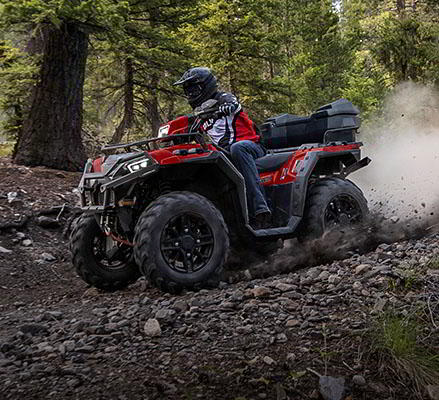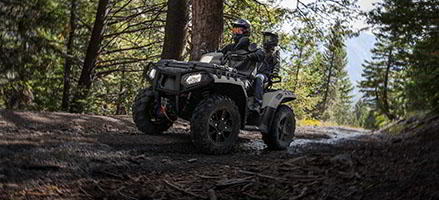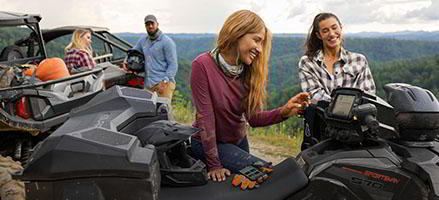 HOW TO CHOOSE THE BEST ATV FOR YOUR NEEDS
ATVs come in a variety of models that cater to a range of performance needs. Wondering how to choose the best one for you? First, determine how you want to use it. If you're looking for an off-road vehicle for work on the farm or ranch, consider a utility ATV. For adventures like trail riding, mud riding and more, a sport or recreation ATV might be the way to go. Check out our guide below to learn more.
1. How Do You Plan to Use Your Vehicle?
---
What's your off-road adventure of choice? Whether it's camping, trail or mud riding or racing across desert dunes, there's a sport and recreation ATV designed for it. For example, narrow ATVs are great for making tight turns, ones with high ground clearance will get you through the mud, and vehicles with ample storage are perfect for packing in your camping gear.
Looking for an off-road vehicle to help get the job done? Utility ATVs are versatile, tough and capable of a tackling a wide variety of tasks. They're typically equipped with a high payload and towing capacity, making them ideal for work on your property, farm, ranch and more.
Do you want company on your adventures? Or, do you prefer to ride alone? ATVs are equipped with one or two seats, depending on the model. Determining how many you want is critical to choosing the best one for you.

Single-seat ATVs have room for drivers only. The most common ATV type, they give drivers the freedom to chase their own thril across trails and other terrains.

If you prefer to ride with a friend or family member, consider an ATV with two seats. Touring ATVs are equipped with a driver and passenger seat lined up in a row.
Looking for an off-road vehicle that can fit more family and friends? Check out UTVs or side-by-sides that can sit up to six people.