Buying Guides
November 25, 2021
Shopping for the Right Off-Roading Helmet
All off-road riders should always wear a helmet – they're the most critical piece of safety gear. In this guide, we'll look at some of the basic kinds of SxS/UTV and ATV helmets, their safety ratings, and the considerations that go into selecting the one for your needs.
Why Wear a Helmet When Off-Roading?
As tempting and easy as it may be to hop on or into your off-road vehicle without a helmet, it's a very risky move. Although riding off road is extremely fun, there is risk of an accident happening. To help prevent head injury, wear your atv or four-wheeler helmet at all times.

A helmet helps shield your head from gravel, dirt, and other material flung up by the tires of riders ahead of you on the trail, or even your own tires. It can also lessen the unexpected impact from an overhanging tree branch on a forest trail, or from an outcrop when you're rock-crawling. Full-face helmets also protect your nose, mouth, or chin from making sudden contact with your handlebars or steering wheel in a severe abrupt stop.

And, of course, a helmet can provide crucial protection if you crash, tip over, or fall off your ORV. Remember, that kind of accident can happen anywhere and anytime, no matter how much experience a rider might have.

Besides their safety benefits, helmets can also cut down on noise and wind while you're riding. Depending on the color and pattern, your helmet can also add extra style to your ride, while making you more visible to other off-roaders.
Do You Have to Wear a Helmet in a Side-by-Side?
It is important to note that even though a UTV's setup is different than that of an ATV, with seat belts or harnesses, doors, and a roll over protection system, Side-by-Side riders should always wear helmets. Depending on the vehicle, you could still be struck by airborne debris, overhanging or trailside branches, or severe injuries in the unfortunate event of a crash or a rollover.

Wear a helmet every time you ride, no matter how mild your adventure may seem.
What Are ORV Helmet Safety Regulations & Considerations?
It's important to study up on the specific ORV regulations in the area you'll be riding. Helmet laws for ATVs and UTVs vary from state to state, but the majority of states have them. The best bet is simply to wear a helmet whenever.

It's okay to spend a little more than expected on a riding helmet. There are plenty of products in everyday life you can save money by choosing lesser quality; UTV and ATV helmets are not one of these purchase decisions. It's worth paying more for high-quality, well-designed protective headgear.

On a similar note, always buy a brand-new helmet rather than pick up a used one. Although buying secondhand can save money, it can be very difficult to tell if a helmet has sustained damage at some point, compromising its protective performance.

Always buy a helmet with the stamp of the U.S. Department of Transportation (DOT) safety standard. Another widely used certification (and even more stringent) is the SNELL rating, named after Pete Snell, a racecar driver who died from head injuries suffered in a crash in the 1950s. You may also see riding helmets with an Economic Commission for Europe (ECE) safety rating. Some helmets come stamped with multiple ratings, in which case all the better.
How Should an ATV Helmet Fit?
Invest some time ensuring a riding helmet you're considering wears properly. A poorly fitted helmet is not going to deliver maximum protection out on the trails. You want the helmet to fit snugly on your head, and not shift about when you move your head up and down or side to side. You shouldn't be able to squeeze a finger between the helmet and your forehead without trouble and wiggling the helmet with your hands should wiggle your cheeks as well. Measure your head at its widest point to get in the ballpark, and try on a few sizes to zero in on the perfect fit.

Unlike some other apparel, there aren't gender-specific fitting issues to worry about with riding helmets. The important thing is that it fits properly. The same goes for youth helmets – the helmet should fit the child's head snugly. Youth models will, however, have their own spectrum of youth sizing.
When Should You Replace Your ATV Helmet?
If your helmet sustains a major impact while you're off-roading, you should replace it with a new one. As we've mentioned, even if you can't see any visible signs of it, the helmet may have sustained impairing damage to its lining or other part of its structure. It's better to be safe than sorry. A helmet that shields your head in an accident has done its job and is ready to be retired.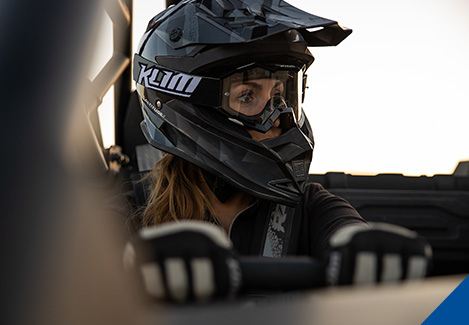 Which Off-Roading Helmet is Best for You?
Choosing a riding helmet for your needs depends on the kind of off-roading you do as well as personal preferences, with an overarching focus on safety first.

Along with the different styles we touch on below, you'll want to consider the helmet's weight. A helmet that is too heavy can put additional strain on your neck after a full day of riding.

Besides the basic design considerations—full-face vs. open-face, there are all sorts of specific features a helmet may offer, including venting, removable mouthpieces, dust masks, and camera mounts for easy recording of your off-road adventuring.
The best option for UTV and ATV riders is a full-face helmet, which extends out in front of your mouth and chin. This offers more robust head protection compared with an open-face helmet.
Open-face helmets lack the mouth- and chin-area molding of their full-face counterparts. These are the classic/traditional motorcycle helmets designed for pavement.
Motocross helmets, originally designed for off-road motorcycle racing, are a sub variety of full-face helmets and make fine choices for UTV and ATV riders as well. They incorporate heavy-duty chin bars and face shields/visors, providing comprehensive protection for your entire head.

Our Polaris riding helmets are all full-face/motocross designs.

Choosing a helmet is important your overall safety and riding experience. There are many options out there, with many things to consider when making your selection. Take this information to help you find a helmet. And remember – always wear your helmet for every off-road adventure.