Best UTV Trails Throughout America
Seek out the best UTV trails in the United States, whether you're looking for easy or expert-level adventures, and routes that emphasize all kinds of terrain. From the slickrock desert of the Colorado Plateau to the northern hardwood forests of the Upper Midwest, you've got a bounty of amazing off-road trails to choose from—and the perfect rigs to ride with Polaris side-by-sides (SxS)!
Different Types of UTV Trails
If you're a beginner rider, it can be a little confusing to navigate your way through all the terminology and regulations associated with off-roading in a Side-by-Side. The easiest way to go is to get in touch with the pertinent land-management agency or private resort where you're thinking about four-wheeling, and ask which trails are open to what vehicles, and when. Some off-road vehicle trails are seasonally closed when riding could promote excessive erosion or conflict with other uses, such as snowmobiling, so it's a good idea to check before heading out.


Because of their greater width, UTVs can't tackle many of the trails that ATVs ride. Narrower side-by-sides, however, such as our trail-ready RZRs can jump on 50" routes right alongside the quads. Most major Recreational Off-road Vehicle (ROV) destinations, whether on public or private lands, offer plentiful mileage for wider UTVs.


Some trails are ATV/ROV-specific, but there are also thousands of miles of multiuse trails and backroads open to off-road vehicles. You may be riding on the extensive trails and tracks maintained on public lands such as national forests, Bureau of Land Management parcels, or county parks and forests. Or you may be taking advantage of trail systems offered by privately run recreation/off-roading resorts.
There are tons of amazing off road vehicle destinations in the U.S.—from the Chugach wilds of Alaska to the sandy tracks meandering through Florida's Ocala National Forest. In West Virginia, the Hatfield-McCoy Trail System tempts with one of the country's most extensive off road trail networks spread out across more than 600 miles of rough-and-tumble Appalachian terrain.


Moab, Utah's slickrock trails are some of the most celebrated—and all-around scenic—anywhere on the planet. Utah also plays host to the acclaimed, 275-mile-long Paiute Trail (parts of which are width-restricted routes), portions of which scrape past 10,000 feet in the high country of the Fishlake National Forest and surroundings. The San Juan Mountain backcountry around Ouray, Colorado also boasts an exceptional off-road vehicle trail network.


Sand lovers have the world-famous playground of the Imperial Sand Dunes outside Glamis, California at their disposal, plus the extensive dune fields of the Oregon Dunes National Recreation Area on the Beaver State's south-central coast, the interior sand-scapes of Oklahoma's Little Sahara Dunes along the Cimarron River, and the Lake Michigan dunes of Michigan's Silver Lake State Park.


The list goes on, but to tighten the focus a bit, here's a profile of just three of the best off-road trails in America.


Poison Spider Mesa (Moab, UT)


The 4WD trail network in the extraordinary Colorado Plateau hinterland of Moab, Utah—one of the world's great adventure outposts—offers some fantastic side-by-side circuits. Among the very best is the legendary Poison Spider Mesa, a sandstone upland rising to 4,700 feet in the meander loop of the Colorado River west of town.


Open to UTVs as well as jeeps, ATVs, and mountain bikes, the Poison Spider Mesa Trail encompasses roughly a dozen awesomely varied miles: You'll motor across soft sand, gritty gravel, and bare slickrock as you climb washes and impressive switchbacks to the heights of the mesa. You'll have great views of the Moab Valley, the rugged fins between the Moab Rim and Behind the Rocks, and the high peaks of the La Sal Mountains to the east. Closer at hand are such landmarks as Little Arch, Jeep Arch, and the aptly named Pig Rock.


You can ride Poison Spider Mesa as an out-and-back, or make a more difficult loop of it by combining it with the Portal Trail.


Besides the moderately challenging 4WD track and the outstanding scenery, Poison Spider Mesa offers some amazing looks—right near the trailhead parking lot—at indigenous Fremont Culture petroglyphs and some genuine Jurassic-age dinosaur tracks in hefty rock slabs.


Wildcat Mountain: Hidden Falls Adventure Park (Marble Falls, TX)


With nearly 240 miles of OHV trails lacing its 3,000 acres of sun-blasted Texas Hill Country, Hidden Falls Adventure Park is one of the premier off-roading areas in the Lone Star State. A side-by-side has the full network of routes open to it, and some of the best—and toughest—await up on Wildcat Mountain in the heart of the park. Multiple trails (and part of Hidden Falls road system) access the peak, including the boulder-strewn and ledge-broken Wildcat Stairway—a full-size trail ranked in the toughest category—and the twisty, ATV/UTV-only Wildcat Trail.


You'll have some nice Hill Country views from the top of Wildcat, but what'll stick in your mind the most are the rocky, rutted tracks down in the rawbone scrub woods on its flanks.


Drummond Island (MI)


Set in the oceanic expanse of Lake Huron, Drummond Island boasts the most extensive closed-loop off-road vehicle trail system in the Wolverine State, and UTVs have plenty of mileage to cruise on these mostly state-owned lands. Deep forests, wildflower glades, and some rugged island ridges await you amid one of the top four-wheeling destinations in the Upper Midwest.
Off-Road Parks and Resorts
In most parts of the country, you don't have to look hard to find parks and resorts that prominently (and sometimes exclusively) cater to off-roaders. Here are only a few examples from different parts of the U.S.:


Hot Springs ORV Park

(AR): home to a varied 1,250-acre trail system
Brimstone Recreation Park (TN): Better than 300 Appalachian trails within almost 20,000 acres
Windrock Park (TN): The biggest privately-owned riding complex in the U.S., with 300-plus miles and 73,000 acres
Black Mountain Off-Road Adventure Area (KY): 150 miles of trails, nearly 8,000 rugged acres
Muddy Bottoms ATV & Recreation Park (LA): Some 5,000 acres of trails and mud bogs (emphasis on the mud)

Durhamtown Off Road Resort

(GA): More than 150 miles of ATV and SxS trails at one of the South's great off-road wonderlands

Famous Reading Outdoors

(PA): Diverse coal-country terrain open to UTVs and a host of other off-road vehicles
Badlands Off Road Park (IL): More than 800 acres of challenging and varied terrain, from rock fields and mud holes to sand dunes
Bundy Hill Offroad (MI): Rough hill climbs, major puddle-jumping, gravel traverses, and more on 300-plus acres.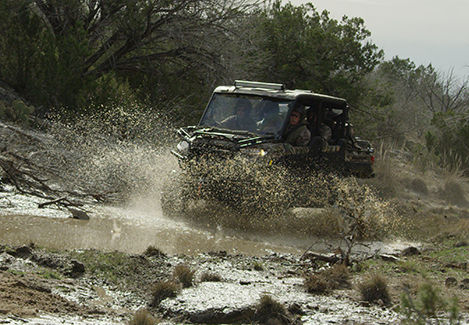 Some riders get altogether hooked on the muddiest, gloppiest, messiest trails, which demand unique skills: You need to know how to keep from getting bogged down, and how to gauge the depth of those murky puddles and pools. Meticulously cleaning your rig, outfitting it with mud tires and snorkels, and wearing waders are some of the nuts-and-bolts of next-level mudding. Many ATV/UTV rallies and events around the country feature mud-bogging competitions, which take center stage at the famous High Lifter Mud Nationals.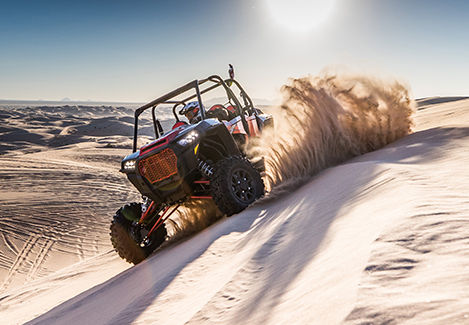 Sand Dune and Desert Riding for UTVs
At just about the opposite end of the spectrum from a mud bog, sand dunes pose their own unique challenges—restlessly shifting dunes, hard-to-read drop-offs and bumps, deep pockets of tire-spinning sand, grit that gets everywhere on your machine.


You'll find rideable dunes not only along ocean fronts, like the Oregon Dunes, but in desert sand seas, along freshwater lakeshores, and in more than a few semiarid interior basins.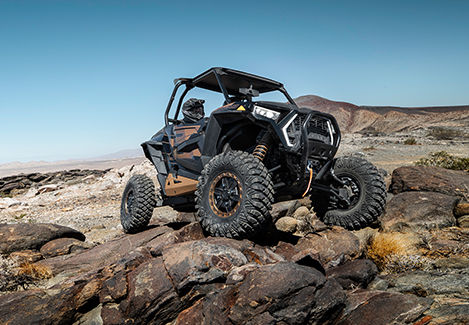 Some can't get enough of dune-surfing, some can't enough of mud-bogging, and some are hooked on climbing, lurching, plunging, and squeezing along the rockiest routes imaginable. You won't be winning any speed records rock-crawling, but you'll still be having a blast. This sub-category of four-wheeling is all about finesse: picking out an intricate course across cobble- or boulder-strewn gullies, maintaining just enough juice to roll across ridiculously uneven ground that'll snag you if you're going too slow and send you through the roof if you're going too fast.
Finding Your Own Legal Off-Road Trail
You've got all kinds of resources for tracking down legal UTV trails in any given area. On public lands, get in touch with the ranger station, land-management office, or whatever other agency or staff are responsible. You should be able to obtain detailed maps and regulations from agency websites and/or offices. Local off-road vehicle groups are another good source of information.


From roaming at will over blazing white sand dunes and slogging through muddy creek beds to beginner-friendly joyrides along wide, level tracks in a shady forest, UTV trail riding encompasses a huge spectrum of settings, terrain, and experiences. With a Polaris SxS, the sky's the limit to your off-roading safaris!


Again, the above list of UTV trails is in no way exhaustive—there's plenty more all across the country—but it should give you some ideas on locations to check out this summer. Find a trail close to home, or a destination trail to pack up and hit with family and friends. And that means plenty of opportunities to strut your stuff with a best-in-class Polaris off-road vehicles.