Riding Tips
November 01, 2021
The Best Safety Tips for ORV Drivers
Having fun on off-road trails or getting a demanding job done are high priorities when using an ATV or UTV, but safety should always be the highest priority. Much of the potential danger of riding can be mitigated by undertaking proper UTV/ATV safety training, making sure your off-road vehicle (ORV) is in good working order, and taking the appropriate safety precautions. Whether you've got a new four-wheeler or a side-by-side (SxS), let's review some fundamentals to operating it safely and responsibly.
How to Be Safe Before Your First Ride
A great place to start for effective learning on how to operate and ride an ATV or a SxS is a reputable training course. Many of which combine online and/or classroom instruction with supervised riding. The RiderCourse offered by the ATV Safety Institute is an example. Even beyond that kind of supervised teaching, there's much you can do to make sure you're ready to safely take to the trails being safely prepared.
What Size ATV or SxS UTV is Right for You?
It's essential to choose the right size machine for a particular rider. This information can be found in the vehicle's owner's manual. When it comes to ATVs, make sure you or other riders can effectively and safely control the vehicle.
For youth riders, start by following the age-group recommendation for an ATV of a given size and keep close tabs on your child as he or she learns the ropes of the vehicle. Look for signs that it may be too much for them to handle, regardless of whether they're considered the appropriate age.
Most UTVs are adult vehicles, meaning the minimum age for operation is 16, with operators having a valid driver's license. For passengers, they should be tall enough to keep their backs flat against the seat back, their feet flat on the floor and their hands on the hand holds.
For youth UTVs, operators and riders alike should be at least 10 years old. These vehicles also have height requirements that the owner's manual outline for each vehicle. Lastly, as a parent, you know best your child's maturity level – this must also be considered when determining if your child is ready to take to the off road.
Both ATV and UTV riders of all ages must wear helmets, which is in many areas even required by law. Even if you're belted in within the cab of an enclosed side-by-side, a crash, collision, or rollover can still result in a head injury—especially if riders aren't wearing helmets.
We've prepared a guide specifically on choosing the right ORV helmet, and we urge you to check it out. To summarize, make sure you select a helmet that fits your head properly, that meets or exceeds U.S. Department of Transportation (DOT) and/or SNELL safety standards, and that hasn't been dropped or involved in a prior accident. Full-face helmets, such as Motocross style, are recommended for off-roaders.
A face shield or goggles provide required and essential additional eye protection to be integrated with a riding helmet. After all, your head may be protected by a helmet, but if dust or sand gets in your eyes, your vision is dangerously impaired—even if just for a moment.
Both ATV and UTV riders must wear sturdy, over-the-ankle boots for the best grip on the footrests and the best protection against rocks, brush, and debris, as well as the heat of your machine.
Long pants and a long-sleeved shirt are also required when off-roading. Riding pants and a riding jacket or vest provide further protection, offering insulation and protective padding while enhancing comfort; you can also add elbow, shoulder, and knee pads and/or chest protectors to your outfit for bolstered security. Rainwear or heavier-duty shells may be advisable depending on the weather conditions and season you're riding in.
Riding gloves - also required - improve your grip and protect your hands against chafing, debris, and the strain of your ORV's vibration.
Inspection of Your Off-Road Vehicle
Whether it's your first or your fiftieth ride on an ATV or UTV, always thoroughly assess your vehicle before setting out. Pre-ride inspections can reveal malfunctioning or damaged vehicle components, low fluids, and other issues that could get in the way of your day on the trails.
Check your tire pressure and visually inspect tires for wear, punctures, and other issues; ensure wheel and axle nuts are tight, and try to rock tires to pinpoint loose fasteners or worn bearings. Make sure all lights, switches, and gauges are operating correctly. Check fuel, lubrication, and coolant levels, and look for any signs of leakage. Check throttle adjustment (if applicable), shifter, and brakes.
Give other fundamental parts of the system—from the drivetrain and suspension to cargo racks and boxes—a once-over to identify any potential loose parts, breakage, or other problems.
The owner's manual for your ATV/UTV contains a pre-ride inspection checklist to use each time you ride so you're always covered. This is one of those simple steps that can pay off big time in terms of warding against preventable vehicle breakdowns and injuries.
Understanding the Controls & Parts
Make sure you understand the basic operation of your ATV or side-by-side UTV before you start it up. Don't assume you know how to operate an unfamiliar model just because you may have experience on another vehicle. There's quite a bit of inherent variation in how ORVs are designed, and furthermore every vehicle drives differently and has its own feel that you'll need to be familiarized with.
Study the owner's manual and take the time to practice in a safe, level, accessible area so you're comfortable with your machine before you take it on a full-length ride. When it comes to younger operators, it is helpful to let them explore the machine under your close supervision.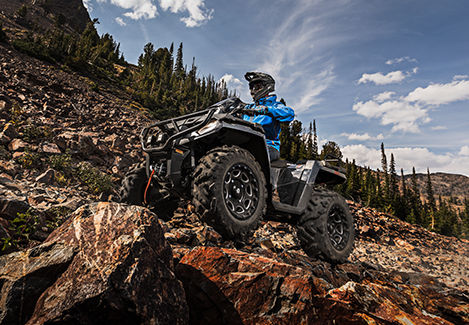 Riding Techniques for Off-road Beginners
In addition to the tips mentioned above, make sure you put in the requisite practice hours. Don't rush things. Build a foundation of techniques and troubleshooting, and you'll have laid the groundwork for advanced riding in due time.
As previously mentioned, practice in a level, well-graded, obstacle-free area first where you can get to know the feel and response of your wheels in a safe environment.
Both on the practice ground and on your first few trails, err on the side of slower and steadier riding. For starters, you need to become comfortable with your ATV or UTV on manageable, beginner-level trails. If you're new to ATVs, for example, it takes time to master the art of using your body weight when making turns.
There are specific beginner's tips, such as not locking your elbows when wrangling a four-wheeler and being light on the throttle or the gas pedal. You'll get to the stage of more advanced riding skills, but focus on the fundamentals first—and take safety seriously. Being reckless can quickly translate to injury to yourself or somebody else; the chances of such an incident are reduced if you approach learning how to ride a particular ORV via a careful, step-by-step process.
If you plan on off-roading in backcountry or otherwise remote places, remember to bring fluids (not fuel or other flammable liquids), spare spark plugs, and vehicular essentials. Basic emergency supplies such as extra food and water, blankets, fire-starting materials, backup communication/signaling tools, and a first-aid kit are also recommended.
Understanding What Type of Terrain to Ride In
By its very nature, off-roading involves understanding different kinds of terrain. Learn which ORV, tires and other modifications are required to tackle different terrain types. Keep in mind that using the wrong setup for the riding terrain can hinder your vehicle's performance.
Also, technique-wise, different landscapes call for different kinds of riding. You'll want to achieve base-level off-roading competence before tackling difficult-rated off-road trails or specialized terrain such as mud pits or dunes.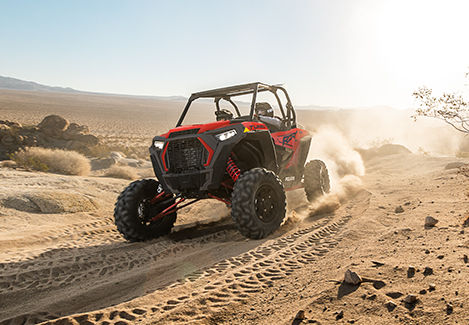 How to Sit Correctly on/in an ATV or UTV
Proper seating position is essential for effective riding on a four-wheeler. With experience, you'll learn when it's best to "stand" while operating an ATV to more effectively employ your body mass for stabilizing the ATV and negotiating turns. Avoid locking your elbows on an ATV to prevent painful, potentially damaging stress to your joints and your hands.
Make sure you're able to sit comfortably on your ATV or in your SxS while being able to reach all controls without straining. UTV seats should be adjusted to allow for comfortable distance to the pedals, and a relaxed driving position with elbows bent. Doing so will allow for a more comfortable experience, avoiding shoulder tightness that may result from a long day of tense riding. Passengers should also be able to comfortable hold on the grab bars in a relaxed driving position without locking their elbows.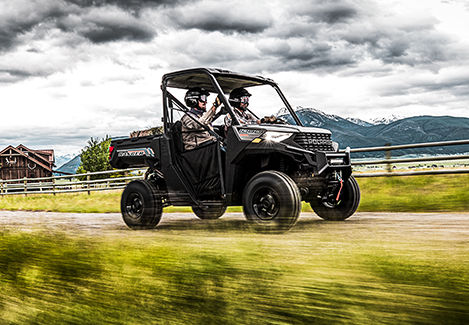 Things to Avoid When Off-road Riding
Many off-roading hiccups are due to recklessness, overestimating your abilities, and/or unawareness of your surroundings, off-road rules, and what others in your riding party are doing. Here are two especially common mistakes that compromise ORV safety and put you and others at risk.
Resisting the urge to drive at excessive speeds throughout every ride is one of the most important components of SxS/ATV safety. At high speeds, you have less control, and obstacles appear in your path with much less warning. Turns are more difficult to execute, ruts and potholes pack a much bigger punch, and momentum can more easily get the better of you. Get a feel for the machine a low-speeds to understand how it reacts under various conditions. Avoid driving beyond your skillset; drive at comfortable speeds to allow you and your group to enjoy the riding experience.
Not Knowing the Laws & Regulations
Always verse yourself in the ORV rules and regulations for a given location. These laws are not only meant to protect you, other users, and the environment: They also help protect that the ability to off-road will be allowed to continue in a particular place. Ignoring regulations can get yourself or somebody else hurt, land yourself a nasty fine, and potentially impede riding opportunities for others in that area.
Never Lose Sight of SxS/ATV Safety
Whether or not you're new to off-roading, it's essential to recognize its inherent risk every time you get on or in your ORV. Your safety, and the safety of those around you, is paramount. Learn the ropes, stay cognizant of the riding situation and conditions at all times, and, of course, have fun!