Recreation
April 07, 2020
The Best ATV & SxS/UTV Trails in Minnesota
From the iconic Iron Range in the northeast to the thousands of lakes that dot the central region to the rolling bluffs along the Mississippi river, there are thousands of miles of ATV and UTV trails in Minnesota. The robust trail system incorporates miles of trails, many of which are found in national and state forests and parks. No matter your riding style or skill level you'll find wooded trails, recreation areas, picnic areas, road trails and everything in between. In addition, the Minnesota Department of Natural Resources has resources to learn more about specific ATV an SxS/UTV rules and regulations, trail fees and passes, registration, safety training and trail maps.
Named after a term once commonly used to describe railroad crews, the Gandy Dancer is also the name of a 98-mile trail that traverses Minnesota and Wisconsin. With border crossings in Nemadji and St. Croix state forests, what the trail lacks in twists and turns, it more than makes up for with state forest access and variety of scenic landscapes and wildlife.
The Foothills State Forest hosts this network of trails open to all classifications of off-road vehicles. With a diverse array of terrain and trail types, the Spider Lake trail system offers multiple camping sites including sites adjacent to the lake. Trails are open year-round but be sure to check for restrictions on snowmobile trails by visiting the Minnesota DNR website.
A 25-mile stretch of trail linking the cities of Chisholm and Side Lake. With terrain featuring hills, tight corners, and a backdrop of mature pine and hardwood forests, take a break during your ride at the recently completed trail shelter. You can also ride directly into the town of Chisholm and take advantage of the easily accessible food, fuel and lodging options.
With trails twisting their way through the bluffs of the Richard J. Dorer Memorial Hardwood Forest, this riding area borders the Mississippi River Valley and serves up some of Southern Minnesota's most scenic vistas and overlooks. With limestone outcroppings and a 300-foot climb, the Snake Creek Trail accounts for 13-miles of ATV and side-by-side trails in Minnesota and they are as challenging as they are beautiful.
Located in the incredibly beautiful Arrowhead region of the state and near the town of Grand Marais perched on the rocky shores of Lake Superior, this new 20-mile loop allows ATV and side-by-side riders to explore the historic roads and trails within the Superior National Forest. At the heart of the trail system are Timber, Frear, Elbow, Finger and Whitefish lakes which are sure to provide ample opportunities to see wildlife.

With trails nestled within 40-acres of maple, elm, ash and oak trees, riders can enjoy 4-miles of designated ATV trails, a mud pit, on-site restrooms, picnic area and shelter. What it lacks in sheer volume of trails it makes up for in amenities making it a perfect day destination for families.
Regarded as one of the most popular off-road trail systems in Minnesota, the Red Top loops are located off the Soo Line South Trail, another rail to trail conversion. Technical in nature, these trails will challenge all skill levels and include rocky sections, steep hills and marshy low-lands. Those who want to simply sit back and take in the scenery, the sandy main trail is perfect for beginners. In addition, this riding area offers sand and mud pits with an accompanying trail shelter near Bergman Brook and a campground by the Snake River.
Situated between the Mississippi river valley to the east and fertile farmland to the west the rolling bluffs of southeastern Minnesota mark at an area of the state untouched by glaciers and home to some of the most scenic ATV and SxS trails in Minnesota. Trout Valley delivers a twisting 9-miles of trails that skirt the edges of these bluffs and deliver incredible views and a mixture of challenging terrain. Nearby towns of Kellogg, Minneiska and Winona offer up food, fuel and lodging, or you can choose available campsite adjacent to the Trout Valley Trail parking lot.
Located in the densely forested Nemadji, St. Croix and Chengwatana State Forests, the trail system delivers a robust 47-miles of trails and a vast array of amenities including two parking lots, camping and restrooms. There's also accessible food, fuel and lodging nearby. Thanks to the ride area's location and expansive forests, chances are high you'll see deer, fox, porcupine, black bears and if you are lucky a bobcat.
Covering some of the state's most gripping terrain, this challenging trail includes rocky gorges and granite walls as you ride along the Laurentian Divide. Not for the weak of heart, this slow crawl often requires a winch, big tires and friends to help you navigate this heart pounding trail.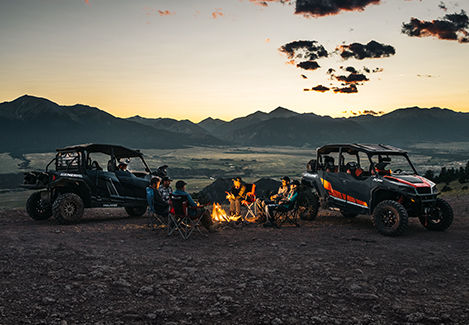 With Minnesota being home to Polaris, one of the industry's biggest manufacturers of ATVs and SxS UTVs, it's really no surprise the state is home to some of the best ATV and UTV trails anywhere. With trails that crisscross the varied terrain, explore rugged forests and trace historic routes, your ATV or SxS adventure is just a few clicks away. Visit the Minnesota Department of Natural Resources for rules, regulations and further trail information and also check out the All-Terrain Vehicle Association of Minnesota for more insights on the best ATV and UTV trails in Minnesota.