Buying Guides
November 01, 2021
What are the Different Types of Transmissions on Off-Road Vehicles?
When it comes to ATV and side-by-side transmissions there are as many ways to propel an off-road vehicle forward as there are names. Whether you call them ATVs, quads, four wheelers, UTVs or side-by-sides, the type of transmission you choose is often determined by how you will use the ATV or SxS UTV and your riding style and passion. From automatic off-road vehicles to off-road vehicles with gears or the popular CVT transmission, understanding the different types of UTV and ATV transmissions will help you find the right one for you.
CVT Transmissions on ATVs and SxS Vehicles
The Continuously Variable Transmission, better known as a CVT transmission has become one of the most predominant ATV and SxS UTV transmissions since Polaris Industries popularized the design with their first ATV in 1985. Polaris was already well versed in CVT technology through decades of industry-leading performance with their snowmobiles, the tunability, ease of use, simplicity and performance advantages of the CVT transmission were simply too good to ignore. Soon, Polaris was recognized as not only the pioneer of CVT transmission in the off-road industry, but the clear leader as well. Today, the CVT transmission is arguably the most popular amongst all types of users and in all kinds of applications, and Polaris continues to set the benchmark. Similar to an automatic transmission, the CVT transmission utilizes a drive and driven clutch system connected by a V-belt drive. The Continuously Variable design ensures the ATV or UTV is always in the "right" gear and the engine RPM is in the heart of the powerband to deliver optimum power to the ground at any speed and in every application.
What type of activities are good for a CVT transmission?
The CVT Transmission is a popular ATV or UTV transmission choice for any user but is especially appreciated by rec/utility ATV and SxS vehicle owners. Ideal for slow vehicle precision or repetitive chores such as plowing snow, the simple accelerate and go architecture and ease of maintenance has made the CVT Transmission one of the most popular transmission types for just about any ATV and side-by-side rider. Hunters, outfitters, ranchers and landscapers love the smooth and predictable acceleration a CVT transmission delivers, even when the vehicle is loaded with cargo or occupants. What's more, thanks to the CVT's ability to always be in the "right gear" automatically, there's no need to shift gears or find the sweet spot in the powerband when traveling over rugged terrain, mud or hills. Equally appreciative of the CVT transmission are recreational trail riders. With instant acceleration and optimum power always getting to the ground, the CVT transmission extracts maximum power and efficiency while delivering performance, fun and reliability in an easy to use design.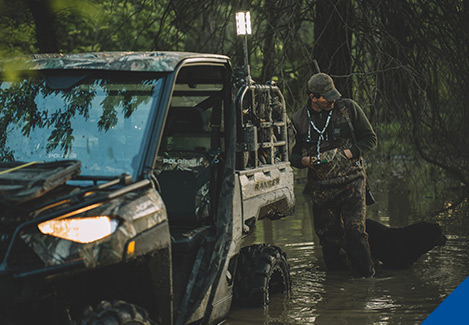 Manual Transmissions on ATVs and SxS Vehicles
As the name implies, this type of ATV and UTV transmission requires the user to manually select the gears and actuate the clutch which disengages the power momentarily between the engine and the transmission. Often found on sport quads and sport side-by-sides, especially those designed for racing, a manual transmission can be very effective in getting maximum power to the ground but requires a higher level of driver experience and skill, especially in situations where multiple gear changes are required to maintain maximum power in challenging terrain. Unlike a Polaris CVT transmission, where optimum power and torque are automatically delivered, a manual transmission requires the driver to understand power curves and to manually select the "right" gear for any given speed and terrain.
How to shift a manual transmission?
Similar to a manual transmission in a car, operation requires an understanding of an engine's power band as well as a basic understanding of power flow from the engine, through the transmission and eventually to the wheels. Each gear in a manual transmission delivers a different ratio of mechanical advantage. The lower the number or gear, the greater the ratio advantage. First and second gear for example in a manual ATV or SxS transmission are geared for low speed, giving the engine a ratio advantage to get the ATV or UTV moving. To shift requires selecting the gear and releasing the clutch while gently applying throttle. As a rider "shifts" gears up or down, the clutch must be disengaged and engaged in partnership with reducing throttle and reapplying as each new gear ratio selection is made. This need to "synchronize" throttle, clutch and gear selection is what makes a manual transmission more difficult to learn and why a CVT transmission has become the most popular in the industry. When a manual ATV or SxS transmission is executed properly, it can be very effective in delivering maximum power to the ground with minimal loss, provided the user is a highly experienced operator.
What type of activities are good for a manual transmission?
A favorite amongst racers as well as experienced ATV or UTV riders who enjoy the additional user engagement and activity required by a manual ATV or UTV transmission. This is also a transmission found in early sport quad designs.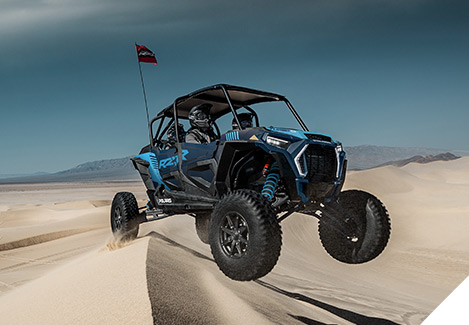 Automatic Transmissions on ATVs and SxS Vehicles
There are many types of automatic ATV or UTV transmissions, in fact a CVT transmission is also referred to as an automatic transmission. As a general rule, any ATV or SxS UTV that can automatically shift gear ratios either through a CVT transmission or a wet clutch transmission design is often referred to as an automatic ATV or SxS vehicle. In this type of automatic transmission, the user simply actuates the accelerator and a single wet clutch connected to the engine engages and delivers power to the rear wheels through a series of fixed gears. While the operation is similar from a user's perspective to a CVT transmission, this type of automatic transmission is often found in lower performing ATV and UTV designs and lacks the tuning capabilities of a CVT transmission. This ability to tune and the high-performance capabilities of a CVT transmission are just two of the reasons why the technology continues to lead the industry and remains the preferred choice of off-road enthusiasts.
What type of activities are good for an automatic transmission?
With a ride experience similar to a CVT transmission, the automatic transmission is popular with recreational and utility riders alike in both ATV and UTV applications. The simple operation makes it perfect for first time riders and new comers while still being a favorite amongst hard core enthusiasts.

Understanding the nuances between the different types of ATV and UTV transmission will allow you to select the right type of transmission for how you ride, where you ride and how you use your ATV or UTV. From CVT transmission to automatic ATV and UTV transmission designs to the gear and clutch attributes of a manual ATV transmission, there's one that's right for you.