Buying Guides
June 02, 2023
Introduction to Off Roading: Beginner's Guide to Exciting New Outdoor Adventures
Have you ever seen a couple of off-road vehicles kickin' up some dust on a trail as they flew by and thought to yourself: "Wow! That looks like fun"? Then this is a great start to getting you out there on your own. We'll cover some of the basics of off-roading, what you can do on off-road vehicles and how they've become a gateway to outdoor adventure with family and friends.
Choosing Your Off-Road Vehicle
Let's assume you're coming in fresh. Maybe you don't have a lot of background on these vehicles and their options. These are highly specialized machines designed to help you hit the off-road or boost your productivity around your property. If you know a little about them already, keep reading. You'll get a great refresher on why these popular rides are so rugged, reliable and increasingly more comfortable.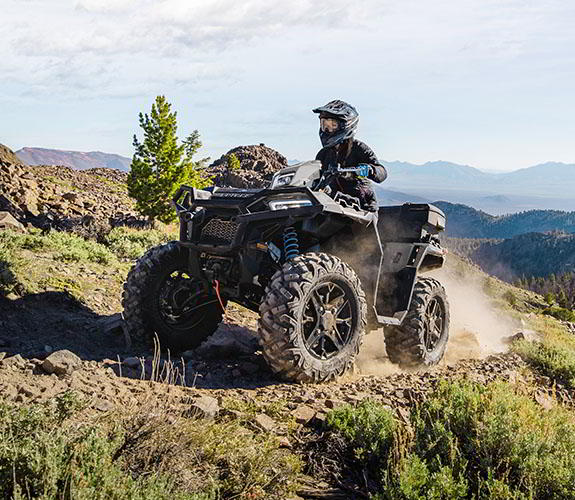 These are one-seaters (sometimes two-seaters) with four wheels planted on the ground and handlebars to point you where you want to go. A great example is the Polaris Sportsman. It creates an open-air experience with no cab around you and confidence-inspiring all-wheel drive that pushes traction to all four wheels. Its active riding experience invites you to ride with the terrain–shifting your weight and center of gravity as you go. And while an ATV has a solo feel to it, you'll often see ATVs riding in groups of two or more.
Why People Choose ATVs and 4-Wheelers
One of the primary reasons people gravitate toward ATVs is the active riding experience we just described. It's personal and keeps you connected to the world around you, engaging your whole body and all of your senses. They're also small and nimble, allowing riders to navigate heavily wooded areas and extremely narrow trails on their way to a remote campsite, favorite fishing hole or a portion of their property where larger vehicles simply aren't practical. Since they are smaller than other off-road vehicles, they also tend to cost a little less, making them a great entry into off-roading for beginners.

For more information about ATVs and 4 Wheelers, check out our ATV Buying Guide.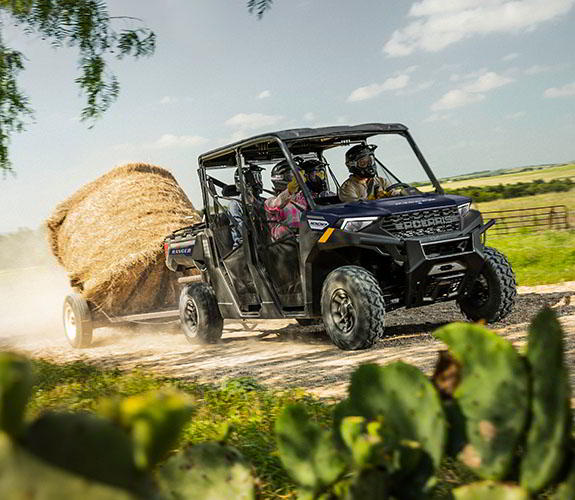 UTVs and Side-by-Sides (SxS)
The terms UTV and side-by-side are often used interchangeably. These vehicles have a traditional steering wheel and at least 2 seats positioned side-by-side —although they can have as many as 4, 5 or 6 seats depending on the model you choose. Vehicles with more than 2 seats are sometimes referred to as CREW cabs. The cab around you provides added protection from the elements, more comfort features and more storage than an ATV can offer. Cabs can be enclosed with windshields, plus heat and AC can be added on some models. All Polaris vehicles come with on-demand all-wheel drive to overcome obstacles and tough off-road terrain.
Why People Choose UTVs and Side-by-Sides
As mentioned earlier, one of the primary advantages of a side-by-side is the extra space it gives you. More room for you, your friends and everything you want to bring along. This extra space makes them powerful recreational vehicles for activities like camping, hunting, trail riding and more. Some vehicles, including the Polaris XPEDITION, can enable adventures like kayaking or mountain biking with added mounts and other accessories. Side-by-sides are also perfect for those who need a workhorse around their property. Vehicles like the Polaris RANGER have added work capabilities like a dumping rear cargo bed to haul tools, supplies or a heavy load of wood.

For more information about side-by-sides and UTVs, check out our Side-by-Side Buying Guide.
Off-Roading Inspiration To Get You Started
Heading off-road is a gateway to the outdoors. It opens up so many possibilities for whatever you love to do. Here are just a few of the more popular off-roading activities and vehicles that are perfectly suited for them.
If your idea of roughing it is getting away from others or staying out for days on end, an off-road vehicle can get you out beyond the trailhead with all your gear.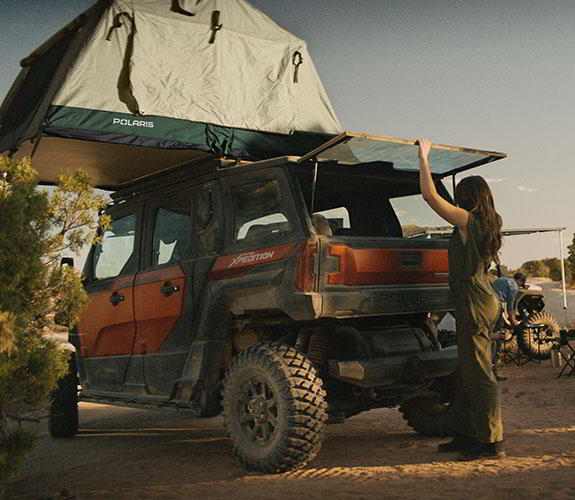 Ideal Vehicles: Polaris XPEDITION, RZR, GENERAL or Sportsman
This all about getting out into the outdoors and going for a ride with friends and family. It's fun, it's scenic and sometimes thrilling.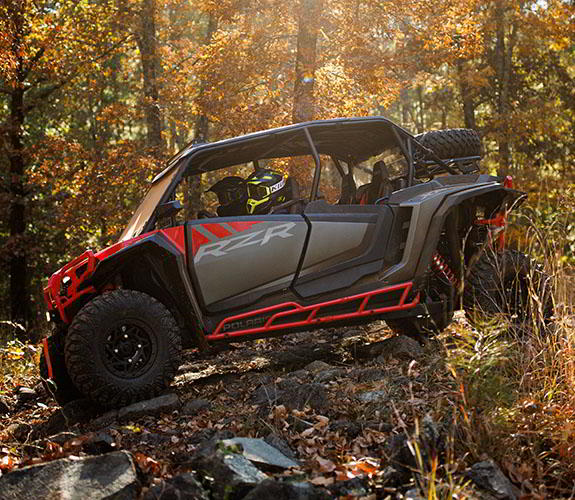 Ideal Vehicles: Polaris XPEDITION, GENERAL, RANGER or Sportsman
It's not always about the ride. Many people use their off-road vehicle to enable their favorite activity, including hiking, mountain biking and more.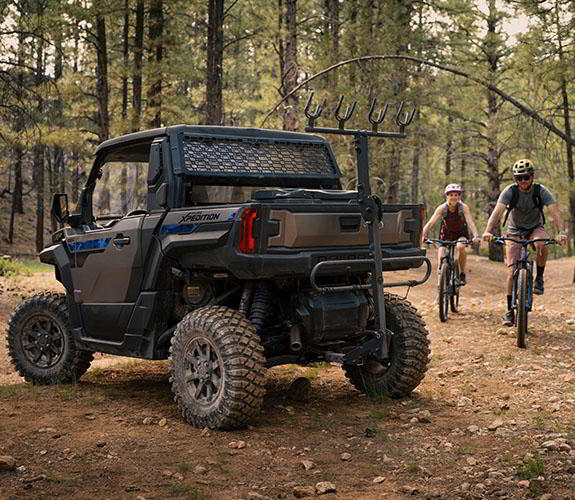 Ideal Vehicles: Polaris XPEDITION, RZR, GENERAL or Sportsman
Want to reach remote lakes and streams that are virtually untouched by others? 
A side-by-side or ATV is your ticket to getting there with all your supplies.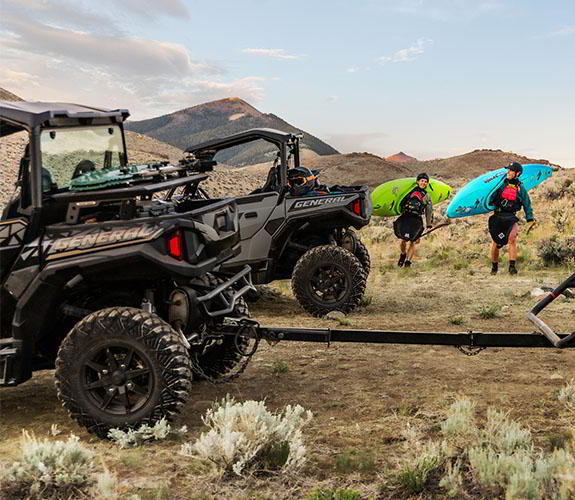 Keeping your property pristine can take a lot of work. Several off-road vehicles are built to help you haul in supplies and handle each task with ease.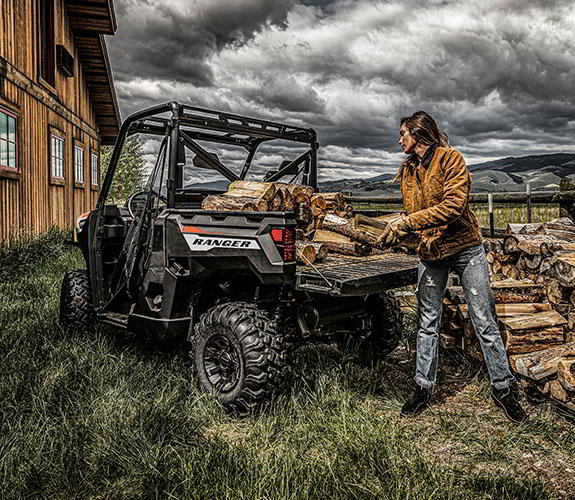 Ideal Vehicles: RANGER, GENERAL or Sportsman
Off-road vehicles with their hardy work ethic are the backbone of many agricultural operations and a big help with moving livestock.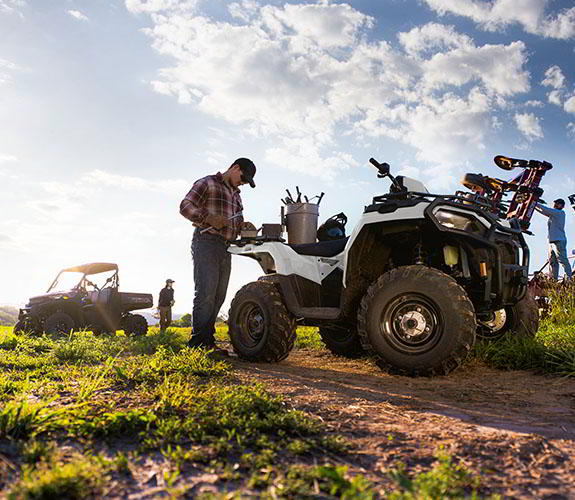 Ideal Vehicles: RANGER or Sportsman
Getting to where the hunting is good and game populations are more dense often requires putting a little distance between you and other hunters out there.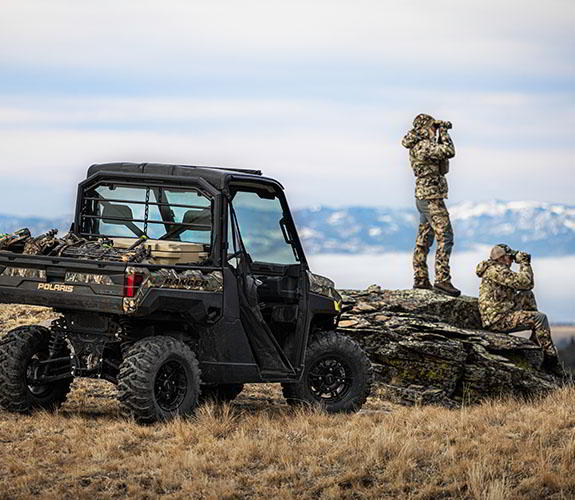 Ideal Vehicles: RANGER, GENERAL, Sportsman or Polaris XPEDITION
Looking for some fun, sun and sand? Then dune riding is the popular thing to do. It's an epic thrill ride meant to be shared with friends.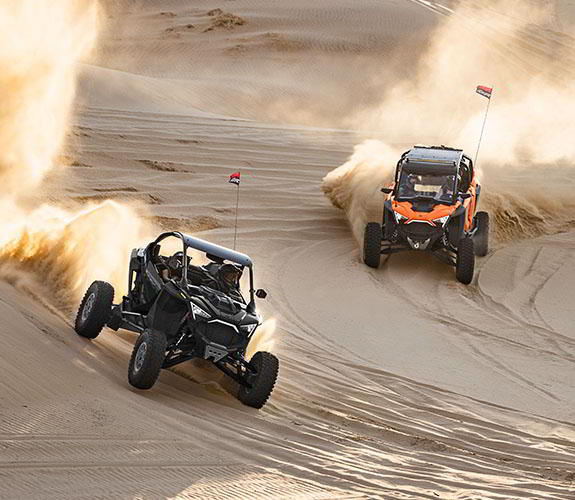 Ideal Vehicles: RZR or Sportsman
Things You Will Need When Off-Roading
The vehicle you choose will be one of the biggest decisions you'll face in off-roading. But before you head out on your new ride, you'll want to consider a few other essentials that will make life a whole lot easier and much more comfortable.
Essential Off-Roading Gear
Heading off-road is going to mean you'll be facing some mud and dirt, so it's important to dress and prepare appropriately. Long sleeve shirts, pants, gloves, goggles, a helmet, and over-the-ankle boots are essential riding gear to own.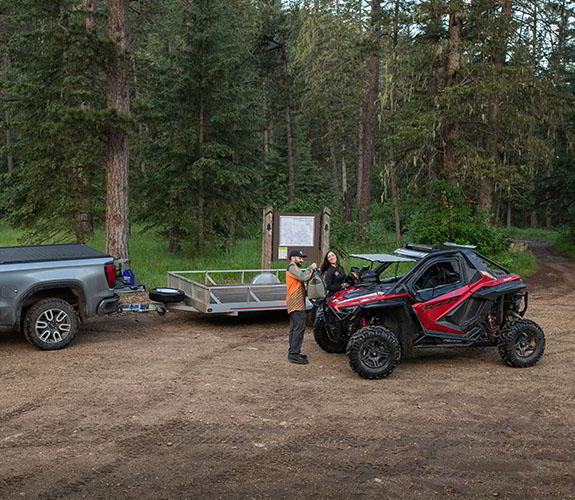 Loading and Hauling Your Off-Road Vehicle
Think about where you plan to ride. Few people are lucky enough to have a trailhead right outside their door. An ATV or side-by-side trailer can help you haul your vehicle and securely for whatever activity you have planned. Check out this article about the different trailer types you might want to consider.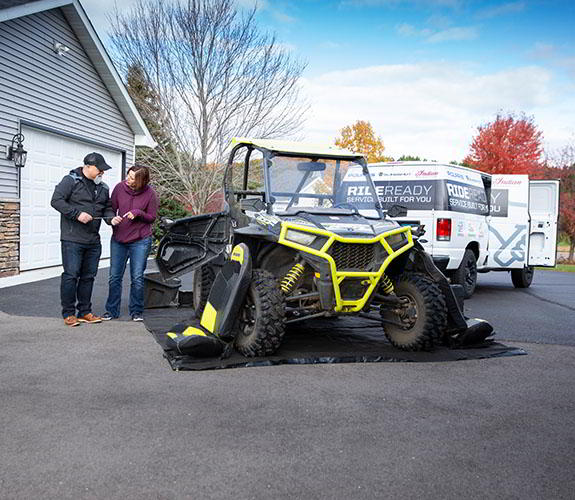 Insurance for Your Off-Road Vehicle
A new off-road vehicle is an investment in your outdoor lifestyle. Make sure you're covered if the unexpected occurs. You can protect your off-road vehicle just like you do your car. Polaris has partnered with Progressive Insurance to make getting a quick quote easy.
Once you have the vehicle and gear you need, it's important to familiarize yourself with some off-roading basics—including safety and etiquette. Protecting yourself and being good stewards of the land we operate on will help make sure this powersports activity keeps going strong.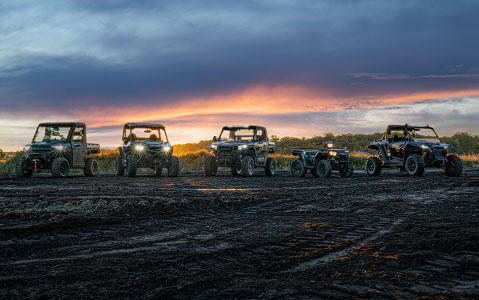 Heading off-road can be one of the most enjoyable and rewarding experiences for outdoor lovers. It brings families together, forges friendships and often makes life a whole lot easier. Best of all, it brings the incredible magnitude of the wilderness around us a little closer to home. We can't wait to see you out there.

Unless noted, trademarks are the property of Polaris Industries Inc.
© 2023 Polaris Industries Inc.