Riding Tips
October 29, 2021
Youth ATV and SxS Safety Guide
Important Tips and Essential Riding Gear for Kids
Four-wheeling can be a great activity for kids, and giving them their own ride is a fun way to get them out of the house, off their screens and enjoying the outdoors with you. Of course, the first thing on your mind when getting your child involved in any off-road activity is providing for their safety.

In this article, we'll help you find safety courses in your area, choose the right protective gear such as finding a helmet that fits, and other essentials like goggles, gloves, boots and more. Plus, we'll share some of the latest safety features available on some youth 4-wheelers and side-by-sides designed for parent peace of mind.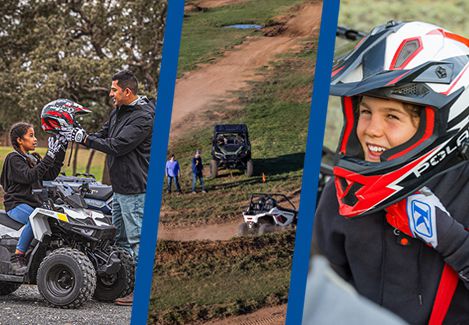 Youth ATV & SxS Safety Courses & Training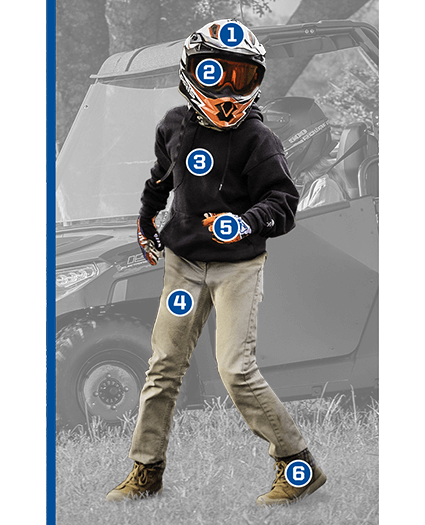 Proper riding gear is important for any rider, but it's a critical component to youth safety. As a parent or guardian, you'll not only want to ensure your young rider has all the gear described here, but also ensure its proper fit. Poorly fitting clothing can minimize its protective capabilities, restrict movement and even obstruct vision.
Protective gear reduces the chance of injury.
The driver and passenger must wear:



Helmet



Eye protection



Long-sleeve shirt



Long pants



Gloves



Over-the-ankle boots


For more information about what to wear when riding off-road, check out what to wear when off-roading.
ATV & SxS Helmets for Kids
Wearing a helmet is crucial for any rider, including you and your kids, and can prevent severe head injury. Whenever your child is riding in or is operating an off-road vehicle, they should always wear a helmet that meets or exceeds established safety standards. Always buckle and pull straps tight to ensure the helmet is secured. Parents and supervising adults should verify that the provided helmets fit properly. If a helmet doesn't fit, get a new one in the right size. Approved helmets in the USA and Canada bear a U.S. Department of Transportation (DOT) label.
Check out our helmet buying guide to find their perfect fit, and yours.
Riding Goggles or Protective Visor for Kids
It's important that you do not depend on kids' eyeglasses or sunglasses for eye protection. Whenever your child is riding in or driving an off-road vehicle, they should always be wearing shatterproof goggles or use a shatterproof helmet face shield to protect against everything from flying debris to dust that can obscure a driver's vision. We recommend wearing approved Personal Protective Equipment (PPE) bearing markings such as VESC 8, V-8, Z87.1, or CE. And of course, always make sure their protective eyewear is kept clean.
Long-Sleeve Riding Gear and Long Pants for Kids
It should come as no surprise that long sleeves and long pants are part of the safety package for youth off-roading. Like boots and gloves, they help keep the rugged elements of the off road from hitting their skin. They also provide protection from the sun, wind, cold weather and other elements they may encounter while riding. The good news is that there are plenty of great off-roading jerseys and apparel that let them establish and show off their own off-roading style.
Even under moderate speed, a 4-wheeler ATV or side-by-side can kick up dirt, mud and other off-road debris. Riding gloves will protect your child's hands whether they are riding or driving, and can provide added comfort after a full day of gripping the handlebars, steering wheel or a passenger grab handle. Plus, gloves offer protection from sun, cold weather and other elements. There are tons of styles and colors to choose from, so finding something that makes them feel like a seasoned off-roader is relatively easy.
Riding Boots or Shoes with Support for Kids
There are some definite no's when it comes to footwear. Never ride an off-road vehicle with sandals, flip-flops or open-toed shoes—and definitely no bare feet. Kids should wear sturdy over-the-ankle boots for support and protection. Off-road debris can occasionally be kicked up into the cab, so they'll want their feet and ankles behind a layer of leather or other sturdy shoe material. Give a little consideration to breathability too— a long day of off-road riding can be hard on the comfort of anyone's feet.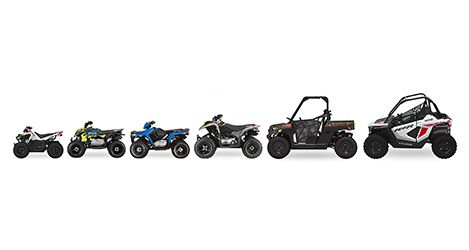 Choosing the Right ATV or Side-By-Side for Your Child
Now that you have a good grasp on the gear for your aspiring off-roader, you might want to put some consideration into their ride. Unless your child is at least 16 years old and has a valid driver's license, they aren't able to drive your adult ATV or SxS vehicle—so you're looking for a youth vehicle. Finding the type of ride (ATV or side-by-side) that is appropriate for their age is also an essential safety component. It's important your child can reach all the controls comfortably and remain in control of the vehicle at all times.

There are also some exciting new technologies being introduced to youth ATVs and side-by-sides. Look for Polaris vehicles with parental controls like speed-limiting to keep kids at or below the speed you establish, geo-fencing which lets you create virtual boundaries where the vehicle can operate, and GPS tracking so you always know where they are riding. There's even a relatively new technology called Helmet Aware that uses Bluetooth® Technology to monitor helmet use. Parents can then prohibit riding if a helmet is not being used.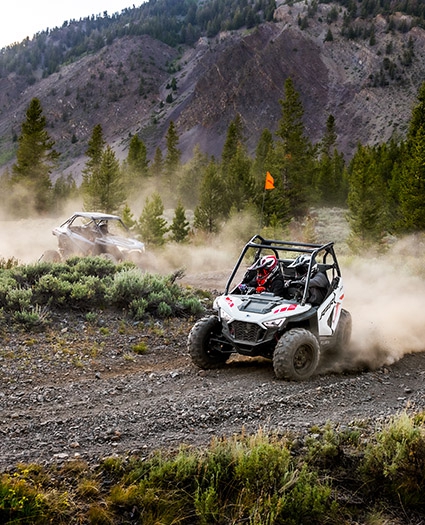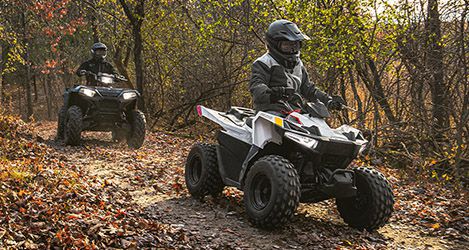 Time to Get Out There Together
The most important lesson about rider safety is that it's not a one-day course or consideration. It's an everyday necessity for all riders—from kids to adults. Start teaching your children when they are young about rider safety and be sure to show them how to love and respect the outdoors—just like you do.