Buying Guides
August 18, 2022
How to Choose the Right Trailer to Haul your ATV or SxS UTV
If you're someone who loves heading off-road, you're probably doing what most of us are doing: thinking about what adventure you'll take on next. To truly get out and explore every trail, dune or mud-soaked forest, chances are pretty good you'll need a trailer to haul your ATV or SxS/UTV there. When choosing the right trailer, there are several important factors to consider, starting with the basics. First, understand the towing capacity of the vehicle that's doing the towing. This is especially important because you're not just towing your ATV or SxS/UTV, you're also towing the trailer itself. Whether you're towing with a car, truck or SUV, the towing capacity can be found in your owner's manual or by checking with the manufacturer.
Types of SxS and ATV Trailers
While their names may be pretty self-explanatory, there are some important things to keep in mind when comparing the most common types of trailers to haul your off-road vehicle.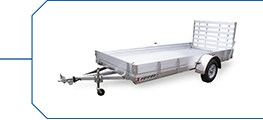 These are just like they sound; trailers that are open on all sides and come with a varying number of tie-down points to safely secure your off-road vehicle. Open trailers are best for hauling shorter distances and for keeping things light when hauling 2 or more ATVs or towing with a smaller vehicle. Other advantages to open trailers:


Smaller and lighter—easy to store when not in use
Price is substantially below enclosed trailers
A great way to show off your ride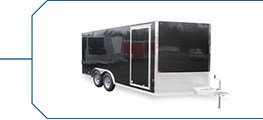 These are covered on all sides and will have either a door or a large ramp to access the cargo area. Enclosed trailers are ideal for longer trips, can travel through various climates and will keep your off-road vehicle secure during the drive and while parked. Here are some other pros of an enclosed trailer:


Offer protection from the elements, keeping wind, sun and rain off your ride
Can serve as a second garage for storage or can be use to upfit and service your ride for a day on the trails
More customizable to your needs and your style with variations in width, height, features, colors and graphics
3. Open Side-Load Trailers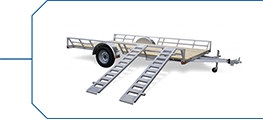 While these fall under the open trailer category, side-load trailers are mostly a specialized product used for ATV loading. That said, there are some particular advantages to them:


Ideal for off-road enthusiasts looking to haul two to four ATVs
A safe and secure loading solution
Load straight on and then unload straight off—no backing up required
Steel vs. Aluminum Trailers
Within the various trailer types, there are different materials the trailers can be made from, most commonly aluminum and steel. While there are pros and cons to both types, we recommend aluminum trailers for the following reasons:


Aluminum trailers are on average 30% lighter than equivalent steel framed trailers, require a smaller vehicle to tow, have a higher payload capacity and are easier to hook up and move around
Aluminum trailers hold their value, offering much higher resale value than steel framed trailers
Aluminum trailers often have a lower cost of ownership, are often built with higher-end components and resist rust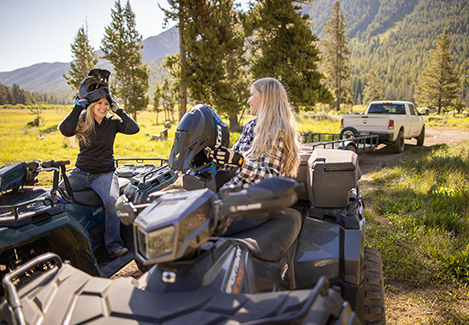 How to Choose the Right Size Trailer for Your ATV or SxS
Polaris offers a wide range of off-road vehicles—in all shapes and sizes—to fit your riding style and the terrain you want to tackle. So, that means you'll want to find a trailer that fits your vehicle of choice. First, get your vehicle's tech specifications to find out what size trailer you need.

Choosing the Right Size Trailer >

Then check out the links below to determine how to haul your Polaris vehicle.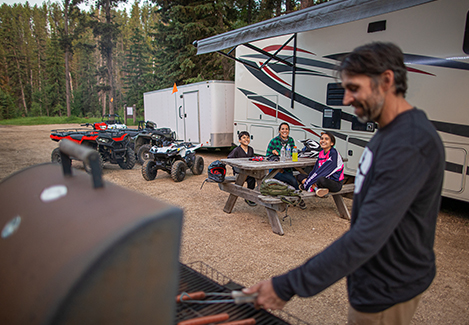 No matter what kind of off-road trailer you decide on, remember to always check with your towing vehicle manufacturer, your trailer manufacturer and local Department of Transportation for any specific legal requirements. They may also have suggestions for a successful journey. That way you can be sure you, your vehicle and others on the road all arrive at their destinations safely.