Buying Guides
November 26, 2021
Side-by-Side (SxS) & UTV Buying Guide
The popularity of the versatile, tough, and crazy-fun machine known as the side-by-side (SxS)/UTV has skyrocketed in the past decade: It's a common sight these days anywhere from farm fields and family campgrounds to backcountry tracks and dune playgrounds. If you're intrigued by the prospect of owning a "side-by-side (SxS)" for work, play, or both, check out this SxS/UTV buying guide we've put together. It should help you understand what these rapidly evolving off-roaders are, as well as help you learn about their many applications. Hopefully, this should serve as a baseline reference for navigating UTV reviews and figuring out what model makes the most sense for you.
What is a UTV or Side-by-Side (SxS)?
A UTV (utility task vehicle) is a four- to six-wheel off-road vehicle equipped with a steering wheel, bucket or bench seating with seatbelts, foot pedals, and a roll bar or cage. Most UTV models have multiple seats for up to six riders. Many come with 4WD or all-wheel drive (AWD) capabilities, though some are strictly 2WD.

Because most UTVs have at least two front seats, they're also widely called "side-by-sides" (SxS). You may also see UTVs marketed as Recreational Off-Highway Vehicles (ROVs) or Multipurpose Off-Highway Utility Vehicles (MOHUVs), and more broadly lumped together with quads as All-Purpose Vehicles (APVs) or with a slew of other rough-and-tumble rigs as Off-Road Vehicles (ORVs).

Roughly speaking, think of a SxS/UTV as a beefed-up vehicle that will allow you to access parts of the world that may be otherwise unreachable by other vehicles. And, you can bring others along for the journey!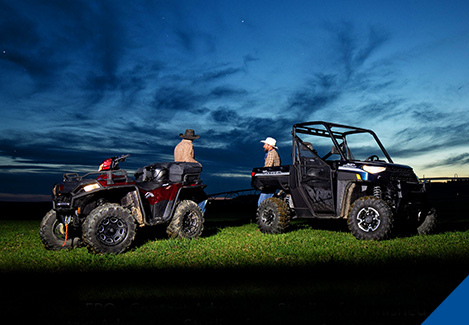 What's the Difference Between a UTV/SxS and an ATV?
It's worth taking a close look at how a UTV stacks up against its versatile cousin the ATV to help you understand the off-roader best suited to your needs.

The major difference between ATV and SxS/UTV setups has to do with the steering and seating designs. A UTV has a steering wheel; an ATV has motorcycle-style handlebars. You sit on an ATV by straddling it to ride it like a motorcycle; you sit in a SxS to drive it like a full-size truck, while wearing a seatbelt. A typical SxS also has a roll bar or roll cage for increased safety, and may also have a windshield and even doors.

A SxS is typically larger than an ATV and can tote more passengers and cargo. Polaris UTVs include two-seater, four-seater, and six-seater models. We also have a single-seater if you feel like riding solo. If you want to bring friends or family (or four-legged buddies) along for the ride, or give folks a tour of a property, a UTV is definitely recommended above the single-seater ATV.

While you can offset an ATV's lack of bed payload by hauling a trailer, there's no question the UTV is the best choice if you're planning on regularly transporting a lot of gear, feed, or other bulky cargo.

The narrower width of an ATV means you can access more restricted trails—though some SxS/UTVs are narrow enough for ATV routes—and its smaller size makes it generally more maneuverable. An ATV will typically fit in the back of a full-size pickup; transporting UTVs will likely require a trailer.

Another thing to consider is the relative physicality and comfort of driving an ATV versus a UTV. The straddle seating and handling of an ATV mean a bit more physically demanding ride compared to the car-like driving of a UTV. The cab seating of the UTV makes for a more comfortable drive, especially across many miles and many hours, and relatively easy to enter and exit.

Finally, there's a wide range of price tags associated with both ATVs and SxS/UTVs. Depending on what you're planning on using your off-road vehicle for, or how many people you'd like to bring along on your adventure, prices will vary. To be the most satisfied with your decision, consider the features you'd like to have that will align with your intended use.
How Long Do SxS/UTVs Last For?
As with any off-road vehicle, the lifespan of a SxS/UTV depends mainly on how it's maintained and how intensely it's used. If you follow the recommended upkeep schedule and protocol, your UTV can keep you motoring around the backcountry and the back forty for thousands—even tens of thousands—of miles.

Keep in mind that, tough as they are, hard use of any off-road vehicle on demanding terrain and/or rough trails is inevitably going to translate to more wear-and-tear on the machine.
What are the Different Types of SxS/UTVs?
The basic classes of side-by-sides include utility, sport/performance, and sport-utility. Here's a high-level breakdown of each type of SxS: Utility models are primarily intended for farm work, hunting and other practical jobs, sport/performance UTVs are fine-tuned for recreational riding, and sport-utility models strike an up-for-anything middle ground. Especially given the customizable selection of tires, all of these UTV varieties can be lean-and-mean all-season transports.
Motocross helmets, originally designed for off-road motorcycle racing, are a sub variety of full-face helmets and make fine choices for UTV and ATV riders as well. They incorporate heavy-duty chin bars and face shields/visors, providing comprehensive protection for your entire head.

Our Polaris riding helmets are all full-face/motocross designs.

Choosing a helmet is important your overall safety and riding experience. There are many options out there, with many things to consider when making your selection. Take this information to help you find a helmet. And remember – always wear your helmet for every off-road adventure.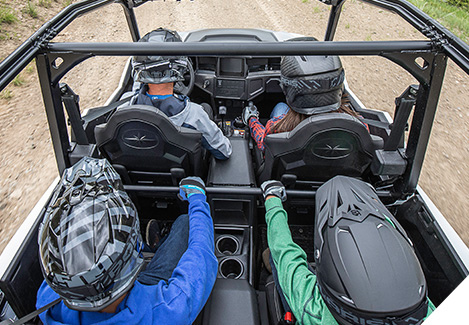 Side-by-Sides for Trail Riding
One of the main features to look for in a SxS if your main use of it will be trail-riding is its size: Not only are smaller UTVs generally more maneuverable on tight-twisting tracks, but narrower models of 50-inch widths also give you access to those tight trails that would otherwise be the exclusive playground of ATVs. It's important to note, however, that with the booming popularity of side-by-sides, networks of wider multiuse trails continue to expand all over the country. That means it's becoming increasingly easier to find recreational off-roading trails that welcome the broader standard side-by-side chassis of 60 inches or more.

Another major trail-riding consideration is a SxS/UTV's ground clearance, as you want to be able to negotiate deep-rutted, rocky, and otherwise uneven terrain – higher clearance means you can get through taller or deeper obstacles. Navigation capabilities such as onboard GPS also come in handy, as do such custom add-ons as integrated camera systems for recording your adventuring. A winch helps if you get stuck, need to pull another vehicle free, or if you're tackling a particularly gnarly grade.

You might also key into the availability of expanded safety accessories such as windshields, roofs, lights, and roll-cage enhancements. SxS/UTVs are highly customizable, so you can fit your machine with whatever accessories make it match your personality.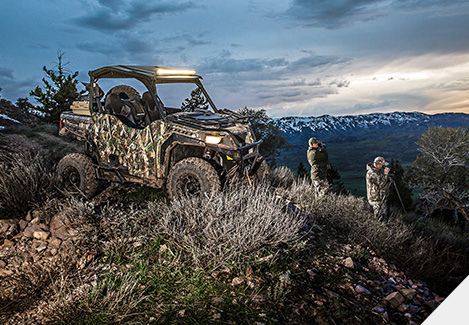 Basically, all of the above characteristics that boost a UTV's appeal as a trail-riding machine can apply to a hunting-focused rig. If you're a hunter, you'll be interested in a model's payload and cargo arrangement for hauling gear, groups of people, supplies, and whatever you might happen to bring back with you from the backcountry. In UTVs used for hunting the towing capacity may also be important, both for hunting trips that involve transporting a trailer for additional cargo and for food-plot management, habitat improvement, and other secondary tasks.

A UTV makes a fantastic ride for family fun, whether it's looping around the property on a carefree afternoon or striking off on all-day trail-riding adventures. The primary element to focus on when choosing a family-friendly UTV are passenger seating. Four-, five-, and six-seater models let the whole gang come along for the ride. Roll bars and doors, as well as windshields and roofs, boost security, while greater stability typically comes with a wider Side-by-Side. No matter what machine your family climbs into, one thing's for sure – they're going to love it!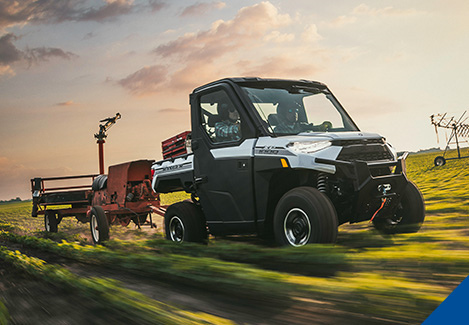 UTVs for Farming or Ranching
The UTV as an all-out workhorse is what your typical farmer or rancher is interested in. Elevated payload and towing capacity (and the associated large engine size) are premium attributes for a farm- or ranch-ready UTV. The inclusion of a power-lift/dump cargo box definitely ups the appeal of a UTV for somebody hauling around hay bales, manure, gravel, fencing, and other loads. A winch, high clearance for navigating rutted roads and maybe streams, and the ability to shift between 2WD and 4WD power are other Side-by-Side features that come in extremely handy on the property.

Any grower will tell you there's no day off just because the skies are dumping or the wind's howling, which makes protective add-ons such as windshields, roofs and cab systems a major plus for a farm or ranch UTV. Speaking of add-ons, the availability of custom accessories such as front loaders and sprayers only upgrade a Side-by-Side's value as a mechanized beast of burden around the fields.
Polaris has been the SxS and ATV industry leader and innovator since the introduction in the mid-2000s of our RZR, the first true performance side-by-side to hit the market. That nimble adventurer followed in the path broken by our tried-and-true RANGER, which has long reigned as the industry's top utility SxS. In the following Polaris UTV reviews and overviews, we've tried to give you a jumping-off point for making your own side-by-side comparisons between our different models as well as those of our competitors.
The Polaris RZR established the mold for a sport Side-by-Side and continues to lead the pack on every count. Our RZR line is made for those who thirst for adventure, dream about the most way-out-there trails, and prefer their adrenaline on the surging side. The line includes our outstanding trail-riding vehicles known for scything through the woods balancing super responsive feel with fast acceleration.

And on the other side of the RZR family, there's the Xtreme Performance RZR, boasting a turbo-charged 168 HP, up to 16" of ground clearance, and over a whopping 2' feet of usable suspension travel: the ultimate off-road beast to conquer any terrain. Through relentless innovation and a true passion for the ride, RZR has become the world-leader in off-road adrenaline; and when the terrain is unrelenting and landscape unknown, RZR will get you through it.
RANGER vehicles are the #1 selling UTV in the industry, and are designed for gritty work from muddy pasture to backwoods trail. The RANGER 570 full-size, for example, is unmatched in its performance and value it brings, with its purpose designed 570cc ProStar engine generating class-leading 44HP, Electronic Fuel Injection, and the True On-Demand AWD system. The RANGER XP 1000 EPS takes things to another level with an 82-HP ProStar engine, a best-in-class towing capacity of 2,500 pounds, and an impressive 1,500 pounds of payload capacity: all the muscle you need to get the job done out in the fields, pastures, and woodlots, not to mention out in the backcountry during hunting season.
Fuel your sense of adventure with the Polaris GENERAL – the ultimate off-road recreational side-by-side. The machine is designed with the perfect blend of performance and function, which is why it continues to be the industry's best-selling sport UTV. The 100HP engine allows families to get further off the beaten path and spend more time together – while the interior storage and dump box provide plenty of space for all the gear you want to bring during your time outdoors. GENERAL comes in both a two-seat and four-seat model with many options to customize the machine. Whether you want to reach a new bucket list spot for the ultimate mountain bike trail, or want to spend more time outside with your grandchildren exploring the outdoors, the Polaris GENERAL is the perfect machine to enhance your experience.

We're confident that if you give a UTV/SxS a go— whether it's hauling loads on the ranch, freewheeling around the dunes, or going after a trophy-sized buck—you're going to be happily hooked. Hopefully, this SxS/UTV guide has been a useful starting point for finding the best vehicle for you. As an immediate next step, let Polaris help you choose the perfect UTV/SxS vehicle for your needs by taking your requirements into consideration.