Scrambler XP 1000 S Features

The Scrambler XP 1000 S excels where competitive designs stop. With more travel, more traction and more capability that redefines the category, you'll unlock performance beyond expectations.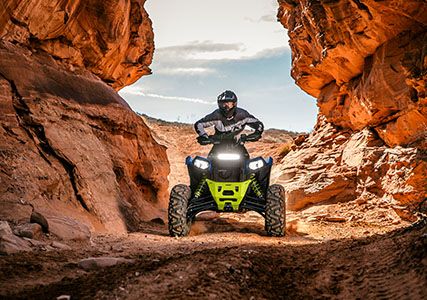 Experience a new level of stability and performance with the industry's widest 55" stance. Confidence to crawl, navigate deep ruts and straighten a twisted trail.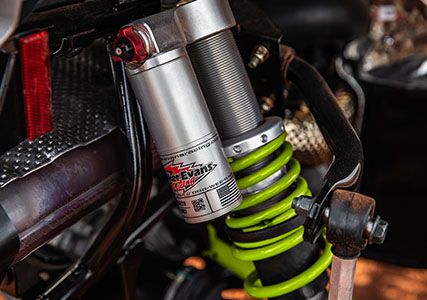 Premium 3-Way Adjustable Shocks
Dialed in control with the industry's most advanced shock package. Ride longer with less fatigue with our premium Walker Evans shocks and dual coil spring, to soak up more chatter, so you can keep chasing the trail.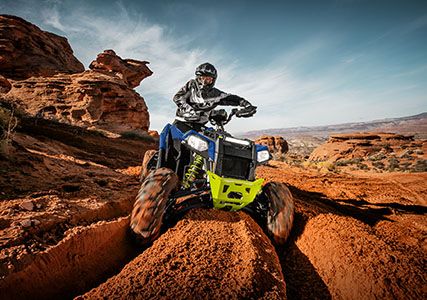 Ride above unexpected and rutted terrain. A combination of suspension stroke, dual arched A-arm design and tire size that delivers the industry's highest & widest all-terrain capability of 14.5" of ground clearance.
Take control in the most challenging terrain with the Scrambler XP 1000 S that's built to last. Purposely designed for enhanced comfort on the rugged trails.
Throttle it and charge over the harshest terrain - with one of the strongest chassis we've ever built.
RZR Derived Front Differential
Straight from the racetrack, the Scrambler XP 1000 S utilizes the proven toughness of an RZR XP 1000 front differential and half shafts, delivering added durability you can count on.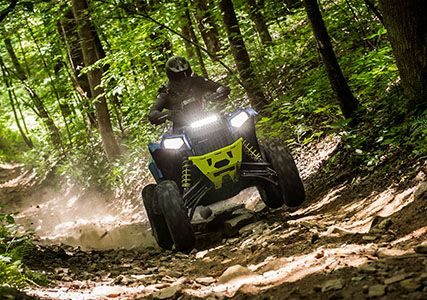 Ride in harmony with the trails, with On-Demand AWD that senses when your tires are slipping and automatically engages all four wheels to keep you riding through the toughest terrain.
BUILT FOR THE WAY YOU RIDE
Grab hold and experience the seamless and intuitive control with an ATV that delivers adaptable driver positioning and ergonomics, resulting in maximum performance and comfort.
Customize the Scrambler XP 1000 S for optimum comfort and control. Built with an adjustable 3" handlebar riser to fit the way you ride on the trails.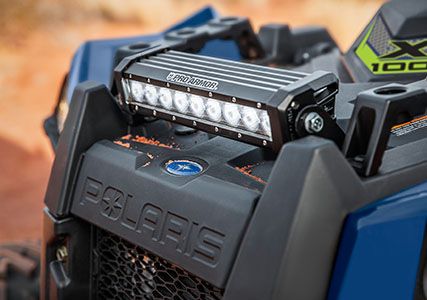 Hit the trails earlier or stay out later with Industry's only factory equipped LED lightbar. With 11" Pro Armor Lightbar delivers a far-reaching beam for added confidence.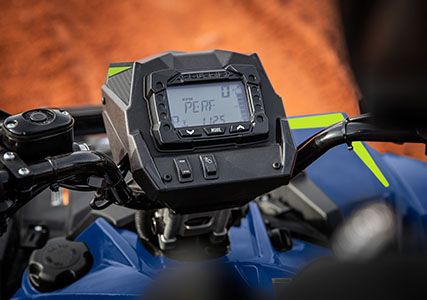 The perfect mix of comfort and maneuverability with customizable Multi-Select EPS, that allows you to set the level of desired steering assist to fit your ride style.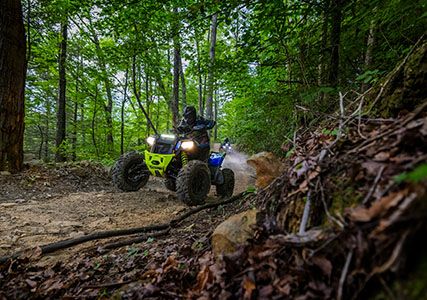 Predictable Steering Geometry
Reduce unwanted and unpredictable bump-steer and conquer rough trails with the smooth precision and forgiving steering geometry of our exclusive ProSteer linkage.