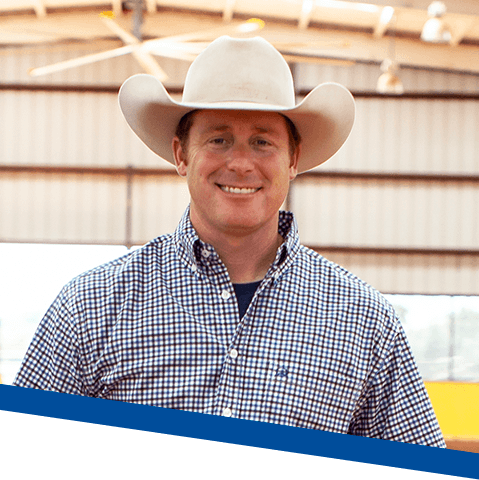 State: Texas
To say rodeo is in the blood of Tyson Durfey would be an understatement. When he earned the Wrangler Nationals Final Rodeo (WNFR) calf roping World Title in 2016, it marked the moment when Tyson's accomplishments exceeded his childhood dreams.
Rodeo was all Tyson knew growing up on the family ranch in Savannah, Missouri. His father Roy competed in the Professional Rodeo Cowboys Association (PRCA) and later went on to train horses, while his brothers, Travis and Wes, roped calves.
When Tyson wasn't at school or earning extra money shoeing horses, you'd find him practice roping. By the time he was 18 he was competing on the rodeo circuit full time, and his PRCA career began shortly after in 2003. Through hard-work and dedication, the rewards soon followed. He won the Canadian World Championships three times (the first time a non-Canadian had achieved this feat) and has qualified for the WNFR 10 times. In 2018 he won 10 events including the Washington State Fair Pro Rodeo and the PRCA Rodeo in Wichita Falls, Texas.

When Tyson isn't on the road his favorite thing is to spend time with his wife Shea and daughter Praise. Almost daily when they are home they spend time at the river in the back of the property. They enjoy swimming, fishing and sometimes wake boarding.
Tyson and Shea live down on a ranch in Texas, where they recently hosted the Ultimate Rodeo Experience for a RANGER owner family for the 20th anniversary of RANGER. Eli Woodyard is a young high school roper, and got to spend the day getting tips from one of his heroes, Tyson.

Tyson uses the RANGER daily in his practice. He pulls a simulated calf with the RANGER. "I love using is because I can make the calf go which ever way I want so I can work on my weaknesses. I can also control the speed so if I'm roping on a young horse I can slow things down and keep it controlled."
Learn more about Tyson's Ultimate Rodeo Experience story, and more about the Woodyard's.