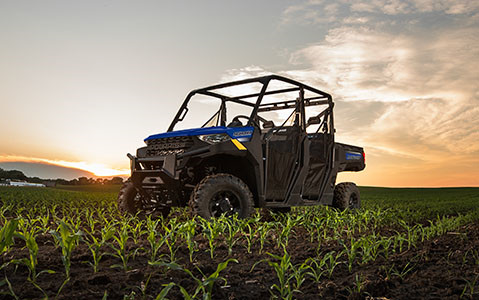 The RANGER CREW 1000 has a completely redesigned front end, including a new hood, fenders and headlights for a more refined style.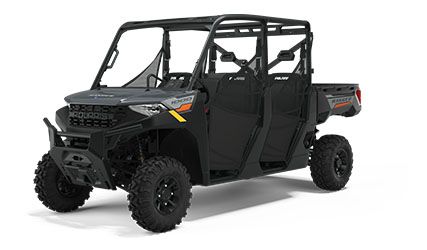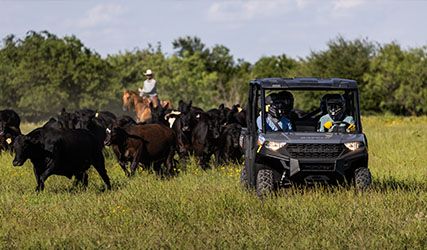 Premium comes standard with a full front bumper and CV guards protecting wheels and control arms from rocks and sticks.
IMPRESSIVE GROUND CLEARANCE
26 inch tires deliver an impressive 12.5 inches of ground clearance, enabling you to conquer tough jobs and navigate rocky terrain.
10 inches of front and independent rear suspension travel, delivering all-day riding comfort through any terrain.
SPACIOUS, REFINED INTERIOR
Enjoy a full-day of riding surrounded in comfort with the many improvements made to the in-cab experience. Specifically, the premium steering wheel.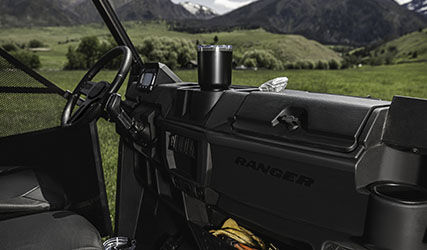 For work around the house, unlock the rear differential for easier and tighter turns that won't tear up your lawn.
For your smaller but necessary items, take advantage of the 27.25 gallons of easy-to-access, in-cab storage.
Form meets function with the dash mounted charging port. Conveniently and safely charge your battery so you know your vehicle is ready to work when you are.
Get the most out of your RANGER with the improved cargo box, towing capabilities and accessory integration.
Maximize the 1,000 lb cargo box to hold various tools, materials and gear, plus take advantage of the gas-assist dump box to easily unload items.
Connect your trailer to the standard 2 in. receiver and maximize the industry-leading 2,500 towing capacity.
Designed so you can easily customize your vehicle with Lock & Ride components including windshields, roofs and storage solutions plus winches, bumpers and more.