Recreation
March 27, 2020
The Best ATV & UTV Parks and Trails in Illinois
No matter your riding style, the miles of trails and recreation areas that reside in Illinois are some of the best off-road parks, ATV parks and UTV trails in Illinois. We did the heavy lifting for you and explored trail systems and connections with every type of all-terrain vehicle category to find the best ATV and UTV trails in Illinois. Find where your favorite trail connects and then load-up, gear-up and grab your favorite ATV or UTV/SxS and let's ride.
Centrally located in Illinois and utilizing the beautiful Mill Creek Lake as the focal point for this 2,600 acre park offering campgrounds, showers, picnic areas, cabin and boat rentals, fuel, playgrounds and more. Most importantly, it contains 150-miles of ATV and UTV riding trails. Traversing woods with trails for every riding styling and ability, all trails connect and are conveniently marked on available maps. The riding area does require a special permit and signed waiver. For complete details visit the Clark County Park District website.
If competition is your passion and riding style, look no further than Sunset Ridge Motocross Park in Walnut, Illinois. Whether you want to simply hone your ATV riding skills during one of their open track practice days or fuel your competitive side with race day activities, this off-road park has you covered. Located west of Chicago and north of Peoria, Sunset Ridge is one of the best places for sport ATV riding in Illinois.
A family owned and operated off-road park with over 400 acres of wooded trails, the South Fork Dirt Riders facility features ATV and UTV riding trails as well as several different types of off-road tracks, camping, on-site restrooms, shower stalls and picnic areas. All vehicles require an Illinois DNR sticker and riders can choose from day passes or annual memberships. The ride park is located almost smack dab in the middle of the state near the community of Taylorville.
This small track facility is located just south of the community of Byron, Illinois and is designed with competitive riders in mind. With two tracks and a small RV camping area, open riding days are held on weekends. Only one track, with its rolling, natural terrain, is designed for ATV riding. For more information on the 20-acre riding park, visit the Moto Byron website.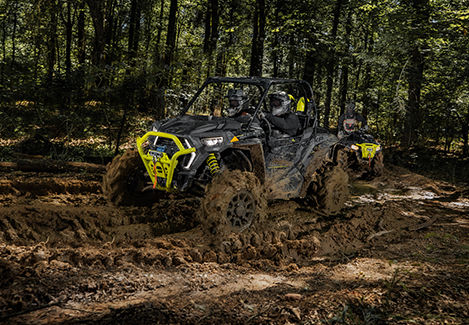 A private ATV and motocross riding area located on the northwestern edge of Illinois, the Bike Barn ORV park covers 200-acres of woods and soft loam trails. Both the four miles of ATV riding trails and the motocross track are beginner friendly. Events are held occasionally including a mud bog for ATV riders. To reserve a time to ride, please call in advance 815-778-3641.
Covering more than 1,000 acres of woods, riding trails and mud, the Hillbillie Ranch located in Jerseyville, Illinois and mud riding is often the highlight of this expansive off-road park. With a trail system comprised of 40-miles of ATV, UTV and side-by-side trails, 2 large mud pits and a 17-acres Mud Plex with ramps, tire pit, whoops and more, there is fun waiting for the entire family. Memberships are offered and the ride park touts an RV Park, camping, toilets and a general store.
With miles of wooded ATV trails crisscrossing the 220-acre ride park, the Lincoln Trail Motosports off-road park also features four tracks, with two open for ATV riding. Offering both riding days and racing events, the terrain features hills, forests, creek crossings, sand tracks and mud pits. Located mid-way between St. Louis and Indianapolis, this ATV park is a favorite with many riders in the central Illinois area.
Sitting on the edge of Moline, Illinois, the Muddy Water Motocross park touts two, natural terrain tracks and is open to ATV riding on select days for practice and competitive racing. Both the main track and smaller secondary track are designed for riders of every skill level. For more information on ATV riding at the park visit the Muddy Waters MX website.
The newest DNR OHV park in Illinois features ATV and UTV riding trails, hill climbs, mud bogs and a trail system that twists through miles of wooded trails. With more than 200-acres to explore, this off road park offers more than just a well thought out trail system, but a 28-site RV park, full hook-ups, shower house, dump station and a kid-friendly track. Open 7-days a week and located in Atkinson just north of Interstate 80. Visit gobhill.com for more information.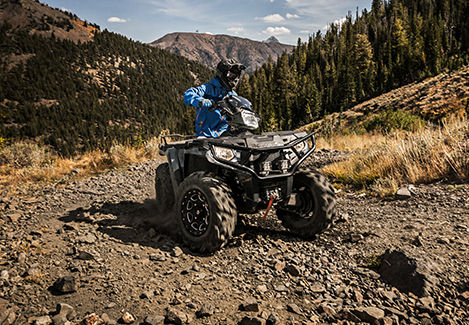 There's little doubt Illinois is home to some of the best ATV and UTV trails in North America. From ATV, UTV and ORV parks to tracks and recreation areas, you can ride your ATV or UTV through deep forests, wooded trails, state forest and one-of-a-kind trail runs. No matter your riding style or skill level, these 9 best off road parks in Illinois are sure to satisfy.