Buying Guides
August 18, 2022
How to Sell or Trade In Your ATV, UTV or Side by Side (SxS)
Pre-owned vehicles are in high demand, which is great news for ATV, UTV or side-by-side (SxS) owners who are looking to trade up to something new. That said, the task of selling or trading in your off-road vehicle is not always easy or entirely clear, and may even feel a little daunting. We're here to help you simplify the process and make the best decisions for you.
Estimate your Vehicle's Trade-In Value >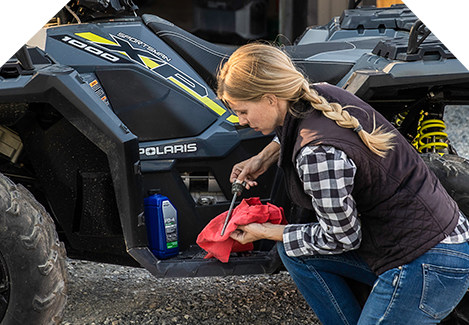 Things to Do Before You Trade or Sell Your Off-Road Vehicle
If you're thinking about trading or selling your ATV or SxS, it's important to be prepared. A little legwork ahead of a sale or trade is the best way to ensure you have everything you need to make things go smoothly, and that you have done everything you need to get a deal you're happy with.
1. Be Sure Your Vehicle Maintenance is Up to Date
If you've stayed on top of regular SxS or ATV maintenance, this step is easy. But if your vehicle is due for service, or if you're behind on service, you'll want to get it taken care of before you try to trade in an ATV or SxS. Make sure you've changed the oil, replaced air filters, added new tires (if needed) and more. If you're looking for some ORV maintenance know-how we have resources to help with that as well.
Schedule service at your preferred Polaris dealer to get your vehicle serviced!
2. Make Any Essential Repairs With Properly Fitting SxS or ATV Parts
Wear and tear on an off-road vehicle comes with the territory, but tending to some of that before you sell or trade your vehicle can often lead to improved value. Take the time to touch up scratches, fix dents and replace damaged panels or parts, especially if any damage affects the operation or safety of the vehicle.
3. Cleaning Your ATV or SxS From Top to Bottom
One of the simplest things you can do to get the most out of your sale or trade is to get your ATV or SxS clean. A little elbow grease and a lot of sudsy water from a mild detergent can go a long way toward a healthy shine and a positive outcome. If you're looking for some great tips on how to tackle the mud and grime that comes from off-roading, check out this article:
Cleaning Your UTV After a Day of Trail Riding >
4. Pull Together Any Necessary Paperwork and Documentation
Of course, making a sale or trade often requires some paperwork on both ends to ensure the legal transfer of property from one party to the other. Be sure to collect any documents you might have dealing with your purchase, title and maintenance of your vehicle and bring them when selling or trading. Also be sure to check with your local or state government regarding title transfers for off-road vehicle sales.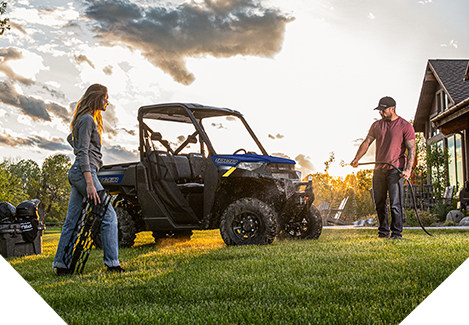 What to Expect When It Comes Time to Trade In Your ATV/SxS
If you've decided to trade in your vehicle, rather than sell it, there are a few things you'll want to know about the process. It's fairly easy and straightforward, but understanding your options before you proceed can help you get into a new vehicle without issue or unnecessary delays.
What Types of Off-Road Vehicles Can You Trade In
You might be surprised to know that you don't have to trade an off-road vehicle for another off-road vehicle. In fact, there are many different types of powersports vehicles that you can put up for trade for a brand-new ATV or SxS. Many dealers will take watercraft, trailers, snowmobiles and more. Here are a few of your options:
How to Submit a Trade-In Request—Know Your SxS or ATV's Value
Once you've decided on the vehicle or vehicles you want to trade in, it's quite simple to find out what you could receive in return for your trade-in. Fill out a request online using the link below to get a free estimate. Your information will be submitted to a local dealer to finalize all of the details and make the trade. Actual trade-in value offer is determined by your local authorized dealer.

Find Your Vehicle's Trade-In Value >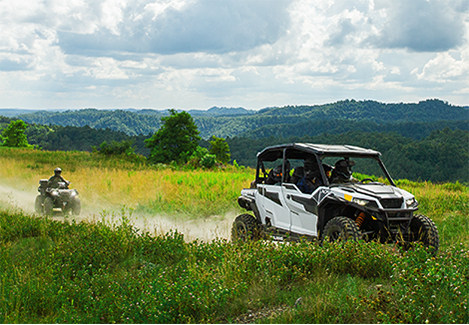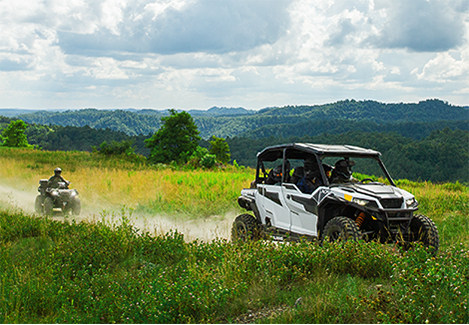 You're All Set. It's Time to Trade Your ATV/SxS
Trading in your used ATV, SxS or virtually any other powersports vehicle is a great way to offset the cost of a new off-road vehicle. And with a little preparation, it's not hard to do. So, start dreaming about what your new ride could look like and get your old one ready to fuel someone else's off-road adventures.
Unless noted trademarks are the property of Polaris Industries Inc.
© 2022 Polaris Industries Inc.