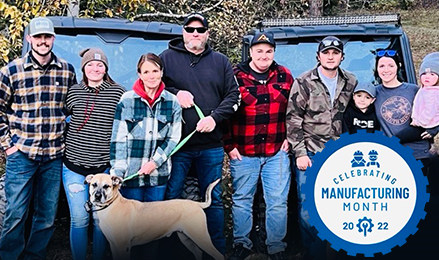 Assembly to supply chain, D&IT and recruiting: The Buckta family traces a path through Polaris manufacturing
>
Legacy carries through the manufacturing lines throughout Polaris – to the early days of the company when co-founders Edgar Hetteen, his younger brother Allan and close friend David Johnson built the first snowmobile to today, where friends continue to work alongside one another and, often, members of the same family do too. The Polaris spirit can be traced through generations as families share memories of riding snowmobiles and ATVs together, and of following in the footsteps of their parents and finding opportunities within a Polaris manufacturing facility.
For one particular Roseau family, legacy takes on an even deeper meaning. Meet Polaris employees Glen and Amy Buckta and their three children, Justus, Mason and Brianna. Each of the Buckta children followed their parents into careers with Polaris – and each of the five Buckta family members started inside Roseau's manufacturing plant.
Manufacturing: All in the Buckta family
Glen started in 1990 right out of high school – he'd long had his sights set on working for Polaris. "I really enjoy mechanics, and it was something I was always really drawn to," he says, recalling that he'd known the brand since his youth, riding snowmobiles with his friends "That's all we lived for growing up."
He started on a Roseau assembly line and began moving around to other roles, spending 3 ½ years as painter and multiple years as a group lead in the paint department, then as a group lead on both A and B lines in assembly and rework. Glen knew he wanted to further his education and specifically wanted to expand his knowledge of the manufacturing industry, receiving his LEAN Manufacturing certificate from Northland College. After, he spent 3 ½ years as supervisor on the third shift in tube fabrication and then on to an assembly supervisor – where he's remained since 2014.
As for those just starting out in manufacturing, Glen has advice to share. "I'd tell them to look around and pick something they want to do, and if they put forth the effort, they can train up to what they want," he says, citing his own roadmap through various roles within Polaris' manufacturing and production lines. "The truth is, if they really want to do it, Polaris provides the opportunities."
Polaris' employee education benefits pay off
Amy started in 1994 in metal paint, then moved over to materials and sourcing, providing her experience in New Product Information (NPI), supply chain systems and event planning. "That was a growth experience," she says. Her supply chain systems role transitioned to an IS role, where she's worked the last four years.
"There's always an opportunity to learn – the evolve and learn in what I do. I'm thankful for the company and the diverse group of people I've met over time." One of the biggest keys to her success was the encouragement she received from co-workers to get her Certified Product Inventory Management (CPIM) certificate. She embarked on all the trainings and courses and used the Polaris Education Benefit to pay for the education. "Not only the educational opportunities, but at Polaris, people are willing to help you get there so long as they're aware of what your goals are," adds Amy. "I've had so many people help me and guide me to help get me to where I am today."
Both Glen and Amy says they knew early on that they wanted the kids to grow up riding Polaris machines. "We have always had a Polaris machine, so they knew what it was all about," she says. "Polaris allowed our kids, living in a small community, to have opportunities in the interests they enjoyed." From an early age, she says, they knew what the company stood for, its opportunities, and its community involvement.
From assembly line to robot editor
Mason confirms this what his mother shared. "Growing up, my family was always into powersports. Now as an adult, I get to share that enjoyment for powersports with my family." And, he adds, it's nice to see his family every once in a while at work. Like his father, he says he's a mechanical person and started as an assembly operator. "I started thinking about coming to Polaris in High School, I thought it was a good fit for my interests." and now, as a robot editor, Mason works on the day-to-day operation of tunnel robots and handles quality control of robot and rivet performance.
Supply chain analyst to support lead in D&IT
As an apps support lead, Justus leads a small team in our D&IT department that provides mid-level application support across the entire company. He says he had his sights set on working for Polaris from a young age. "Polaris has been a great company for career growth," he says. "Since I joined the company in 2017, I've met so many good people who have either helped me or mentored me in some way. That is something that has really been important to me over the past few years. I like that I'm able to do the same for others in the company now also and pay it forward."
Justus enjoys working at Polaris with his family, saying that even though they all work in separate departments, it gives them the opportunity to be around each other quite a bit. "I grew up with both of my parents working for Polaris and the company has given my family many great opportunities."
Snow assembly line to hiring recruiter
Brianna, the Bucktas' youngest, first started on the assembly line for snow and says that having that firsthand experience helps her immensely in her current role as a Polaris recruiter through Doherty Staffing Solutions. "It gives me a great vantage point in hiring and recruiting because I know what the job really is all about," she says. One of the greatest things, Brianna goes on to say, is knowing that she's helping place people in jobs within a company that has such a positive, friendly atmosphere.
"Many applicants do come with the mindset that manufacturing could be a long-term opportunity, that they could make a career out of it," she says, offering advice like her father. "To be successful, new hires need a positive attitude, and be willing to take the task given to them and get to work." And, she's so sure of that work ethic being the path to Polaris success because she's seen it work many times – and within her own family.
"My parents worked at Polaris. My brothers worked at Polaris. As soon as I turned 18 and was allowed to work, I started working at Polaris," she says.
And, it seems that like Brianna, both Mason and Justus would like to see the family connection continue: they all proudly say they have recommended friends for job opportunities at Polaris.