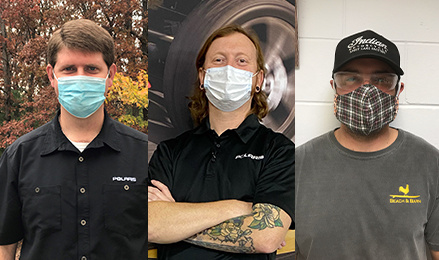 Polaris: A Strong Workforce Makes Technology Stronger
>
Did you know that the first manufacturing theory dates back more than 220 years ago? In 1798, lean manufacturing was first introduced by American inventor and mechanical engineer Eli Whitney when he developed the concept of mass production of interchangeable parts. From there, manufacturing grew, flourishing through the Industrial Revolution and with technological advancements, booming when the first moving assembly line for mass production churned out vehicles in the country's heartland. That spirit of American manufacturing is still alive and well today at Polaris, where the work of the thousands of assembly line operators is complemented by ever-evolving technologies.
"The operator is the focal point for everything we do," explains Fred Dock, manufacturing engineer manager in Polaris' Osceola, Wisconsin, manufacturing facility. "Technology allows us to enhance what the operator can do." Dock leads the manufacturing engineering team that designs and implements new equipment, defining the processes around the technology as it integrates into the production lines. "I'm right in the middle of technology on a daily basis, and we're using some of the coolest technologies to turn out our vehicles. Our job is to figure out how to apply it – and then make it practical for manufacturing."
However, Dock says, the technology is nothing without the people who run it. He gives credit to the assembly line operators for excelling at adapting to new manufacturing technologies, allowing Polaris to continue to lead the powersports industry in production and innovation.
Craig Boudreaux, a sitewide trainer in Huntsville, Alabama agrees. "Technology serves as a tool we give to our operators to succeed," said Boudreaux. "It is our responsibility to make sure our operators are using the latest technologies in order to build our vehicles, but to also advance their knowledge and technical expertise." Crediting open communication lines, one-on-one attention, and using new tools and technology to help workers across the manufacturing lines, Boudreaux says the commitment runs from leadership down. "Our team is dedicated to making sure we are winning as a whole."
Skill, technology, and teamwork
"As time progresses, everything is new, and that's especially so with manufacturing," says Dan Wiatroski, manufacturing engineer in Polaris' Spirit Lake facility. "The digitization of manufacturing is designed to save operators hours a week, to help the operator and the lines be more efficient." Saying that operators are a driving force behind Polaris, he explains that using technology to reduce repetitive tasks allows the operators to perform and focus on more value-added work. "It is a much better use of their skills."
Wiatroski, as a manufacturing engineer, is involved in many aspects of the manufacturing process. "Anything you can think of that relates to an assembly line, we're involved in," he says, "We apply the technology, take the data from it, and continually refine how it works." A manufacturing engineer's goal is to find ways to use technology to complement that talent of the line workers. "Polaris is pretty far ahead when it comes to our industry, and we use technology to fit what the business is asking. Our operators are key to that success of those technologies."
From one line to another, cross-training is key
"Polaris consistently brings in new technologies and we keep moving forward," says Heather Smith, a production supervisor at Polaris' Osceola location. Smith has worked with the company for nearly a decade. "Our engineering department is so good at helping us on the lines understand the technologies as they are introduced. Their knowledge is really impressive."
Smith explains that she is always cross-training her employees as new technologies roll out and says they feed off the teamwork and each other's energy – and share excitement about the new technologies and skills. "l love to have them standing alongside me. We know that at Polaris, we're a whole team together."
Boudreaux confirms that throughout Polaris there's a commitment to frequent and detailed training across every level of the business, saying it delivers a knowledge base to particular roles, from operators and group leads to supervisors. He says it not only prepares them as new technologies and processes roll out, but it also deepens their manufacturing talent and know how so they can grow in their careers.
"This place is built around the workers," says Boudreaux. "Polaris really cares about the workforce and growing the workforce internally. The operators add value and bring knowledge, and together, we all make the technology stronger."