Buying Guides
June 03, 2022
How to Choose the Best Trail Riding ATV or Side-by-Side (SxS)
Getting outdoors and hitting the trails for an afternoon of adventure with friends and family is one of the most exhilarating things you can do on an ATV or SxS. Whether you're looking for an adrenaline rush, an epic off-road outing or a relaxed ride through the wilderness, there is a trail to fit exactly what you're looking for. Be sure to pick out a vehicle that fits the way you like to ride and the terrain you'll tackle along the way.
Considerations for Buying a Trail ATV or SxS
The term "trail riding" covers a wide range of possible outings, with any number of people, across an unimaginably diverse landscape. It can take place in wide-open desert extremes, the close quarters of the Wisconsin pines or the uneven and unyielding ground of the Rocky Mountains. Be sure to keep all of these things in mind when choosing the best ATV or side-by-side for trail riding.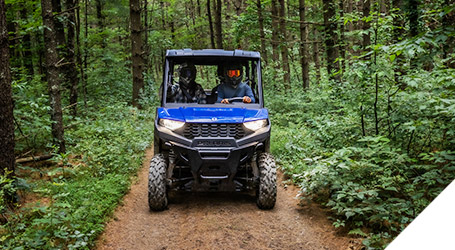 Know the Trail Restrictions
Trail widths vary across the United States, with each state setting their own standards for the maximum width and even type of trail vehicles allowed on certain trails. For example, if you ride the tight trails of Tennessee, you'll want to look at specifically designed trail riding side-by-sides that comply with most trail width restrictions (some states limit vehicles to 50" or 60" wide in certain areas). Whereas if you ride in Arizona, there are fewer restrictions on vehicle width and more capable vehicle design. Check out this article to look up off-road vehicle laws by state.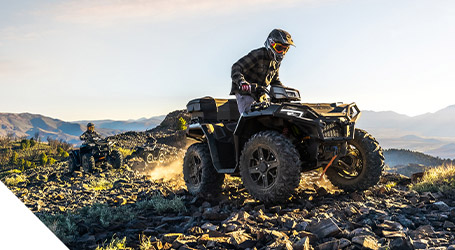 Consider the Terrain Type
The ground you'll be covering plays a big role in the kind of vehicle you'll want. If you'll be railing corners on tight, twisted forest trails you'll be looking for a narrow, nimble machine with great acceleration. On the other hand, if you're in a more wide-open environment like the desert, you might be looking for something with a lot of horsepower, great straight-line acceleration, wide chassis and a well-tuned suspension to soak up the bumps at high speeds. Ask yourself if you'll encounter water, mud, tree branches, rock walls or other obstacles that might impact your choices on everything from tires to ground clearance.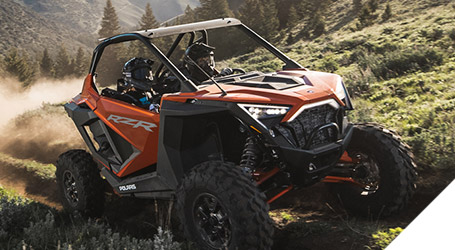 How Many People Are in Your Party?
Another thing you'll need to consider is how many people are heading out with you. If you're looking to take only one vehicle, side-by-sides give you the flexibility to choose 2- or 3-seaters, or larger 4-seat crew cabs. Some even give you an option to have a driver and up to 5 passengers. Single-seat and 2-up ATVs are a great choice for smaller outings or for riding in groups. They're small, nimble and narrow so they can get into tighter areas some side-by-sides can't, and they're less prone to trail restrictions.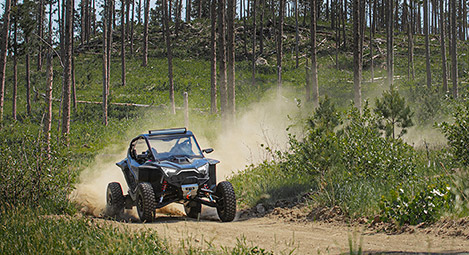 Features That Make the Best Trail ATV or Best Trail SxS
Absent trail restrictions, almost any ATV or SxS can take you down a trail and back again. But if you're looking to make trail riding a regular occurrence, you'll want to look for a few specific details that will make the experience all the more comfortable and enjoyable for you and everyone else you invite along for the ride.

All suspensions are not created equal when it comes to off-road vehicles. Look for rides with long suspension travel, premium shocks and user-adjustable features to deliver a smooth ride over the roughest terrain for all-day comfort. Some rides even have smart suspensions that automatically adjust on the fly for greatest comfort.

Don't overlook the importance of how everything lays out around you when you take your seat. Check out sight lines, seat comfort and driving posture. Your arms should feel relaxed reaching for the wheel with your shoulders firmly pressed into your seat back. Adjustable seating, tilt steering and contoured seats are a must for long trail rides.

Get extra-equipped for the day with lighting to head out before dawn and finish up well past dark. Keep in mind, lighting isn't only beneficial at night. Additional ATV or SxS lighting, such as flood lights and spotlights, can reveal trail contours even in dim, overcast or shady conditions. You can always add extra lighting into your vehicle build before you bring it home.

Give a little thought to the type of terrain you'll be taking on. The standard all-terrain tires most vehicles come with are great for your typical trails, but if you know you'll be riding regularly in snow, sand, mud or across slick mountain rocks, there are tire and wheel options that will stand up to anything those unique conditions can dish out.

It might not be the first thing you think of when trail riding, but technology can easily become your best friend out there. Trail navigation apps can tell you where you are, where you're heading and even keep tabs on other vehicles in your group. Plus, a killer sound system will give your adventures an epic soundtrack.

Need Help Choosing a Ride?
Try this online quiz from Polaris. It considers your wants, interests and suggests which off-road vehicles might be a good fit for you.
Other Off-Road Trail Riding Essentials
Once you have a vehicle in mind, be sure to take some time looking into the other essentials for your trail riding adventures. Think about what riding gear and accessories you'll need along the way, as well as how you'll get your vehicle to and from the trails.
Chase after a day of thrills while keeping everyone safer. Make sure anyone who is driving or riding has an approved DOT helmet and eye protection along with essential riding apparel like long-sleeve shirts, long pants, over-the-ankle boots, goggles and gloves to stay protected from any off-road debris.
If it doesn't come standard with your vehicle you can easily customize it by adding extra storage, coolers, bumpers and more. Use our 3-D Build Tool to see it come to life.
Before you head out, make a checklist of items you might want to have on hand. Consider tools for a quick repair, a tire-repair kit to fix everything from a leak to a flat and a first-aid kit to treat minor bumps and scratches. Check out more off-roading articles for more information.
Transporting Your Vehicle to the Trailhead
Getting your ride out to the trailhead is an important consideration—especially if you want to experience a lot of different trails that aren't in your area. If you can't just ride right to the trail, you'll want to find the right ATV or SxS trailer for your ride, as well as a loading ramp if your trailer doesn't have one built in.
Pick Your Trail Riding Destination
Once you have your vehicle picked out, your trail-riding accessories added and your gear for the journey loaded up, all that's left to do is pick your destination. There is no shortage of fantastic places to ride for all skill levels. Check out some of our favorites.
Want to ride but not ready to buy?
Check out Polaris Adventures. It features off-road outfitters across the country renting Polaris vehicles with guided and self-guided outings. It's a great way to try out different vehicles you might be interested in.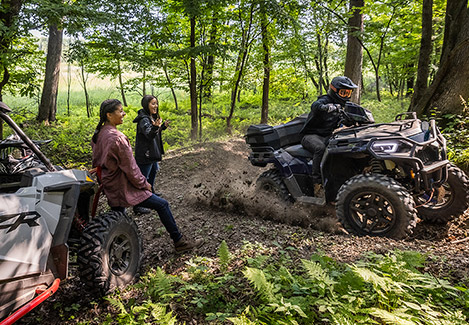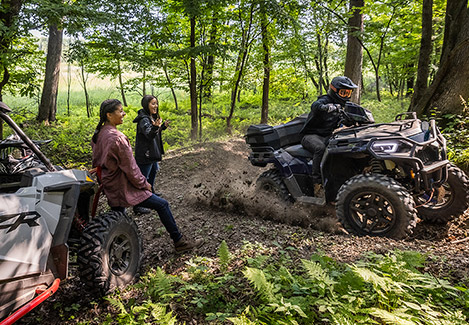 What's Next? It's Time to Get Out and Ride.
If you're up for some outdoor fun and adventure with friends and family, trail riding is the perfect outlet for anyone who is interested. There's an ATV or SxS with the right combination of performance, control and comfort to fit all types of riders and riding styles. So, pick your ride and head out. You'll create an undeniable bond with the outdoors—and each other—along the way.
Unless noted, trademarks are the property of Polaris Industries Inc.
© 2022 Polaris Industries Inc.