Buying Guides
October 29, 2021
What's the Difference Between an ATV & a SxS UTV?
Trying to decide upon the perfect all-purpose vehicle for your needs? For somebody a bit new to the off-roading world, sorting out the UTV vs. ATV pros and cons can be a bit confusing. To help clear up some of that confusion, we put together a basic introductory guide to understanding the differences between Side-by-Sides UTVs and ATVs and what the two kinds of machines are typically used for.
An all-terrain vehicle, or ATV, is a four-wheeled off-road vehicle with straddle/motorcycle-style seating and handlebar steering. While two-person models are out there, a typical ATV accommodates a single rider. Also known as quads or four-wheelers, ATV's are generally smaller than UTVs, and more physically intensive to operate because you use more of your body to steer and otherwise control your four-wheeler.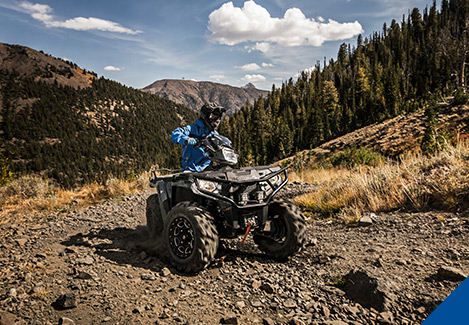 ATVs are generally easier to transport long-distance than UTVs, given they'll fit in the beds of most full-size pickups and many standard utility trailers.

When considering an ATV or UTV for work and farming chores, keep in mind that the ATV is quicker to hop on and off, which can be an advantage when doing certain jobs out in the field. They're also narrower, which means you can slip through tight gates, narrow trails and other obstacles that bar UTV entry. While larger utility side-by-sides deliver more space and capacity for hauling, utility ATVs have plenty to offer with their cargo racks and towing capabilities. If additional hauling capacity is needed, trailers can be utilized to make up for the lack of a utility bed on an ATV.
1. When Maneuvering Difficult Off-road Trails
An ATV is the more maneuverable vehicle compared to a UTV, as ATVs are able to handle tight turns and dense timber or brush with ease. Also, narrow off-road trails may only be open to ATVs (and motorcycles/dirt bikes), though some restricted routes can accommodate 50-inch SxS UTVs.
2. If You Want to Save Some Money
Depending on your primary use for the vehicle, either type of machine presents its relative cost savings. The average ATV is going to cost less than the average UTV. So, the budget-minded off-roader may well opt for the quad. That said, if you've got a family that enjoys off-roading, a side-by-side that can take everyone along for the ride may be more cost-effective compared with supplying everybody with their own ATV.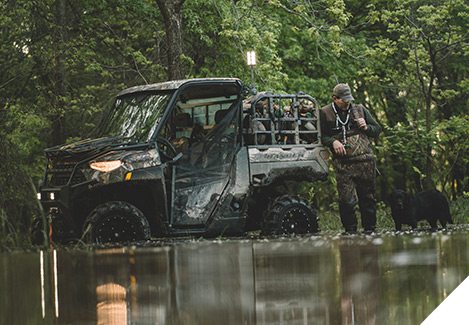 UTV stands for utility task vehicle. Even if you've never ridden in one, there's a good chance you've seen one. These all-purpose utility task vehicles continue to skyrocket in popularity, and these days can be seen from the local trail system to off-roading rallies.

Also called a Side-by-Side (SxS), a UTV boasts four to six wheels and bench or bucket seating with seatbelts for up to six passengers. The UTV driver operates the machine by a steering wheel and foot pedals. The UTV cab comes shielded by a roll bar or a cage, with options to add front and rear windshields or even completely enclosed the cab for further protection.

UTVs make a kind of middle ground between dirt bikes and four-wheelers on one side of the off-roading spectrum and full-size off-road vehicles on the other.
People gravitate toward UTVs for many reasons and many purposes. Recreational off-roaders can access a wide variety of trails with a Side-by-Side, including (with narrower-width models) more restricted routes off-limits to full-size rigs. Hunters appreciate both the UTV's ability to tackle primitive trails and rugged terrain as well as its hauling ability, which is also the main attraction for many farmers, ranchers, and others in need of a tough-as-nails ride with plenty of cargo capacity and payload.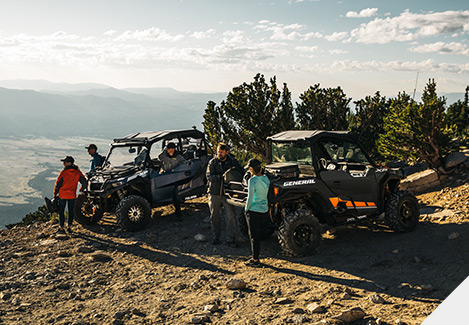 Let's take a closer look at a few of the common specific uses of UTVs.
A UTV with a bigger engine, more payload, and beefed-up towing capacity makes the perfect hauling machine on farms, ranches, and any number of jobsites. Utility-style UTVs specially designed for work often include such handy features as large dump cargo boxes and winches.

Their larger size and greater payload and towing capacity generally give UTVs an inherent advantage over ATVs in the hauling department, though you can certainly amp up a quad's workhorse abilities by towing a trailer.
2. When Doing Specialized Work
Besides the above considerations of hauling capacity, SxS UTVs offer other advantages for tackling heavy-duty jobs and chores of all kinds, from farm maintenance to hauling firewood. They can be outfitted with various work-oriented accessories such as front loaders and sprayers, and have the ability to transport more people in one machine makes them the perfect vehicle for work crews.
3. When Going Hunting or Fishing
A UTV can give you awesome access to remote and hard-to-reach hunting and fishing grounds, plus the means to transport gear and game. High-clearance 4WD/AWD sport-utility SxSs can handle poorly maintained access roads and trails, while providing the cargo space and payload for hauling everything from camping gear and tackle to field-dressed quarry.
UTV vs. ATV: You Can't Go Wrong
When mulling deciding between an ATV or UTV, keep in mind that one isn't intrinsically better than the other. Each has its own advantages and disadvantages with regard to different riding environments, trails, activities, and logistical considerations. Many outdoorspeople, and recreationalists own both UTVs and ATVs, allowing them to experience: the best of both worlds!