Utility
February 13, 2020
Using Your ATV or SxS UTV for Quick and Easy Lawn Maintenance
If you're looking to make quick work of some common tasks that face property owners, your best ally is going to be your Polaris side-by-side or ATV. They're more maneuverable than trucks or tractors, more affordable and are easier on your turf. In fact, many Polaris off-road vehicles come equipped with industry-exclusive Turf Mode, which delivers power to a single wheel to go easier on your grass.
While hauling feed, firewood or tools around your property are some of the more common jobs your vehicle can handle, you might be surprised to know it can also be a powerful tool for taking care of large swaths of lawn that often come with acreage. Here are a few tips to help you get the most out of your machine.
How to Maintain Your lawn and Yard With Your ATV or SxS
When it comes to lawn maintenance, everyone automatically thinks of mowing—and you wouldn't be wrong. An ATV or side by side is a great solution that can take hours off trimming back a big lawn with the right accessories and attachments. But that same vehicle is also more than capable of helping you fertilize, seed and rake every inch of your yard. Not to mention, hauling dirt for fill and mulch, plants, trees, rocks and retaining walls for landscaping.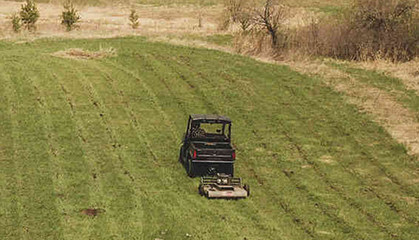 How to mow your lawn with an ATV or SxS
There are a few ways you can go when taking acres of the green stuff down a notch. Riding mowers are the obvious choice, but they can be uncomfortable and take a little more time. Big tractors can be outfitted to do the job in a fraction of the time but the machines and implements are costly and can easily damage your yard.
Adding mowing attachments to an ATV or SxS offers the best of both worlds including added comfort, speed and extra care for your lawn, thanks to Turf Mode, which we mentioned earlier. You're going to need a pull-behind mower to do the job mounted to the universal hitch on your vehicle. And don't be afraid to get after the tall stuff. Pull-behind mowers are more capable of clearing talk grass and brush than lawn tractors.


Tackle the tall stuff. If you have areas of high grass you'd like to take down, a pull-behind mower and your ATV or SxS are the perfect solution. They're more capable of clearing tall grass and brush than lawn tractors.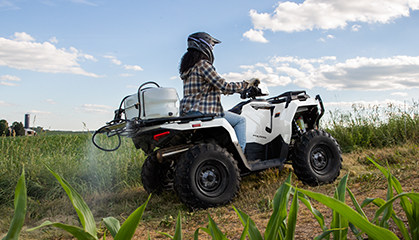 How to seed and fertilize your lawn with an ATV or SxS
Putting a fresh cut on your lawn is just the beginning. Making sure it stays healthy, green and growing is a task that starts in the spring and ends only when the grass stops growing. Seeding and fertilizing are essential to keeping your lawn thick and beautiful.
Adding an ATV fertilizer sprayer or a UTV seed spreader to your ride can knock out these chores in an hour or so. It's something that could take a good chunk of the day on foot or cost you an arm and a leg to have hired out. Load up the sprayer/spreader with liquid fertilizer or a weed killer and get rolling. Or attach the seed spreader to your hitch and overseed your entire yard in the fall so it bounces back full in the spring.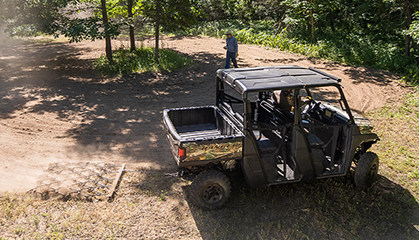 Raking with an ATV or SxS
Clearing your yard of branches, loose brush, rocks and other debris might be one of the least desirable tasks that face landowners each year. A pull-behind ATV or UTV rake is the perfect way to take some of the manual labor out of spring cleanup, prepping your yard for the fall or even cleaning up yard debris after a storm.
While it won't reach the level of finesse and detail hand-raking might achieve, a pull-behind rake will clear out the big stuff and dump it into easy-to-manage piles for disposal. It can also be used to clear a trail, grade a gravel driveway, spread topsoil and groom horse corrals.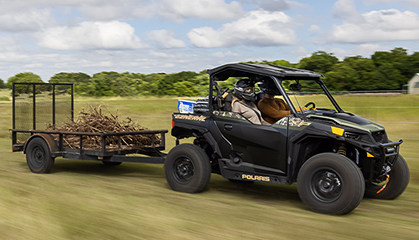 Seasonal considerations for your ATV or SxS
Aside from lawn duty, your off-road vehicle is ready to help you out with other tasks no matter the season. For those whose lawns turn white in the winter, adding a plow blade to the mix will help you keep your driveway clear in the cold months. On the other hand, adding a pull behind box blade can help you grade a gravel road or driveway all season long.
While you're waiting for your lawn to green up in the spring, add a pull-behind tiller to your vehicle and turn part of that lawn into a fruitful garden capable of producing rows and rows of fresh fruits and veggies. Or hitch up a trailer in the fall to haul bunches of balled and burlapped trees around your property to plant so they'll take hold right away in the spring. The options are really endless.
Property maintenance accessories, attachments and implements for your ATV or SxS
It's easy to outfit your ride to help you get more done around your property. Start by checking out a sampling of property maintenance accessories, available by vehicle.
Pick up a pull-behind mower, box blade or landscape rake for your ATV or SxS from your local dealer
If you don't see an accessory on our website, ask your local Polaris dealer. They have access to a whole catalog of options available to order to fit your specific vehicle.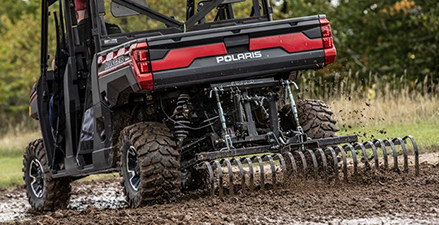 Tackle the tough jobs with help from Kolpin®. From hitches to disc plow kits, the right accessories can make light work of heavy labor.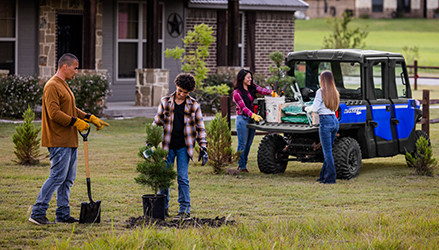 The right tool for any job
There really is no end to what your ATV or UTV can do for you. With the right accessories, implements and attachments, you can easily cut the time you put into your lawn and your property, so you can get more done in a day with less effort. Then, spend a little more time having fun with the whole family.