Tips for Camping with an ATV, UTV, or Side-by-Side (SxS)
Looking to up your camping game? Want to go further than you ever imagined, away from the crowded campsites and the ever-present glow of the city lights? Then consider camping with the help of an off-road vehicle. It can get you, your friends and all of your gear out to that perfect remote campsite by the lake where fish are always biting, cell service is blissfully iffy and the Milky Way carves a nightly trail across the sky.
Advantages of ATV and UTV Camping
There are some fairly big benefits to loading up your side-by-side, UTV or ATV for an off-road adventure that lasts a night or three. And, while it might take a little more research and pre-planning to get everything set up for the adventure, it is easily worth the extra effort.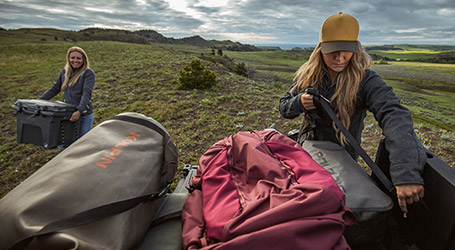 Haul More Gear
One of the hardest things to do when camping is not only deciding what you'll need to bring, but making tradeoffs when you just can't carry it all. The added storage space you get from an ATV or UTV, along with the option of a tow-behind trailer, means you can haul in more gear, provisions and heavy equipment compared to carrying it all in backpacks, kayaks or canoes. Plus, your vehicle gives you the added benefit of an on-demand power supply for your portable electronics.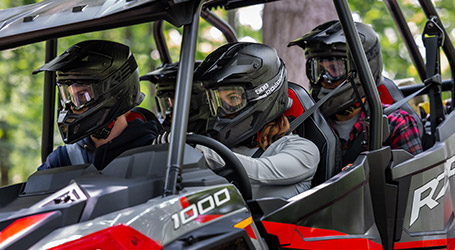 Haul More People
Camping, for most, is an extremely social experience, where you get to know your camping partners better, and share experiences of a lifetime. Multi-seat crew cab side-by-sides can fit 4 to 6, while a 2- or 3-seater can make it a more personal outing. And even though ATVs are generally only single-seat experiences, getting a party of four-wheelers together can put even the most remote campsites within reach for as many as you care to bring.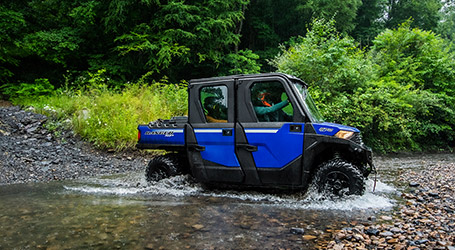 Go Further, Faster, Easier
Of course, one of the biggest advantages to off-road camping is the added speed these machines offer over other methods of travel. And while camping isn't generally a race, the speed you gain over hiking, biking or canoeing can get you farther into the wilderness a whole lot faster. Best of all, you won't take up the majority of your time getting off the grid. So, those remote rivers, foothills, forest canopies, desert canyons and big-sky prairies are all much easier to reach.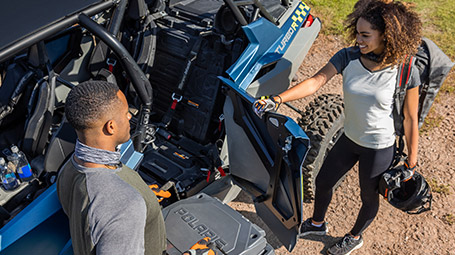 Plan Your ATV or UTV Camping Trip
Just like any camping trip, you can't skip the planning phase. It's one of the most important things you can do to ensure you have a trip that goes off without a hitch. And if there is a hitch, then you're prepared for it. Will you camp in one place that offers easy access to multiple trails, or in multiple areas along your route? How will you get there? What do you need to bring? These are all important considerations before heading out. And be sure to look up permitted riding trails using a trail navigation app like RIDE COMMAND® as part of your planning process.
Types of ATV Camping Trips
There are a few ways you can do this, and it all depends on what type of camping experience you want. You can head to a UTV- and ATV-friendly campground that has trails that can be ridden directly from the campsite. Many of these places also rent vehicles. You can head out on an off-road trail and locate various campgrounds to overnight along the way. Or you can go fully off-grid and roll into the foothills, desert or forested wilderness and make camp where you wish, as long as it's legal to do so.
The Length of Your ATV Camping Trip
Where you go, who you bring and how much you need to pack will depend a lot on how long you plan to be gone. Overnights or weekend trips will require a little less rigor in your packing. But if you'll be gone for a week, you'll want to figure out how much food and water will be need for the number of people in your party, with planned stops in towns to restock and replenish. Add more vehicles for more storage on longer trips, or tow a trailer for extra space.
The Distance to Your ATV Campground
Knowing this will help you decide a couple of things. If you're heading to a UTV- and ATV-friendly campsite, you might need to trailer your vehicle there or consider renting. If you plan to ride the trails for days, you'll want to set up manageable legs and plan gas-ups along the way.
What to Pack When ATV or UTV Camping
Once you know where you're headed, how long you'll be there and who's going with you can start to plan what to pack and even how many vehicles to bring.
General Camping Gear
These are the essentials for any camping outing. Make room for them and remember them. Use this list to start your own, as each person's list is personal.

Tent

Sleeping bag and pad

Clothes (2 pairs of everything)

Hiking Boots (2 pairs)

Rain gear

Food & Water

Cooler

Cooking equipment

Flashlight

Lighter and matches

Knife
UTV- and ATV-Specific Camping Gear
The way you outfit your off-road vehicle can go a long way toward what you can bring, how comfortable you will be and how long you can stay out there. To maximize your storage space, here are the items to consider.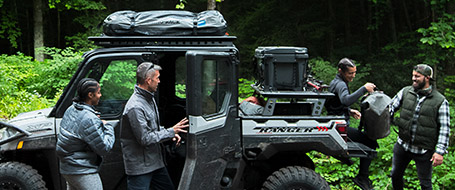 Be ready for every adventure with Rhino-Rack® roof and bed racks, Lock & Ride accessories and more.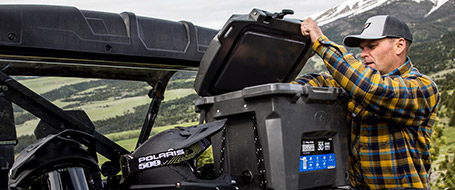 Keep it cold! Every bit as good as Yeti® and made to fit your ride.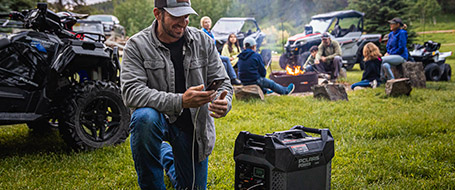 Everything you need to power your campsite in the middle of nowhere.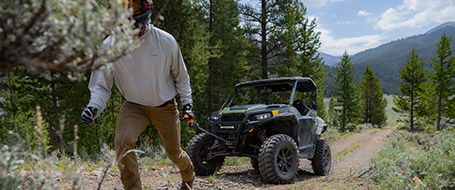 Essential tools to help you load your ride, haul more and even get out of a jam.
Gear Kit Essentials
Being prepared is an important consideration when camping. Keep in mind, using your ATV or UTV to camp adds a few more things to consider. Be sure you bring proper riding gear, eye protection and a DOT-approved helmet. Other items to consider include:

Regular and Phillips screwdrivers

Zip ties, a small roll of flexible wire, and duct tape

Tire plug kit with manual or 12-volt air pump

Adjustable wrenches or common sized wrenches specific to your vehicle

Proper riding gear, helmet, and eye protection

A small fire extinguisher

Maps or GPS device

Mobile phone
You can learn more about off-road riding tips and essentials by exploring off-road articles.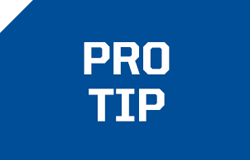 Always pack rain gear. It will keep you warm, clean and dry, which means you don't have to pack as many clothes to replace dirty or wet items.
Preparing your Vehicle for Off-Road Camping
It's always smart, no matter where you're heading, to keep your off-road vehicle in top riding condition. But it's especially important if you'll be using your vehicle for an extended amount of time, going to remote places with little access to service or riding in rough country.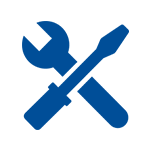 Ensure Routine Maintenance is Up to Date

Keeping up on scheduled maintenance is the easiest way to make sure your vehicle is up to the task. Change the oil, check belts, top off fluids as needed and give your ride a good once-over. You can learn more about keeping your ride in running shape in this helpful how-to article.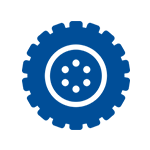 Consider Additional UTV or ATV Accessories

In addition to accessories that you can add to make your camping experience even better, consider upgrades to your ride that make getting there that much more enjoyable. You can upgrade to a Rockford Fosgate sound system for fireside tunes, add heat and/or air to keep the cab comfortable, install more lighting and even enclose the cab with windows, doors, roofs and rear panels.
How is Off-Road Camping Different Than Overlanding?
One of the hottest things to do off-road these days is overlanding. If you're not familiar with it, overlanding is basically the process of heading out into the wild for days or weeks at a time, traveling to remote destinations. For overlanding, the journey is the principal goal. Keep in mind, camping isn't overlanding, but you do need to camp when you overland. So, some of these camping tips can apply. If you're looking for overlanding advice, there are plenty of resources dedicated to it online.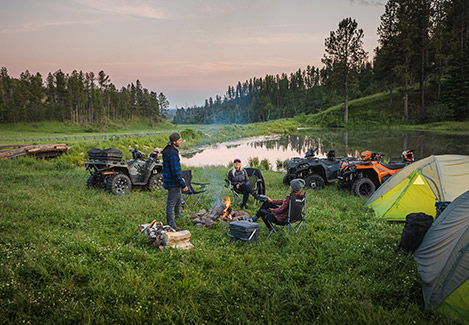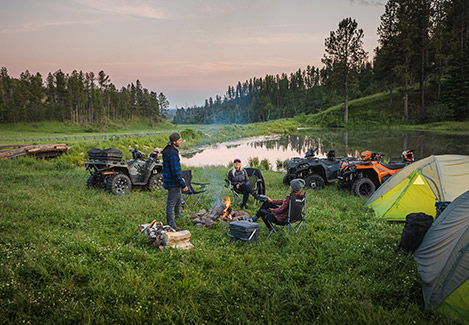 You're All Set. Let's Go Camping.
If you love to camp, you know there are really endless ways to do it. And if you haven't tried it, camping with a UTV or ATV can be a game-changing experience. So, do a little pre-planning, pick a destination, trail or national park, and get farther off the grid than you ever might have imagined with the help of an off-road vehicle. We can't wait to see you out there.
Rhino-Rack® is a registered trademark of Rhino Rack Australia Pty Limited
Yeti® is a registered trademark of Yeti Coolers, LLC
Unless noted, all trademarks are the property of Polaris Industries Inc.
© 2022 Polaris Industries Inc.