Buying Guides
November 01, 2021
Best UTV for Hunting
One of the many activities a UTV is very well suited for is hunting. Hunters need rugged vehicles to get them where the game lives, and tough rigs that can help them haul out their prizes. A UTV fits the bill on every count, giving you a broader territory to cover, saving your body the physical wear-and-tear of clearing trails and toting out meat, and giving you the passenger capacity to transport a whole hunting party in just one or two sets of wheels.

Let's take a closer look at some of the reasons why a UTV can completely transform your hunting experience—for the better.
What Makes a UTV Good for Hunting?
An ORV provides hunters with a smaller and more nimble rig than a truck or analogous full-size vehicle. Compared to an ATV—a fine choice for hunting, in and of itself—a UTV boasts greater cargo-carrying and hauling capacity, not to mention the ability to bring along your hunting buddies (or family members) in one vehicle: handy for talking strategy without having to stop to do so, for having a few sets of eyes trained on the country as you watch the road, and boosting the safety and all-around enjoyment of your hunting trip by having some companions along.
When it comes to an ATV vs. UTV for hunting, the superior storage of the side-by-side is a significant advantage. While a quad model such as the POLARIS Sportsman offers outstanding storage with its racks, UTVs have that much more space with their cargo bed, under-seat alcoves, and other nooks and crannies—not even counting the towing abilities we'll get to. This makes for that much more ability to bring along hunting gear, camping equipment, and survival necessities, plus haul out meat, hides, and racks.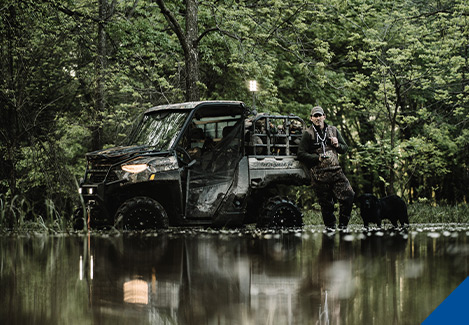 The ability to carry game in cargo beds, on racks attached to the vehicle, or towed by winch or trailer makes a UTV all the more attractive to hunters. With its more powerful engine and its greater cargo capacity and payload, a side-by-side can generally haul more or larger game than an ATV. A big whitetail or muley buck (let alone a hunk of elk or moose) can tax a quad, causing it to bottom out or making it tough to control, while a UTV often has no trouble transporting it.

It's not just about moving more turkeys, heftier deer, or multiple elk quarters: A UTV with a winch is also a great aid for transporting tree stands or blinds, not to mention clearing access tracks blocked by logs or branches.

Tugging road obstacles aside or dragging out quarry by hand are good ways to hurt yourself in a jiffy. A UTV can take some of that strain off your body, even while making it easier to access your hunting grounds. Considered from that perspective, a side-by-side can work wonders in extending your hunting career and expanding your hunting horizons.
3. Type of Terrain & Ability to Get to Difficult Places
The 4WD/AWD capabilities, up-for-anything all-terrain or mud tires, and rugged design make UTVs great choices for hunters seeking rougher, wilder country, and meanwhile the smoother ride of their suspension compared with an ATV is definitely appreciated when lengthy access roads or the physical issues of the hunter(s) are part of the equation. It's about weighing that greater comfort and stability rendered by a UTV against the (generally) greater maneuverability of a quad.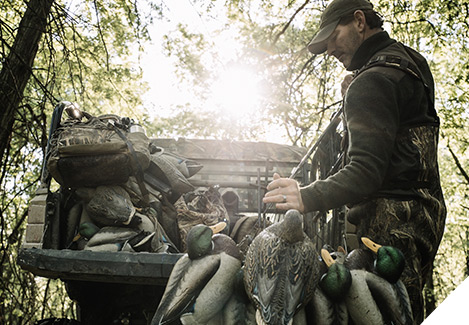 From seatbelts to the options of roofs, windshields, and side and back panels, UTVs provide more overall protection for riders than ATVs, which can be a significant consideration for hunters. A long drive on muddy or rocky roads, potentially exposed to the cold winds, rains, and sudden snowstorms that hunting season serves up in many areas, is a more appealing proposition when you're cozy in the cab of a side-by-side.

As we've already mentioned, a winch equipped on your UTV helps you deal with any number of the realities hunting in the backwoods or the back-of-beyond scrub entails, including tree trunks and brush strewn inconveniently over the track.
Best Accessories for Hunting UTVs
A high-quality UTV such as any of the POLARIS side-by-sides is, even in its most barebones setup, a powerful hunting aid, and the fact that you can customize your rig with hunting-friendly modifications gives you almost endless possibilities for enhancing its utility out in the deer woods or the antelope range. From a front loader for hoisting a carcass and extra lights for setting up that tree stand after dark to storage units for your rifle or bow, you've got loads of add-ons for outfitting your side-by-side as an all-out hunting machine. Let's take a closer look at some of the possibilities when it comes to UTV hunting accessories.
Adding Camouflage to Your UTV
A UTV for hunters should have as low a profile out on the hunting grounds as possible. Whether it's to minimize detection as you're scouting or commuting to your tree stand or blind, or it's to keep your vehicle out of sight while you're in position or out still-hunting, a camo pattern can be just as useful for breaking up the outline of your side-by-side as for your person. At POLARIS, we offer both Pursuit Camo editions of our RANGER and Sportsman models as well as a Pursuit Camo side-by-side Field Cover you can throw over any of our UTVs to make them blend into the woods.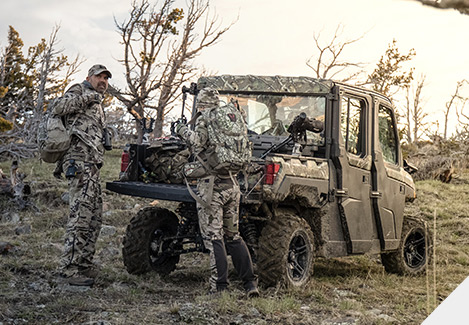 Gun/Bow Racks & Mounts for a UTV
Safely and legally transporting your firearm or bow is another hunting essential. With POLARIS, you're completely covered on that count, with our array of gun and bow racks, gun holders, gun boots, bow cases, gun boxes, and gun mounts that integrate efficiently with our UTVs. (You should always abide by state regulations for transporting guns and bows in an ORV.)
Food Plot Accessories for a UTV
Another huge advantage of a UTV when it comes to hunting is its usefulness in establishing and maintaining the food plots that can improve game habitat and hunting prospects. Here again, side-by-side accessories make things easier than ever, whether it's a front loader for hoisting hay bales or feed sacks or it's a plow add-on for prepping and cultivating ground. Keep in mind that UTVs can easily service more far-flung food plots that may be inaccessible by tractor or truck: another reason to add a side-by-side to your hunting fleet.
Improve Your Hunting Success With a UTV
Cover more ground while scouting, haul supplies and equipment to stakeout points, and transport your prize out of the backcountry across rough-and-tumble terrain with a UTV, a hunter's best friend. We'll close with yet another reminder of one of the very best reasons, no question, to use a side-by-side on your next hunting trip: You can tote along that many more hunting companions.

Warning: All riders should always wear helmets, eye protection and protective clothing and footwear. Read, understand and follow your owner's manual. Never ride under the influence of drugs or alcohol. Ride within the limits of your own abilities and never engage in stunt or exhibition driving.