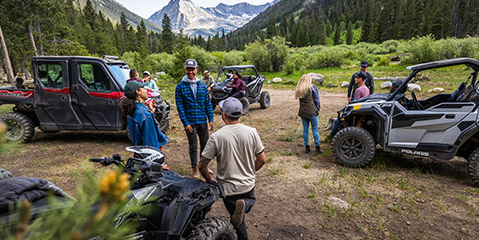 Experience Polaris Adventures
Off-Road
We believe that the off-road adventure is ingrained in the human experience. That's why we are dedicated to delivering Adventure Everywhere. From the top of the world-renowned mountain ranges to the heart of the most remote backcountry. To picturesque beaches and snow-covered valleys, we create experiences that speak to the soul of the adventurer.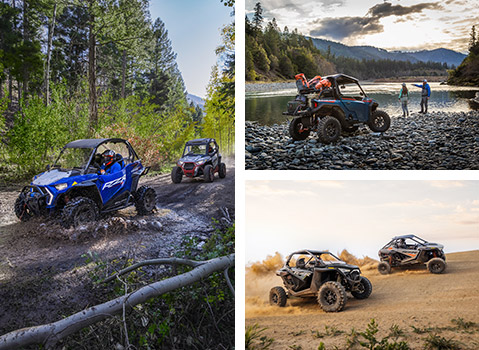 From sand dunes to mountain peaks, canyon rides to mud pits, our vehicles can take you where you never thought you'd be able to go. We've partnered with experts in outdoors, professional riders, and just all-around curious explorers to make sure our vehicles and outfitters are ready for wherever you want to go. From discovering unique riding destinations to once-in-a-lifetime experiences in the outdoors, you'll find endless ways to explore.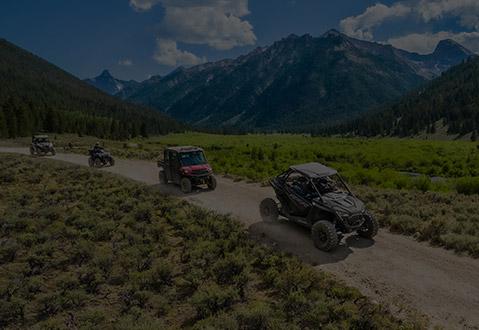 Episode #1: Alaska | April 1, 2023
The season premiere kicks off in Healy, Alaska as the team explores The Last Frontier. Clip in and hang on to this adventure.
Episode #2: Glamis, CA | April 8, 2023
Camp RZR kicks off the annual dune season in Glamis, CA. Enjoy the ride in the Imperial Sand Dunes and make sure to stay for the party.
Episode #3: Montana | April 15, 2023
Travel in back in time to a historic gold mine during the day and enjoy some comfort at night at one of Montana's oldest Wild West ranches.
Episode #4: Yakima, WA | April 22, 2023
The Pacific Northwest has all types of terrain and weather to match so we've built a Polaris General 4-Seater to tackle any type of conditions.
Episode #5: Quebec, Canada | April 29, 2023
A fall ride north of the border should be on everyone's bucket list and if you're going to make the trip then Quebec should be at the top of your list.
Episode #6: Mississippi | May 6, 2023
Mississippi = Mud and we take on some of the deepest holes in the south with a bunch of friends from Texas.
Episode #7: Sandcraft Motorsports | May 13, 2023
If you live in the Southwest, then a trip to Glamis is a must and if you really want to know how to tackle the dunes then go for a ride with Sandcraft Motorsports in their Pro R Project X build.
Episode #8: Arizona | May 20, 2023
We hit the Arizona desert and uncover great rides just outside Phoenix city limits.
Episode #9: Resurrection Industries | May 27, 2023
They go big in Texas so why not get dirty with Resurrection Industries and their custom RANGER CREW Project X build.
Episode #10: Las Vegas | June 3, 2023
Alexa invites her best girlfriends to Vegas for a few days of fun and rides.
Episode #11: Tennessee | June 10, 2023
We visit two of the best ride parks in Tennessee on a Rocky Top adventure.
Episode #12: Wisconsin | June 17, 2023
WWE Superstar Braun Strowman gets behind the wheel in his favorite place on earth, Wisconsin.
Episode #13: Rugged Radios | June 24, 2023
Taco Tuesday! Rugged Radios goes all out transforming a GENERAL into a roving taco truck.
Catch Season 14 of Destination Polaris when it premieres on Bally Network in US and Wild TV in Canada on April 1st. Or you can catch up on last season below.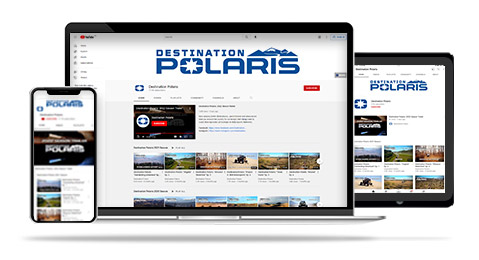 Catch Season 14 of Destination Polaris when it premieres on Bally Network in US and Wild TV in Canada on April 1st. Or you can catch up on last season below.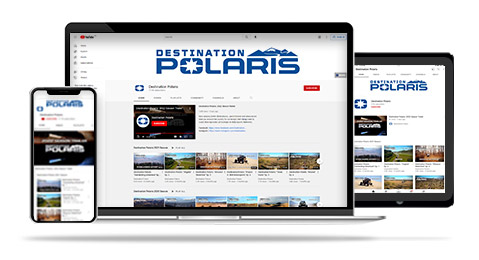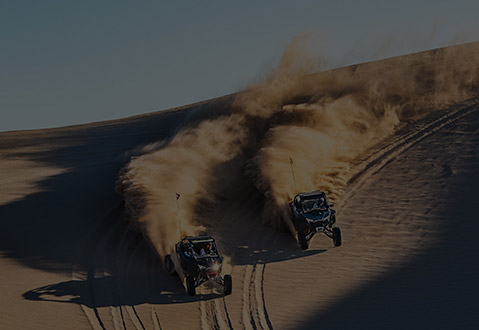 Creating Remarkable Experiences
Whether you are looking for a guided tour in the dunes or a solo adventure in the mountains, Polaris Adventures can take you there. We partner with experienced outfitters who are not only well-versed in our vehicles, but are experts in finding the safest and most exciting experience for you - no matter your riding level. With Polaris Adventures, your possibilities are endless.