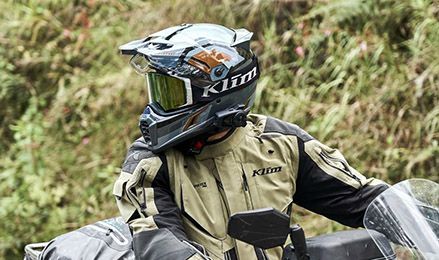 KLIM Recognizes the Power of Apparel
When it comes to powersports and safety there are many factors to consider but one that riders must not overlook is the power of proper protective gear. From helmets to jackets to boots or gloves, wearing the appropriate gear can literally make all the difference – just ask the engineers behind apparel innovation at KLIM.

The team at KLIM specializes in developing state-of-the-art riding gear for snowmobile, motorcycle and off-road riders and recognizes the role it plays in rider safety. As a part of its commitment to innovation KLIM offers a Gear Protection Guarantee to motorcyclists. Under this program any rider involved in a motorcycle accident within five years of purchasing qualifying KLIM gear can submit a claim to KLIM and it will replace the damaged KLIM gear free of charge.

"A primary goal of the program is to increase our understanding of how our gear performs and improve the quality and durability of our gear," explained said John Summers, director of Marketing, KLIM.

To participate in the program, riders are asked to send in the qualifying gear, a copy of the police report and answer a few questions about the weather conditions, speed, what type of bike they were riding, did they tumble or slide, location of the accident, and more. From there, our product development team gains an understanding of the extent of the event and sees the impact it had on the gear, which in turn assists with research and development for future apparel innovations.

"Some of our most exciting breakthroughs have occurred when we look beyond vehicle safety and explore apparel," said Paul Webber, vice president of Supply Chain, KLIM. "The information we receive and research we've conducted through the Gear Protection Guarantee and beyond has led to industry-leading innovations like the first motorcycle airbag vest."

The airbag vest is wireless, and inflates in the event of a detected potential impact or unrecoverable fall to help reduce the risk or severity of torso injury. The low-profile vest can be worn underneath any riding jacket.

However, apparel innovation doesn't stop with motorcycles, the KLIM apparel team is continually researching and looking for ways to improve gear for snowmobile and off-road applications as well.