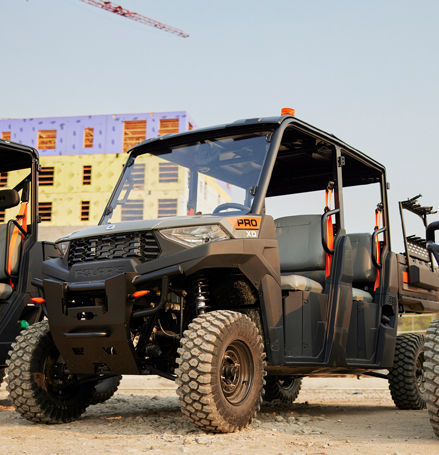 Polaris Expands Line of Pro XD Work Utility Vehicles with an All-New Mid-Size Model
Pro XD's safety, durability, and serviceability benefits now engineered in a more compact design
MINNEAPOLIS, October 11, 2021 – The industry's leading commercial work utility vehicle (UTV) is expanding its line-up and setting a new standard for safe, durable and serviceable work UTVs and broadening the customer markets it will support. Polaris Commercial, a division of Polaris Inc. (NYSE:PII), introduces the new mid-size model of the Pro XD UTV. Designed for lighter payloads, tighter spaces and remarkable comfort, the vehicle comes in two and four-seat versions with a capable 500-lb. capacity cargo bed. Uses for the mid-size model include all-terrain and all-weather utility or people movement for applications like construction, events set-up, landscaping and facilities and grounds maintenance.
Built to withstand tough duty cycles and daily worksite use, the Pro XD line-up boasts durability, serviceability and safety features that differentiate it from other work UTVs. Full-sized Pro XD models are offered in both gas and diesel and have industry leading payload and towing capacities. The all-new mid-sized model takes the same purpose-built features that work customers value in the full-size Pro XD, and delivers them in a more compact profile, with capable payload and towing capacities at a lower price point.
The compact size further increases agility while maintaining a 200-hour service interval for longer uptime. The mid-size Pro XD model preserves the smooth ride Polaris is known for, while providing a 500-lb box capacity, ample hauling and towing capabilities for mid-size applications – and with two- and four-seat options, room for the whole work crew. Additionally, the small footprint allows for easy access to narrow spaces, offering greater jobsite maneuverability, flexibility and efficiency.
"Not all of our customers need to haul over 1,000 lbs in the cargo bed, but they still want a heavy-duty driveline, 200-hour intervals between oil changes, durable components and vehicle fault alarms," said Aaron Stegemann, Director of Commercial Sales, Service and Customer Experience, Polaris Commercial. "By focusing on the commercial customer, we can dial in to deliver incredible value with the new mid-size model of the Pro XD and continue to produce the best commercial UTVs available for the entire work UTV market."
Same Safety-First Focus
The mid-size Pro XD model offers the same vital safety features the full-size Pro XD was established on, meeting jobsite regulations and providing peace of mind for work crews and fleet managers. Safety components include adjustable speed calibration, operator warnings, back up horn and pedestrian alarms, highly visible lights, and improved sightlines for greater visibility. Additionally, the Pro XD cab has been engineered to create the tightest sealing doors and roof possible, keeping harmful dust and weather out.
Durability Customers Depend On
The mid-size model is engineered with industry-leading, long-lasting and robust components that customers can depend on. Overall cost of ownership is lowered due to high-quality features built to last such as heavy-duty driveline components, as well as puncture-resistant Kevlar®-backed vinyl seats and 8-ply nondirectional tires. These components deliver the durability that Pro XD UTV customers need and are built for increased life cycles through rugged conditions, tough jobsite duty cycles and every-day worksite wear and tear.
Superior Serviceability
To further increase uptime and customer ROI, the mid-size Pro XD model includes a Polaris Pro-Star 570 DOHC engine that has a 200-hour oil change interval. Additionally, features are designed with universal and simple-to-replace parts such as common-size tires and accessories.
The complete Pro XD lineup also provides unmatched versatility and customizability with accessories that enhance productivity in all climates, while also supporting jobsite compliance and safety requirements. The expansive accessories catalog is available to view on the Polaris Commercial website, where customers can also experience the vehicle virtually. Additional information and tools let customers build and quote the different all-wheel drive Pro XD models and accessory packages, view each of them in 3D and request a quote.