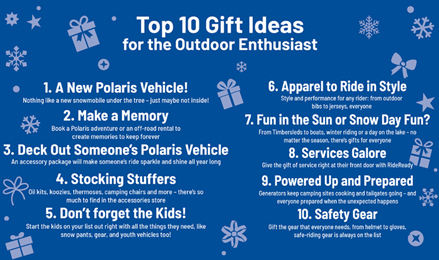 Think Outside this Holiday Season
This year has seen outdoor recreation revved up. People across the country and around the world are finding freedom – and safe distances – by going outside. As many companies in the outdoors industry have, Polaris has experienced unprecedented demand during the pandemic. Enthusiasts are taking advantage of extra time to get out and explore, and others who've never experienced the thrill of an off-road vehicle are finding new ways to adventure, whether by land, water, or the open road.
As with so many things, COVID has significantly affected how small business owners do business – but the creativity and drive it takes to run a small business has caused small business owners to find new ways to connect with and provide service to their customers, and Polaris dealers are no different. More than 2,200 dealers across the United States and throughout Canada are independent operators that vary in size and scale. The Polaris dealer network has long served as a pillar for the company – in fact, the oldest active dealer started selling Polaris' snowmobiles in 1956, and several others have deep history with the company, dating back decades.
This Saturday, Nov. 28, we want to recognize our favorite network of small business owners – our independent dealers – as they gear up for the holiday season. To find a Polaris dealer near you, visit the Dealer Locator page.
The spirit of adventure makes a great gift
At a time when many activities have limitations being outside is encouraged because it provides open air and plenty of space for social distancing, and ability to make memories with family and friends. A snowmobile ride means connecting at a safe distance while being able to enjoy an adventure together. Getting out for a day of exploring with friends means being together while staying apart and still enjoying the outside air and good times too.
This year, many people are looking for gifts that offer experiences that will extend long after the holidays, or even become a life-long interest.
"We're seeing more adventure and experience-type gifts surrounding family rides and weekends away for couples at locations that are within driving distance instead of traditional 'fly to' vacation spots," says Jan Rintamaki, general manager of Polaris Adventures.
With Polaris Adventures Outfitters nationwide, there's no shortage of gift options, whether that's rolling Maui's Road to Hana in a Slingshot, traversing the snowy backcountry by snowmobile or soaking in all that Sedona offers in a RZR. "We're excited to see our customers choosing to share the spirit of Polaris by giving our Adventure packages as gifts. It's really a neat way of saying, 'even though we can't be together this year, let's plan something fun to look forward to next year.'" Rintamaki says the families are choosing adventure trips like this to celebrate special occasions, birthdays, anniversaries and more. (All Polaris Adventure vehicles and helmets are cleaned and sanitized before each ride, and the check-in process is touchless.)
And, now, as the gifting season is upon us, customers are looking for creative, memorable gift options and Polaris is ready with its recently launched Holiday Gift Guide: Gift the Outdoors. This is the gift guide that checks all the boxes for the people on your list, from snow lovers to trail riders, kids, desert riders, landowners, hunters and campers too. Featuring all things off-road and beyond, outdoor adventures, riding gear and apparel, merchandise and more – plus, of course, vehicles – Polaris has gifts for everyone on your holiday list. This year give them access to their life's adventures.