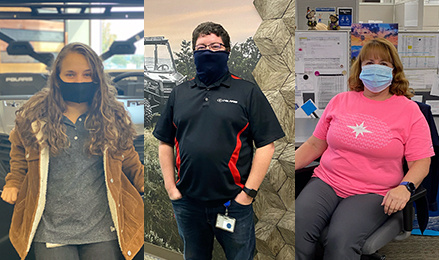 The People of Polaris: The best team in powersports
>
Manufacturing technology has changed in the decades since the first snowmobiles rolled off the lines in 1954. Today, self-driven carts deliver materials up and down the lines, mechanical riveters work double time, and many of the tools the line operators work with have improved to meet ever-changing technologies.
More than five decades of manufacturing has positioned Polaris as the global leader in powersports plus; the responsive harnessing of technology has allowed for modernization of the plants, bringing automation and the use of robotics to the assembly lines throughout the company's 20 plants across the nation and around the world.
"But, there's something that hasn't changed," says Nathan Hanson, director of operations at Polaris' flagship manufacturing facility in Roseau, Minnesota. "The people. No technology replaces the passion and the care our employees bring each and every day."
Some 14,000 employees work at Polaris, and many of those actively work in the manufacturing facilities, overseeing production lines that turn out more than 400,000+ vehicles each year. While technology advances, the balance of human interaction within manufacturing remains and Polaris uses the collective expertise of workers on the assembly lines.
"We're pretty high tech here, and we have automated systems but most everything is still hands on in some way, and nothing accounts for the human element," says Barbie Brainerd, a service planner at Polaris' newest manufacturing facility in Huntsville, Alabama.
The Value Improvement Process (VIP) encourages employees to submit ideas for process improvement across all areas of the company. "It really gives a sense of ownership," says Naomee Lazo, training manager, pointing out that employees are rewarded when a process they've suggested is implemented.
Training from the start
Lazo oversees training strategy for Polaris' manufacturing plants, working with a team of trainers so that the manufacturing workers have the skills they need to make Polaris products under the quality guidelines. "At Polaris, the person is first and foremost and making sure employees are adequately prepared is our priority," says Lazo.
The manufacturing training team and broader steering committee has been instrumental in developing internal pipelines to develop the workforce – and to provide additional opportunities for employees to further their careers across the Polaris network, and beyond. Available to plant employees in several of Polaris' manufacturing locations throughout the U.S. and in the plants in Mexico and Poland, the Degreed program offers training plans that provide certifications, on-the job trainings, leadership programs and more.
The training programs don't stop there either. For example, the Polaris Certified Technical Quality Plan helps teach hourly employees the skills instrumental to manufacturing, such as statistical modeling, metrology, calibration, and inspection and testing. "For most roles, these are all optional, but for those interested in developing themselves, they're invaluable and we're proud to offer them to our employees," says Lazo.
In addition to the broader manufacturing offerings, each site brings their own flair and devotion to developing their employees. Huntsville offers a Weld Development Program that develops promising assemblers and operators into welders. Roseau's partnership with the local tech school provide flexible and after-hours training so employees can work towards an accredited degree in Manufacturing Technology; the plants in Osceola, Wisconsin, Spirit Lake, Iowa, and Opole, Poland have mature training processes and run consistent on-the-job training courses teaching employees how to train under the training-within-industry guidelines.
And, in Monterrey, Mexico, at the Polaris plant that builds side-by-side vehicles, they are preparing to open a brand-new training center equipped with a conveyor belt and wooden cars to further develop both new and existing employees' manufacturing skills and the role those skills play in achieving product safety and quality. Polaris' commitment to developing its employees alongside technology truly runs down the line.
From Assembly to HR
Adam Hopkins is one of the many who have experienced the mobility and career development Polaris offers. In 2016, he was hired as an operator on the Slingshot line in Huntsville – just as it was moving production from Milford, Iowa, to Huntsville. "I'd never worked in manufacturing," recalls Hopkins. "But I started as an entry-level operator that first year, going to Iowa for training so I could help open the new facility in Huntsville." From there, he moved up to become a quality auditor, and ultimately found his spot in Human Resources, where he serves as an HR Assistant for the plant. "Let me tell you, HR never crossed my mind when I first started. But I'm so glad I've ended up here."
He says his advancement is due in large part to the encouragement he received from supervisors and team leads, and the rapport that allowed him to ask questions, to learn from others and collaborate with employees in other departments and in different levels of the company.
Crediting an openness within the company culture to pitch in and help others, to find ways to lend a hand and serve as a mentor, Hopkins sees value in the commitment to employees that Polaris embodies. "I cannot begin to put into words the personal and professional development I've received here at Polaris."
From Welder to Teacher
For Sarah Mayers, the weld trainer in Huntsville, starting out in weld school wasn't her original plan – and becoming a welding instructor for a global manufacturer certainly wasn't something she envisioned. But, thanks to Polaris, that's exactly where she finds herself today.
A teacher at the welding school Mayers attended was working on a project with Polaris and encouraged her to apply, and so she did. Coming in as a weld test facilitator allowed her to practice the type of welding that Polaris employees were actually doing on the lines. And through that, she says she became a 'bad-ass welder' as she worked alongside – and learned from – Polaris welders.
Soon, she became one of the team and was recognized for not only her weld talent, but also her inquisitive nature and want for learning new techniques. "I asked a lot of questions," she recalls with a laugh. "But I think they saw that I liked to learn and to help others learn. They asked me to design an assembly line training program and help fabricate the units Polaris uses to train welders." That turned into a full-time job writing process instructions for the welders, overseeing new-hire orientation, and facilitating weld tests. One of her favorite aspects of the job is helping incoming welders become certified. Reward, she says, comes when welders she's trained come up to her years later to thank her for the skills she helped them acquire.
"Everyone is so different in the way the feel about a manufacturing job," she says. "But it's so cool to see people who genuinely love the trade. A welder's job won't ever be obsolete because Polaris will always need skilled workers to do important work."