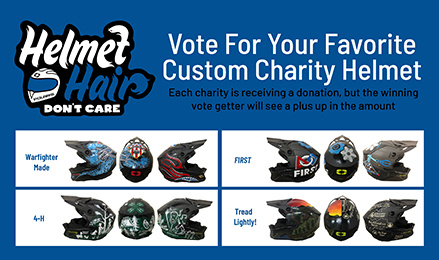 Head and Heart: A look at four nonprofit organizations and the work they do to promote safety in a variety of ways
>
Military Veterans. 4-H members. Trail stewards. Future technology innovators. Four distinct groups with one major thing in common this month: safety.
In honor of National Motorsports Awareness month, Polaris is promoting motorsports safety and encouraging the use of helmets with our Helmet Hair Don't Care initiative. As a part of the program, Polaris is collaborating with helmet artist Skratch's Garage to create four custom-painted helmets, with each design representing a different nonprofit organization. Throughout the month of August, the public will have the opportunity to vote for their favorite custom-helmet design in what we are calling the 'Head and Heart' contest. The nonprofit that receives the most votes will receive a $5,000 donation from Polaris. The three other nonprofits will receive a $1,000 donation and the helmets will be given to each organization to be used as they choose.
Voting ends August 31, 2020. To vote, visit: polaris.com/en-us/helmet-hair-dont-care.
The four nonprofit organizations are Polaris partners and represent our commitment to safe riding, environmental stewardship, military veterans, and advancements in STEM and trades education.
A good steward always rides responsibly
Tread Lightly! is a national initiative to protect and enhance recreation access and opportunities by promoting outdoor ethics to heighten individuals' sense of good stewardship. Started by the U.S. Forest Service in 1985 as a way to speak directly to users of motorized vehicles who rode on public lands, the organization became a nonprofit in 1990.
"There's a real importance of people being educated and aware of their impact on the land," says Danielle Nowles-McNiven, interim executive director at Tread Lightly!. With education, she says, Tread Lightly! helps riders learn how to get out and enjoy their vehicles in the beautiful, expansive public lands throughout the country. The program focuses on topics such as creating awareness of a rider's own abilities, knowledge of how the vehicles work, how to respond to accidents, and the importance of safety equipment.
The T.R.E.A.D. Principles – travel responsibly, respect the rights of others, educate yourself, avoid sensitive areas and do your part – serve as guidelines for the overall program. And, Tread Lightly! believes that a component of 'doing your part' includes making sure riders use the right safety equipment.
"At Tread Lightly!, we believe that personal protective equipment, including a helmet, is mandatory on every ride, every single time," says Nowles-McNiven.
Safely grooming the trail for future generations
Minnesota 4-H is a youth development program of the University of Minnesota Extension and is part of the national 4-H program. Through the 4-H learn-by-doing process, youth obtain essential life skills such as problem-solving, decision making, coping and communicating that help them succeed in school, college, community and career. The Outdoor Adventures portion of Minnesota 4-H is where off-road vehicle safety training is housed, and safety training starts as soon as members become involved in 4-H.
Through a Polaris Foundation grant, Minnesota 4-H received two large trailers with five Polaris vehicles in each that are used during every safety training in the program, under the Minnesota Department of Natural Resources Youth Safety Certification. The training includes vehicle maintenance, trail maintenance, and overall safety. In addition, all adult volunteers are certified safety instructors through the Minnesota DNR training.
"Safety is priority number one," says Nicole Pokorney, Outdoor Adventures Coordinator for the 4-H Minnesota 4-H program. "Our volunteers and staff are so passionate about the safety portion and we put all of our efforts into the safety training."
Safety training is a large part of this program because educating youth members early leads to a lifetime of safe riding enjoyment.
Pokorney has seen the safety training sinking in with Minnesota 4-H members. Recently, ninth-grader Owen Babler, took it upon himself to create an off-road vehicle safety video, featuring his Polaris RZR, and posted it on YouTube.
When safety and science team up
FIRST® (For Inspiration and Recognition of Science and Technology) is the world's leading youth-serving nonprofit advancing STEM education. For 30 years, FIRST has combined the rigor of STEM learning with the fun and excitement of traditional sports and the inspiration that comes from community through programs that have a proven impact on learning, interest and skill-building inside and outside of the classroom.
By inspiring young people to be science and technology leaders and innovators through engaging them in exciting mentor-based programs that build science, engineering, and technology skills, FIRST's program not only parlays into future careers for the students but also how each student learns essential skills for life.
"Safety is built into our Core Values," says Erica Perez, FIRST's corporate and foundations relations manager. "Our students might not need to wear helmets to compete like in traditional motorsports, but safety is a must in everything we do." Students work together on teams to design and build robots for competition. By the time they reach the high school program, they're building 120-pound robots the size of washing machines that compete on a space equivalent to a regulation basketball court. Safety glasses and closed-toe shoes, along with awareness and response preparedness go hand in hand on a robotics team, so much so that each team has a safety captain. Teams begin each season with safety training before the engineering even begins.
Students learn essential skills like safety protocols, communication, and teamwork in addition to mechanical engineering, and Polaris employees serve as a mentor coaches for a Minnesota-based robotics team in the FIRST program. As mentors, they bring their knowledge as engineers to the team and show them how safety is implemented throughout all that they do as engineers at Polaris.
Adrenaline fix creates a safe space for Veterans
It takes a certain focus to operate a Polaris RZR on a dedicated, off-road track. At speed, the tight turns, natural roadblocks, steep descents and unexpected impediments that show up on a trail don't allow time for riders to think of anything else beyond the thrill of the ride. That's especially important when it comes to combat-wounded Veterans. There's no time for PTSD to creep in. Focus pushes out the triggers and stressors. Feelings of isolation are replaced with exhilaration. Adrenaline takes over.
Warfighter Made provides recreational therapy to ill, injured and combat wounded service members and Veterans through adrenaline therapy, explains Marine Master Sergeant (ret.) and combat Veteran Robert Blanton, co-founder, CEO and full-time volunteer at Warfighter Made. Veterans often experience negative feelings as a result of the things they witnessed or experienced during their service. "When a Veteran is out on the track, and the adrenaline kicks in, it takes their minds off of those things," Blanton says.
Warfighter adapts and customizes off-road vehicles for Veterans so they can continue doing the things they enjoy, while their vehicle reflects their individual personality. Ill, injured and combat-wounded Veterans are invited to participate in our recreational therapy trips. These adventures include participating in Lucas Oil Off Road events and "Adrenaline Saturdays" with RZR vehicles.
Through the Polaris-sponsored program, Veterans meet other Veterans, creating a network of support and helping reduce feelings of isolation. The shared experience brings them together in a place that offers sanctuary from the physical disabilities and invisible scars they carry with them; the release the trail provides transcends unspoken barriers of their PTSD struggles. The veteran population has a high suicide rate and the camaraderie that's formed through these rides is invaluable. "Friendships are formed, we're a family here," says Blanton. "We're introducing Veterans to other Veterans who are experiencing many of the same issues and helping them build another support system."
There's a moment, Blanton recalls, at the end of each ride that stands out, and it's something that recognizes the meaningful impact of feeling safe. In the most literal and figurative way, Warfighter Made provides Veterans the very core of safety.
When a Veteran comes off the track after driving one of the RZR vehicles around and takes their helmet off, there's one thing everyone always sees, says Blanton, "And it's always the same thing." He pauses, as the emotion settles in. "It's a smile. It's always a huge smile."