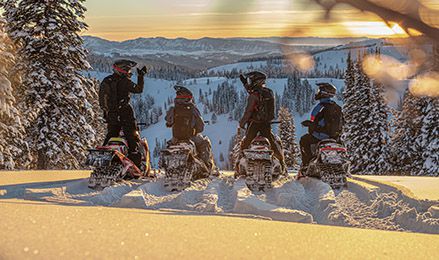 Best Practices for a Safe Ride
Part I: In the Snow
Polaris is passionate about helping people experience the outdoors. Whether using a RANGER to complete a task or taking a sunset cruise on a Bennington Pontoon, the highest priority should always be safety. As a part of Motorsports Awareness Month, we want to take the opportunity to review a few of the fundamentals of safe and responsible riding across every terrain.

We're kicking things off this week with a look at safety best practices while snowmobiling and snow biking.


Before the Ride
Learn from the Experts: There are several industry organizations that serve as great resources for information, we encourage all riders – seasoned and new – to seek out such organizations and clubs in their area and leverage their knowledge. A few of note include:


Don't forget to also check out the Polaris Help Center for helpful resources and podcasts on safe riding:
Complete a Training Course: A reminder to all – especially new riders – that the best place to begin when learning how to operate and ride a snowmobile is to complete a reputable training course. Several options offer a combination of online and/or classroom construction and supervised riding. Find one that is right for you at Safe Riders!, The American Council of Snowmobile Associations (ACSA) or snowmobilecourse.com.

Polaris also created safety videos to help get you acquainted with the basics: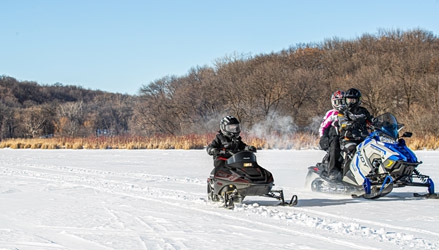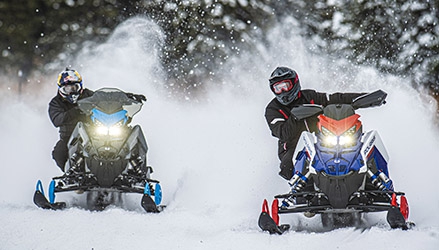 Consult the Vehicle Owner's Manual: It is best practice to review the owner's manual before you ride to help you understand how to safely operate your snowmobile.


Inspect your Snowmobile: No matter how seasoned of a rider you are, always thoroughly assess your sled before each ride. Pre-ride inspections can reveal malfunctioning or damaged vehicle components, low fluids, and other issues that could get in the way of your day on the snow. Refer to the owner's manual for a full pre-ride checklist to conduct before every ride.

Check out this video from Team Polaris for additional tips on how to

Get Your Sled Ready

or review the

checklist

from Safe Riders!


Check Your Fuel: Start with a full tank and make sure you've planned your route with enough fuel stops along the way.


Gear Up: Make sure you've got all the necessary gear for your ride. Think beyond helmets and jackets, always wearing eye protection such as goggles or a helmet face shield. Also, consider layering to be prepared for changing weather conditions. Proper gloves, boots, and safety gear will keep you safe and comfortable on the ride. If you're riding in mountain terrain, proper avalanche gear and training is essential.

Helpful resources: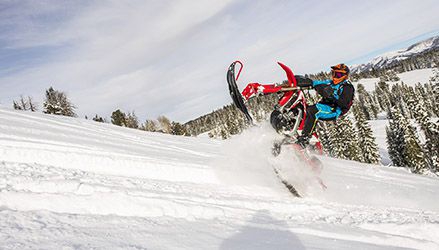 Plan Your Ride: Always plan your ride with your group, and make sure everyone knows the plan. Doing so will keep everyone together and safe. Also, don't forget to check the weather forecast, review trail closure or locate rest and fuel stops along your route.

Helpful resources:


Additionally,

Polaris Ride Command

is a helpful tool that allows users to plan ride routes, track rides, and rate and share routes with other users. Ride Command is available online, as a mobile app, and accessible in the Ride Command console of many Polaris vehicles, making it a great solution to discover new rides or coordinate group rides with friends or family.


During the Ride


Wear Protective Gear: Just a reminder to always wear the proper safety gear. And if you're looking for ideas on how to keep your goggles fog free check out this video.


Obey Local Laws & Regulations: Always review and follow the snowmobile rules and regulations for your given location. The local regulations are in place to keep you safe, and to keep riding areas open for years to come. We encourage you to do your part and help keep snowmobile trails and riding areas open and accessible by following the rules and regulations. Visit

ACSA

for an overview of

state law and rules

regarding snowmobiling.


Know your Terrain: Always check weather forecast, trail conditions, and stay on top of trail closures to head into your ride informed. Don't push it when it comes to the conditions.

For example, avalanche terrain is an ever-present danger when riding in the backcountry. Make sure you and your riding group is prepared, with the proper avalanche gear and training. Head to

Avalanche.org

to learn more.

Additional Backcountry Riding Resources from

Next Level Riding Clinics

: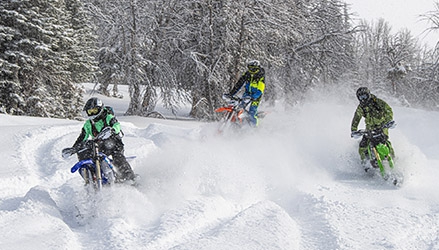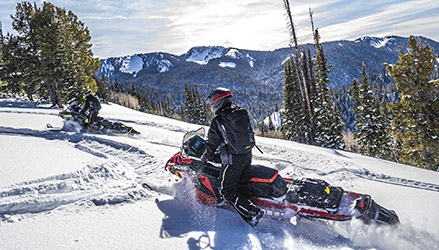 Be a Pack Prepared Rider: Bringing the right thing to help when things don't go as planned is key. Ride prepared with a winter survival and first aid kits, as well as tools, an extra belt, and a tow rope. Your owner's manual is a great resource for a full list of recommended gear to pack.


Ride to your level: Always ride within your comfort zone to stay in control of the snowmobile through varying terrain. Take a safety course to learn the operating basics and balance techniques to advance your skills safely. Also consider the riding level of your group and adjust accordingly. Watch this video to learn more about

common riding mistakes

new riders make.

Beyond the Ride


Transporting the Vehicle: It is recommended to transport your sleds using a trailer specifically designed for hauling snowmobiles. Visit

Safe Riders!

for an overview on how to safely tow a snowmobile trailer


After the Season: Properly storing and maintaining your sled during the off season will help keep it in good condition and lead to a more enjoyable, safer riding experience when the next snow falls. Helpful Resources: