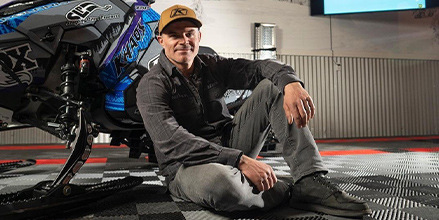 Avalanche Safety Q&A with Team Polaris Rider, Dan Adams
August is National Motorsports Awareness Month – an opportunity to promote the enjoyment of motorsports in America while educating participants about safety and responsible riding. As a leader in the industry, Polaris is highlighting important safety practices and sharing resources throughout the month to help better educate riders within the powersports community and beyond.

We are kicking off the month by taking a closer look at safe riding practices for snowmobile riders. To help us with this topic we recently sat down with Dan Adams, Team Polaris athlete and founder of Next Level Riding Clinics, to hear what he considers to be the fundamentals when it comes to safety and snowmobiling in the backcountry.

Polaris: Dan, tell us about your background – how did you get your start in snowmobiling?
Dan: I got started riding snowmobiles in the late 1990s as a way to access the backcountry to snowboard. I was a professional snowboarder at the time, and a snowmobile was really just a way to get to good terrain without having to wait in line at the lift. I grew up in Jackson Hole, Wyoming, and was able to snowboard some of the best terrain in the world thanks to my snowmobile.

As I started riding more and more snowmobiles to get to the snowboard terrain, I really started to enjoy just snowmobiling. One day we were out shoveling a jump to hit on a snowboard in the backcountry, and I hit it on my sled. I was riding a 1997 Polaris RMK 700 at the time, and that got me hooked.

In the following years, I hung up the snowboard boots and started really focusing on riding sleds in the backcountry.

Polaris: We know you love to ride in the mountains, what are the top three safety fundamentals you deem most valuable for riders to be aware of when mountain riding?
Dan: The first is avalanche safety. It is impossible to ride sleds in the backcountry without encountering avalanche terrain, so understanding proper avalanche safety gear, training, and practices is super important.

The second is making sure you have basic first aid supplies and know how to use them. I am a certified Wilderness First Responder and having the ability to asses a situation and provide emergency aid as needed is very important.

The third is having a complete tool kit and again knowing how to use them. When riding in the mountains, you can be miles away from the trail or your truck. If you have a sled issue in the backcountry, having the tools and knowledge to address it will give you a much better chance at riding the sled back out again.

Polaris: Can you share more on why it's important that riders of all experience levels be aware of Avalanche Safety?
Dan: I mentioned it earlier, but I cannot stress it enough. If you ride snowmobiles in the backcountry, you will encounter avalanche terrain. Therefore everyone who rides in the backcountry should have basic avalanche training, functioning avalanche safety gear, and understand the conditions and forecast.

Avalanche danger changes every day, with snowpack changes, weather patterns, and more. Having a riding plan, checking the forecast, having the gear, and getting the proper training is crucial to staying safe in the backcountry.

Polaris: From a Pro, what is the one piece of safety related advice you wish you would have received as a new rider?
Dan: The advice I wish I had known when I started riding was that you are only as good as the group you are riding with. If I have all the training and gear in the world, but my group doesn't, and I have a situation, I'm in a bad spot. I have to make sure my group has the proper training and gear, so that they can assist me if I need it. Likewise, it is my responsibility to my riding group to have the proper training and gear to assist them.