Riding Tips
November 16, 2020
Skills to Improve Your Snowmobile Riding
Learning how to ride a snowmobile can be an incredibly fun, yet daunting progression. From your first time riding on a trail to a mountain lodge to challenging backcountry riding, there are tips to help you along the way.
Trail riding tips
Riding a snowmobile on a trail is much like other off-road vehicles and you want to keep both skis and the track on the snow the majority of the time. You will spend most of your time seated on the sled, though you can shift your weight from one side to the other for balance. A modern snowmobile is capable of going very fast speeds, so the most important thing is to stay in control and understand how to use the brake with your left hand. Be sure to slow down as you go into turns and lean to the inside of the turn. Then you can apply more throttle to accelerate as you come out of the turn. You also want to be sure your ice scratchers are down on your sled to keep it from overheating.
Basic backcountry riding tips
As you start to venture off the trail, maneuvering a sled starts to get a little trickier. On flat terrain you can use many of the same techniques as the trail, keeping both skis on the snow. It is not very easy to steer or stop a sled that is sliding downhill, so you want to have a very clear path of travel as you are learning.
The next skill to learn is to carve from side-to-side while standing in a neutral body position. Do this by leaning your weight to one side while also applying throttle and staying in control. You will be rewarded with the feeling of floating if you practice this skill and find a bit of fresh snow to enjoy.
Finally, be sure to pay attention to where you are on a map. This is important for avoiding getting lost (everything in winter looks pretty similar). It is also important to make sure you are riding in approved areas and not crossing into wilderness areas. These boundaries are not always marked with a designation above the snow and it is the rider's responsibility to know where those lines exist.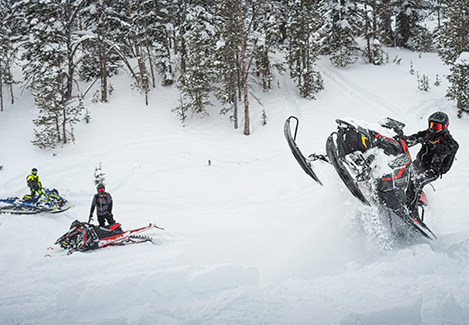 A continued progression in the backcountry includes learning to travel across hillsides and ride in three-dimensional terrain. For one, you should almost always be standing on the snowmobile as you will need to move back and forth across the seat.
Second, you need to learn how to put the sled "on edge". This very complicated skill requires a combination of putting all your weight on the uphill side, applying a "blip" of throttle, and adding a small pull of brake to hold the sled on its edge. The perfect balance point should allow you to stand with one foot on the running board, one foot in the snow, and the sled perfectly balanced on the uphill ski and edge of the track. From here you can use the throttle and brake to move the sled across the hillside. The best way to learn this skill is slow and in control. You can always add speed later. For more on mountain riding tips, check out this 5 Mountain Skills Video by Dan Adams and Next Level Clinics.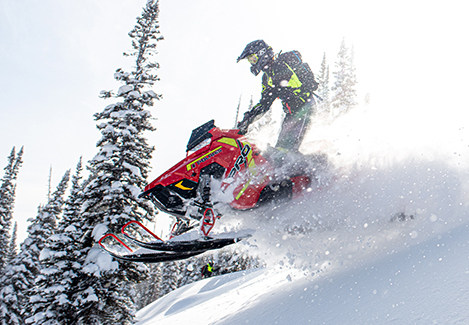 Adapting to changing snow conditions
Sometimes you may start the day in sunny and hard-packed snow and end the day in deep powder. Always pay attention to changing snow conditions and adjust your riding and travel accordingly.
Snowmobiling in deep powder
Snowmobilers live for deep powder days and mountain sleds are designed to shine in these conditions. The most important thing is to keep your momentum, especially if you are trying to do a hill climb or ride across a slope in deep snow. To build momentum start in a flat zone and pick up speed that is within your ability to control. As you start to climb or traverse the slope you want to stay on the throttle and maintain that momentum. When you start to drop rpm's you need to turn back downhill to avoid getting stuck. If you decide to try that hill again, ride directly on top of your previous path to gain a little momentum advantage.
As you head downhill on deep powder days you may need to apply throttle to keep the sled in motion. Add in the skill of carving and you will be smiling from ear to ear as snow pours over the hood of the snowmobile and you feel like you are flying and floating at the same time.
Be sure to check avalanche conditions on all days, and especially on deep powder days. Having an awareness of snow conditions and assessing terrain is an important skill set for all riders.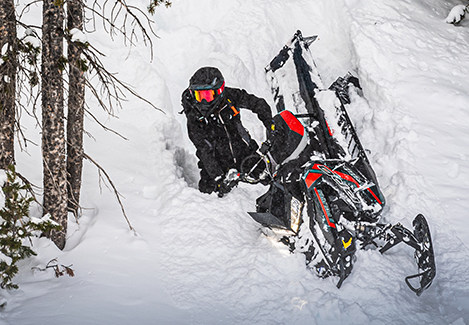 Snowmobiling in hard-packed snow
Riding in hard-packed snow is a good challenge for all riders. You have the advantage of easily gaining speed and momentum, but it is also much more difficult to stop. The most important thing to avoid is falling off the sled while it is still sliding downhill. Maintain control at ALL times in hard-packed snow. And remember, whatever you go up you need to be able to come back down.
How to get your snowmobile unstuck
Whether you are a beginner or a pro you will get your snowmobile stuck multiple times in a day of riding mountain terrain. If the sled is relatively flat and the track has sunk into the snow start by turning off the sled. Then stomp the snow below the sled to give it a platform to drive out. Make sure to stomp and pack the snow below the track or pick up the back of the sled and put it on the snow you already packed.
It can help to have your partners pull on the skis, being sure to stay out of the way of the sled when it starts moving. For the rider on the sled you want to apply throttle and shift your weight back and forth on the running boards.
If your sled is stuck on its side on the side of a hill you will need to roll it back to a position that you can safely start and ride the sled. Depending on the steepness of the hill this may take some intentionality to get it going the right direction. You should NEVER roll the sled from below any part of the snowmobile.
See Next Level's video on How to Get Unstuck for more details.
Final tip: wear the right snowmobile gear
Depending on the type of riding you are doing you want to have the appropriate layers. See this article on how to stay warm and dry while riding to learn more.