Articles
October 29, 2020
Snowmobile Gear Guide: How to Stay Warm & Dry
Enjoying the fun of snowmobiling means being out in the cold winter environment for the entire day. That means you'll need a few specific pieces of gear to stay warm, dry, and comfortable. Let's take a look at some of the most important clothing items for riding your sled in cold, challenging conditions.
What to Wear Snowmobiling
Waterproof and Insulated Snowmobile Boots
Cold feet can absolutely ruin a day of riding and have negative long-term effects. In order to prevent cold or wet feet, you'll need boots that are waterproof, insulated, have a firm sole and rigid sides, and properly fit your foot.
The boots should be made from a waterproof material and should also have the ability to attach your pants or bibs to the boot (usually through an elastic gaiter). This prevents snow from getting into your boot if you step off your sled into deep snow. Insulation is important for warmth and should be a high quality and lightweight material. The firm sole and correct fit of your boot will insure you have maximum agility and control on the sled. The boots should have a secure lace or strap system, to ensure the boots stay in place during riding.
Snowmobile socks (Anything but Cotton)
The right material and thickness of sock will make sure you're getting maximum warmth out of your boots. Most importantly, do not wear cotton socks as they are not capable of wicking away moisture from sweat. Merino wool with additional stretch and performance materials make for a great combination of comfort and warmth.
When it comes to thickness, you may be surprised to learn that a medium thickness is actually warmer and more comfortable than a really thick sock. In addition, make sure the sock comes up higher than your calf, so it is not sliding down into your snowmobile boot all day as you move around.
Waterproof and Insulated Snowmobile Riding Gloves
While handlebar warmers are great, you still want to ensure a good fit and proper material for your gloves. This will keep your hands warm while also having dexterity and precision driving the snowmobile. To that end, always choose gloves over mittens so you can accurately use the throttle and the brake. Next, be sure the gloves are waterproof, to ensure your hands stay warm and dry while riding. Finally, you'll want to take a few pairs of varying thickness. When you are riding on a trail, you will want more insulated gloves. If you are working hard off the trail, you might prefer less insulation and more precision. It's a rookie move to only have one pair of snowmobile gloves, so be sure to bring 2-4 pairs each day you ride.

Full-Face Snowmobile Helmet
You will need a full-face helmet that is safe, comfortable, and warm while out snowmobiling. The difference between motorcycle or ATV helmets and snowmobile helmets is the venting and the shield. For example, motorcycle helmets have a single pane shield whereas snowmobile helmets have a dual pane. This lower face protection is essential to prevent frostbite on your cheeks, nose, and lips. Your helmet should fit you snugly, but not so tight that it's applying pressure. Your helmet should always feature complete eye protection, with either goggles or a face shield. A good helmet is the most important piece of safety gear while snowmobiling.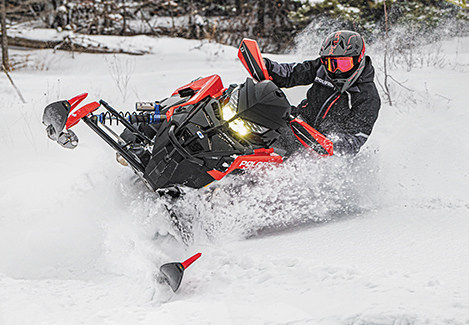 Protective Snowmobile Outerwear
There are three common systems for your outermost layer. You can have a jacket and pants, a jacket and bibs, or a Monosuit. In all three cases, be sure the items are a good fit, waterproof, and have the appropriate amount of insulation. Typically, trail riding will require more insulation, as speeds and wind are higher and the rider spends a lot of time seated. Mountain riding typically requires less insulation, as speeds are slower and riders are typically more active. Another nice feature of a jacket is an insulated layer that zips in and out depending on the conditions.
Prepare for changing temps with layers
Winter is the most challenging season to participate in an all-day outdoor activity. It may be -20 degrees Fahrenheit when you leave the lodge some December mornings. Or it might be sunny and close to 40 degrees Fahrenheit during a day of spring riding. The key to being comfortable in variable weather conditions is to dress in layers. Ideally you want a lightweight base layer (again, not cotton) and then one or two insulating layers below your waterproof outer layer. If you get warm, you can remove one of the insulating layers and still be protected from snow and ice.
Knowing how to prepare for harsh winter conditions is critical for having a great day out on the snow.