Polaris Approach to Quality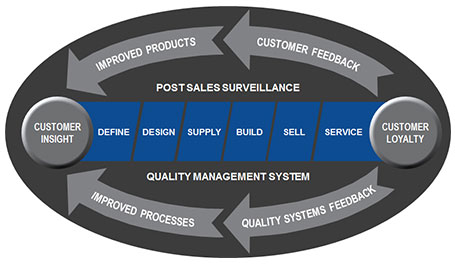 Polaris is committed to delivering uncompromised product safety and quality that meets or exceeds our customer's expectations, through a culture of personal ownership. This means every employee, regardless of role, takes quality and safety personally. We are continually improving our processes to monitor, identify, improve and, most importantly, prevent product issues.

By leveraging our talent and expertise, organizational strengths, and infrastructure, we can deliver industry-leading results that exceed the expectations of our customers.

The Polaris Quality Operating System is patterned after globally recognized industry standards ISO9001:2015 and IATF16949:2016.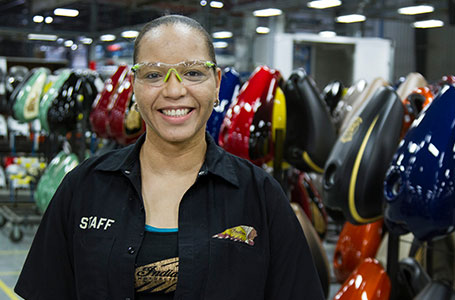 Quality system execution is regularly reviewed for process effectiveness and efficiency so we may consistently meet and exceed customer expectations with respect to quality and safety.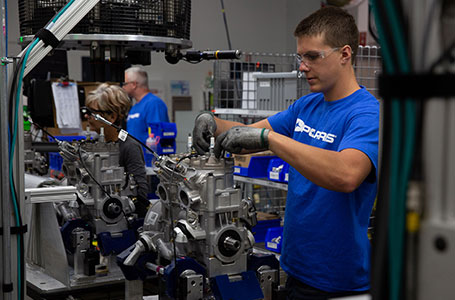 We regularly monitor the inputs and outputs of our quality processes to identify potential non-conformities and opportunities for improvement with respect to product quality, safety, performance or other identified risks. When a non-conformity or risk is identified, our processes are designed to respond in a timely manner to minimize impact to the customer, apply an appropriate action for eliminating root causes and to systemically error-proof systems and processes to prevent recurrence including addressing risks potentially associated with other products.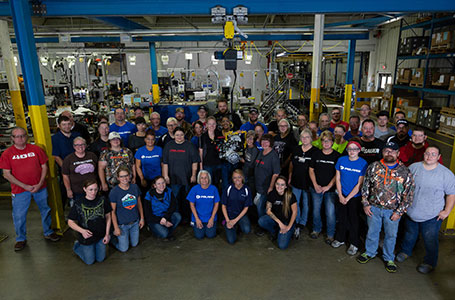 Polaris hires industry leading talent, provides continuous development opportunities through in-class and on-line training. Hourly team members receive job specific training that help them understand the critical nature of their jobs and help them to evaluate quality. Our code of conduct and ethics training provides annual reinforcement of our values and ensures that all employees understand how to escalate issues discovered during their work.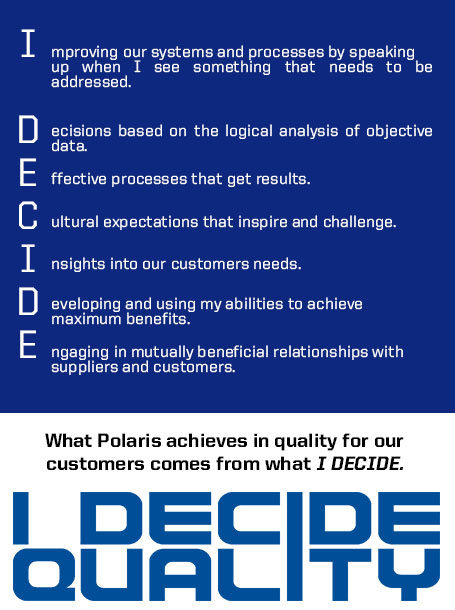 Employee Quality Commitment
All Polaris employees are empowered to foster a culture of quality and continuous improvement. Our employees follow the I DECIDE mentality, committing to be good stewards of quality and safety practices.
Through our quality management review process, Polaris employees collect and report on key performance indicators. We also monitor consumer data from the field through warranty returns, social media, and other sources to help drive continuous improvement in our products and processes. Additionally, Polaris has invested significantly in prevention controls to ensure products are produced correctly the first time.
We use the Polaris Product Development Process (PDP) to manage programs to develop quality products. The process engages employees from engineering, manufacturing, quality, purchasing, and finance into one team to work collaboratively from product conception through production launch. This includes testing, governance and validation that customer and regulatory requirements are being met. Deliverables for safety and quality are built into the program requirements and objectives, creating a culture focused on safety and quality.
In conjunction with the Polaris Product Development Process, we use advanced product quality planning to establish the needs of manufacturing to achieve our quality and safety goals. Supplied materials are required to be defect free and Polaris works collaboratively with manufacturing sources to use process failure mode and effects analysis and control plans to understand where appropriate safeguards need to be built into the process to assist this defect free production. The Polaris Production Part Approval Process (PPAP), ongoing audits, and error proofing approaches build a layered approach of high-quality processes for prevention of defects.
Polaris conducts quality audits to evaluate the conformance and effectiveness of key business functions within the Polaris Quality Operating System.


Quality System Audits
Product Development Program Audits
Manufacturing/Supply Chain Audits
Logistics Process Audits
Production / Product Audits
Approach to Customer Service
Creating and retaining customer loyalty is a guiding principle for Polaris. Our dedicated service organization works with dealers and consumers to provide after care. We provide ongoing technical training for our service teams and equip dealers with necessary resources to aid them in resolving potential issues quickly for customers. We have help desks in place to quickly field customer concerns and help provide service in a timely manner.
The Polaris Post Sales Surveillance organization collects data and analyzes it with more than a dozen computational algorithms to identify trends or areas of product improvement. Should an opportunity be identified the team acts quickly to make necessary adjustments to product safety and quality standards are achieved.