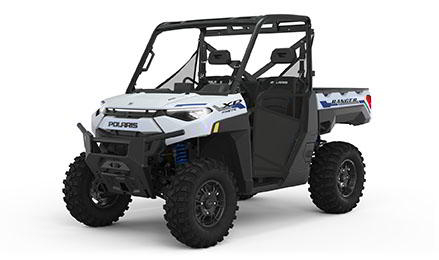 United Rentals Orders All-Electric Polaris RANGER XP Kinetic UTVs
MINNEAPOLIS, April 24, 2023 – Construction and industrial jobsites are often loud, dirty and diesel- and gas-powered, but United Rentals is paving a new path with the addition of all-electric Polaris RANGER XP Kinetic utility vehicles. United Rentals, Inc. (NYSE: URI), the world's largest equipment rental company, is expanding its partnership with Polaris Commercial, a division of Polaris (NYSE:PII), to include more all-electric utility vehicles that will help make jobsites cleaner, more environmentally friendly and quieter – helping customers meet sustainability initiatives and reduce maintenance requirements.
"Polaris and United Rentals customers are very demanding of their utility vehicles – all our UTV customers expect the best from Polaris as the world leader in powersports and off-road innovation," said Jamie Juliano, director of Commercial Sales, North America, Polaris. "RANGER XP Kinetic establishes a new standard for UTV performance and productivity, delivering uncompromised capability, unrivaled durability and refined performance in an all-electric, sustainable platform."
"There used to be a concern around electric vehicles that they were less capable than their combustion engine counterparts -- and that's just not the case anymore. Electric vehicles provide a lot of benefits on the jobsite and it's important that United Rentals' customers have access to them, without sacrificing the task at hand," said TJ Mahoney, vice president, supply chain, United Rentals. "Adding Polaris RANGER XP Kinetic UTVs bolsters our UTV fleet while supporting our, and our customers', sustainability initiatives and electrification strategy."
With class-leading horsepower and torque, RANGER XP Kinetic offers more power than ever to pull more, haul more, and to get more done. The electric powertrain's instantaneous torque delivers precise control when pulling or towing heavy loads. In addition, an advanced drivetrain features fewer moving parts for lower maintenance costs and more uptime for increased productivity. Plus, the quiet electric powertrain means easier communications with coworkers, the ability to work in the early morning without waking neighbors, and quieter operation around jobsites.
UNCOMPROMISED CAPABILITY
The all-new RANGER XP Kinetic offers uncompromised capability to help customers get more done and features the most horsepower and torque ever found in a utility side-by-side. A class-leading 110 HP and 140lb-ft of instant torque deliver maximum capability for confidently hauling and towing heavy loads, even over the toughest terrain. Together, the unmatched power and torque deliver the power operators need, when they need it, for the ability to effortlessly tow 2,500lbs and haul an industry-best 1,250lbs. RANGER XP Kinetic also features a class-leading 14-inches of ground clearance to confidently rise over obstacles, and it is equipped with 29-inch, 8-ply Pro Armor X-Terrain tires for added traction and durability to crawl over jobsite debris and ruts. And with 10-inches of suspension travel, XP Kinetic smooths out the bumps so customers can ride comfortably in challenging terrain – no matter where the job takes them.
UNRIVALED DURABILITY
RANGER XP Kinetic also delivers unrivaled durability so riders can maximize their uptime and improve productivity. An electric powertrain features fewer moving parts than gas-powered models, meaning less maintenance and more time to focus on getting the job done. RANGER XP Kinetic has been torture-tested in extreme conditions and treacherous terrain and is backed by 1-year factory warranty, 3-year electric powertrain coverage, and 5-year battery coverage. What's more, the electric powertrain does not require oil changes, filter replacements, spark plugs or clutch maintenance. Scheduled maintenance costs are expected to be 70% less than average maintenance costs for similar gas-powered vehicles.* RANGER XP Kinetic also features a full-coverage front bumper and full-body skid plate for added vehicle protection while riding on tough terrain.
REFINED PERFORMANCE
Capable and durable, RANGER XP Kinetic also delivers refined performance with clean, quiet operation around jobsites. The electric powertrain delivers smooth, precise control when operating at low speeds, so operators will have full control and confidence whether towing, backing up to a trailer or moving between buildings and other equipment. RANGER XP Kinetic is available as a 3-seat model and offered in Premium and Ultimate trims. The Premium trim is equipped with 14.9 kWh of lithium-ion battery capacity and offers an estimated range of up-to 45 miles, while the Ultimate trim boasts 29.8 kWh of battery capacity and offers an estimated range of up-to 80 miles.**
RANGER XP Kinetic is also packed with smart performance features to help maximize productivity. Convenient charging options are designed to fit specific customer needs and are as easy as plugging into a standard wall outlet. A 12V cargo box outlet is convenient for powering accessories like tools, electronics and communication devices or charging portable batteries. A new shifter design includes high, low, neutral and park, and features a new, integrated switch for forward and reverse, enabling customers to change direction with the flip of a switch. This new feature makes tasks like plowing fast and efficient.
In addition to high and low gear, RANGER XP Kinetic also has three drive modes for maximum versatility optimized to driving conditions and range management:
Eco+: Optimizes torque and top speed for maximum range and light duty jobs
Standard: Optimizes throttle response for everyday driving and moderate-sized jobs
Sport: Optimizes throttle response for spirited driving and the toughest jobs

"RANGER XP Kinetic is built for our hard-working customers who take pride in their work, value accomplishment, and are always looking for ways to maximize their productivity," said Juliano. "It unlocks the benefits of electrification to enable these customers to drive efficiency and get more done, giving them the power to do more than ever before."
United Rentals' equipment is sourced from a vast network of supplier and manufacturer relationships, including Polaris. Polaris Commercial works with United Rentals to provide gas and diesel Pro XD UTVs, gas and now electric-powered RANGERs to locations across the U.S. for customers within the construction, utilities, government, landscaping, and grounds maintenance industries. Additionally, Polaris works with United Rentals to provide UTVs that are customized and include essential components that are specific to the needs of a commercial customer. Accessories like beacons, additional mirrors and a horn are desired by rental customers across various industries, while full cabs and heat are appropriate for colder regions. A partner since 2015, Polaris Commercial was recognized by United Rentals as a Top Supplier for 2021.
* Manufacturer estimate based on average scheduled maintenance costs over the course of a 5-year timeframe.
** Range estimates based on manufacturer data on typical customer driving usage and conditions. Actual range varies based on conditions such as external environment, weather, speed, cargo loads, rates of acceleration, vehicle maintenance, and vehicle usage.
About United Rentals
United Rentals, Inc. is the largest equipment rental company in the world. The company has an integrated network of 1,462 rental locations in North America, 13 in Europe, 27 in Australia and 19 in New Zealand. In North America, the company operates in 49 states and every Canadian province. The company's approximately 24,600 employees serve construction and industrial customers, utilities, municipalities, homeowners and others. The company offers approximately 4,600 classes of equipment for rent with a total original cost of $19.61 billion. United Rentals is a member of the Standard & Poor's 500 Index, the Barron's 400 Index and the Russell 3000 Index® and is headquartered in Stamford, Conn. Additional information about United Rentals is available at unitedrentals.com.
About Polaris Commercial
Backed by more than 65 years of Polaris innovation, Polaris Commercial offers durable, versatile and customizable work vehicle solutions for transporting people and hauling equipment. Pro XD and RANGER vehicles are engineered with the customer's needs in mind to be dependable, safe, sustainable and to increase productivity. The dedicated and specialized employees of Polaris Commercial provide end customers with simple purchasing processes based on individual needs, dedicated customer support and a worldwide network of dealers for localized service.
Polaris Commercial | Polaris.com/Commercial
About Polaris
As the global leader in powersports, Polaris Inc. (NYSE: PII) pioneers product breakthroughs and enriching experiences and services that have invited people to discover the joy of being outdoors since our founding in 1954. Polaris' high-quality product line-up includes the Polaris RANGER, RZR and Polaris GENERAL side-by-side off-road vehicles; Sportsman all-terrain off-road vehicles; military and commercial off-road vehicles; snowmobiles; Indian Motorcycle mid-size and heavyweight motorcycles; Slingshot moto-roadsters; Aixam quadricycles; Goupil electric vehicles; and pontoon and deck boats, including industry-leading Bennington pontoons. Polaris enhances the riding experience with a robust portfolio of parts, garments, and accessories. Proudly headquartered in Minnesota, Polaris serves more than 100 countries across the globe. www.polaris.com
United Rentals® is a registered trademark of United Rentals, Inc.
Russell 3000sm is a service trademark of Frank Russell Company
Barron'ssm is a service trademark of DOW JONES & COMPANY, INC.
S&Psm is a service trademark of STANDARD & POOR'S FINANCIAL SERVICES LLC
Unless noted, trademarks are the property of Polaris Industries Inc.
© 2023 Polaris Industries Inc.