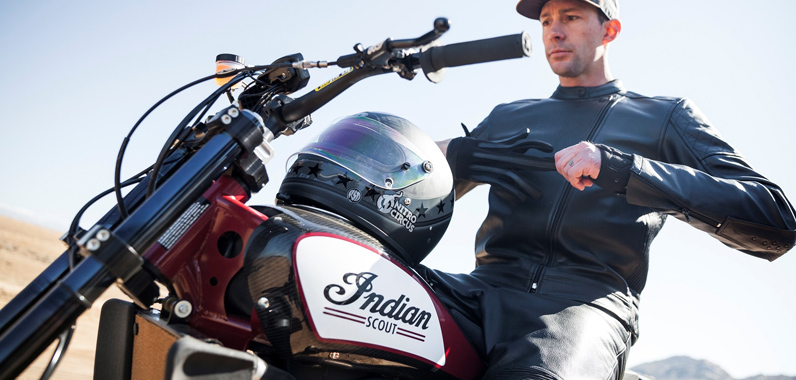 Travis Pastrana to Jump an Indian® Scout® FTR750 in History®'s
>
Las Vegas, NV (May 14, 2018) – Nitro Circus and Indian Motorcycle, America's first motorcycle company, announced today that Travis Pastrana will be jumping an Indian Scout FTR750 when he looks to pay tribute to Evel Knievel, the founding father of motorcycle stunts, and surpass America's most iconic daredevil. "Evel Live", an unprecedented three-hour live event premiering Sunday, July 8th at 8PM ET/ 5PM PT on HISTORY® in partnership with Nitro Circus, will see Travis Pastrana attempt three of Knievel's most famed jumps on the Scout FTR750, including jumping the length of 52+ crushed cars, 16 Greyhound busses, and the ill-fated Caesars Palace fountain jump that left Knievel grasping for his life. If successful, Pastrana will be the first individual to complete all three jumps in one three-hour timespan and on a motorcycle similar to those Evel used.
The Indian Scout FTR750 is a flat track racing motorcycle designed to push the boundaries of speed and redefine control with two wheels firmly on the ground. Rewinding time, you find the motorcycles Evel jumped were designed for similar purposes. However, neither were intended for jumping.
"It was extremely important to use a motorcycle similar to the ones Evel jumped. The Indian Scout FTR 750 is just that, a modern-day evolution of the flat track motorcycles of the past," said Pastrana. "It has the power I need and handles well, but I'm only going to have a few days to get comfortable on it, not to mention I've never jumped a V-twin before. I've got my work cut out, but we're used to going big at Nitro Circus, so we'll make it happen."
The Indian Scout FTR750 is far different from the lightweight motocross bikes you would typically find Travis Pastrana jumping. The engine of the FTR750 features a powerful 750cc 53-degree V-Twin and utilizes 43mm conventional front suspension with an adjustable Ohlin's mono-shock on the rear. Introduced in the American Flat Track racing series in 2017, the Indian Scout FTR750 secured 14 victories along with the manufacturer's and rider's championship in its first year of competition.
"We couldn't be more excited for Travis to be piloting the Scout FTR750 as he looks to make history by recreating three of Evel Knievel's most historic jumps in a single evening," said Reid Wilson, Senior Director, Marketing and Product Development for Indian Motorcycle. "Evel Knievel is truly a global icon, and we're proud to be a part of this incredible event that pays homage to his legacy in such grand fashion."
Will Travis Pastrana successfully complete all three jumps on the Indian Scout FTR 750? Tune-in to HISTORY® on Sunday, July 8th at 8PM ET/ 5PM PT to find out.
To learn more about the Indian Scout FTR750 and Travis Pastrana's attempt to make history with it on "Evel Live," as well as for periodic updates leading up to the event, visit IndianMotorcycle.com or follow along on Facebook, Twitter & Instagram.
About HISTORY®
HISTORY®, now reaching more than 96 million homes, is the leading destination for award-winning series and specials that connect viewers with history in an informative, immersive and entertaining manner across all platforms. The network's all-original programming slate features a roster of signature series including The Curse of Oak Island, Forged in Fire, Alone, Pawn Stars, American Pickers, as well as the hit drama series Vikings and SIX. The HISTORY website is located at history.com. Follow us on Twitter at twitter.com/history and Facebook at facebook.com/history. For more press information and photography, please visit us at http://press.aenetworks.com.
About INDIAN MOTORCYCLE®
Indian Motorcycle is America's First Motorcycle Company®. Founded in 1901, Indian Motorcycle has won the hearts of motorcyclists around the world and earned distinction as one of America's most legendary and iconic brands through unrivaled racing dominance, engineering prowess and countless innovations and industry firsts. Today that heritage and passion is reignited under new brand stewardship. To learn more, please visit www.indianmotorcycle.com.
About NITRO CIRCUS
Nitro Circus, the world's biggest action sports entertainment brand, creates electrifying live events and unbelievable original content that at once exhilarates, captivates and inspires thrill-seeking fans worldwide. Co-founded by global superstar Travis Pastrana in 2003, Nitro Circus has since grown into a multiplatform phenomenon producing hit television shows, critically acclaimed documentaries and innovative digital offerings. That success gave rise to the Nitro Circus Live tour. Created in 2010, Nitro Circus Live has travelled the globe, playing to sold-out stadiums on five continents. The company introduced an innovative breakthrough in 2016 with the debut of Nitro World Games, completely rebooting action sports competition in the process. With over three million tickets sold to date, television programming that has aired in over 60 countries, more than 20 million engaged fans across its social media platforms and a burgeoning consumer products business, Nitro Circus is at the forefront of action sports and entertainment. For more information visit www.nitrocircus.com.
PR Contacts:
For Nitro Circus:
Greg Terlizzi, greg@nitrocircus.com
Reid Vokey, reid@nitrocircus.com
For Indian Motorcycle:
Marc Alteri, marc@thebrandamp.com
Jeff Millard, jeff@thebrandamp.com