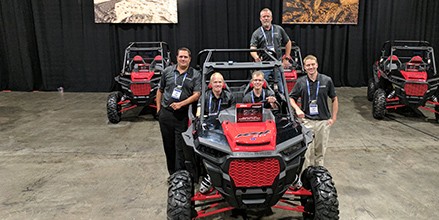 Riding into the Future: How Polaris Engineers Are Changing the Way Everyone Rides
>
When racing across terrain, riders look down the trail to scout their path ahead as each rock, dip, rut or bump might impact their riding experience.
Then again, those riding in a Polaris RZR equipped with Polaris' proprietary DYNAMIX active suspension system may have forgotten what uncomfortable terrain feels like these days.
Launched in July of 2017, DYNAMIX was the first intelligent active suspension system developed specifically for the powersports industry. The DYNAMIX system adjusts the suspension nearly instantaneously to smooth the ride and seemingly glue a vehicle's tires to the ground. This better handling allows riders to comfortably ride harder and faster for longer periods of time. DYNAMIX came to life thanks to the ingenuity of Polaris engineers, product teams and skilled developers from across the company.
Brian Krosschell and Jonathon Graus were two key contributors on the DYNAMIX development team. As avid riders themselves, they are familiar with the jostle of bumps and ruts on the trail or in the sand. Working as Polaris engineers, they had the riding experience and technical know-how to create a more ideal riding experience. That's how DYNAMIX was born and continues to evolve today – Polaris employees getting outside, enjoying their off-road vehicles and thinking of innovative ways to improve how people experience the outdoors.
"We know making the riding experience better is the best way to get more people outside and into the sport. Pointing our finger at the suspension is how the idea of DYNAMIX started and why it remains so important today," Graus said. "Part of bringing the technology to life required Polaris to venture into software development. While we weren't historically a software company, Polaris knows our vehicles better than anyone else. We decided developing the suspension controls in house was the way to go."
DYNAMIX was not Polaris' first venture in leveraging software for innovation. RideCommand, which creates a connected and personalized riding experience, was launched in 2016. What set the projects apart was that DYNAMIX began as a blank slate. Polaris began writing proprietary software that would enhance the off-road riding experience through predictable handling, while also being intuitive for a rider to use.
The expertise Polaris put into the software resulted in several major ride and handling benefits. For example, riders can now make suspension adjustments from inside the vehicle. This means drivers no longer needs to get out and manually adjust their suspension if the terrain changes or they desire a different riding experience. Another significant advantage of the systems is its ability to react nearly instantaneously to changes in the terrain.
"DYNAMIX is all about adapting to each riding situation," Krosschell said. "It gives you options as a rider. You feel like you can have the comfort of a luxury sedan on a suburban road while you're cruising or the handling precision of a sportscar on the track. These driving modes are available at the touch of a button."
This ground-breaking technology has been met and received with great reviews. Off-Road.com wrote, "This will revolutionize our industry and bring that extra wow factor to a machine already packed with loyal buyers."
A recent RZR test drive incorporating the DYNAMIX system allowed a ride and handling expert to break a Polaris tuning-course record by running 10 mph faster than he did without active suspension.
Polaris has a long history of bringing new products to market or finding ways to make what is out there, even better. Krosschell and Graus both credit an atmosphere and culture that helps turn ideas into realized innovations.
"Our engineers aren't the kind of people who are happy sitting in the office all day – they enjoy getting their hands on the vehicles, riding and being outdoors." Krosschell said. "Our team is driven by a competitive spirit to get out in the vehicles and change the industry. Polaris gives us the opportunity and time to innovate, and we do."
The innovative hard work has paid off – Polaris has been granted multiple patents for DYNAMIX. Most recently, Krosschell and Graus were named on a Polaris patent for DYNAMIX relating to driver input controls and active suspension adjustments on September 10, 2019.
It's clear that Polaris' competitive spirit drives the company to raise the standard in the industry and set new goals.
"Ten years ago, power steering on off-road vehicles was simply nice to have, but now, it has been largely accepted as a must-have feature in the market," Krosschell said. "Our goal is to drive electronic suspension control technology in the same direction – performance enthusiasts and riders who love the off road will appreciate and demand the features and benefits associated with DYNAMIX."