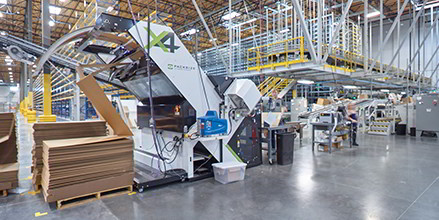 Polaris Thinks Outside the Box to Better Package and Ship the Product Inside
Polaris is dedicated to chasing powersports excellence through innovation in all its operations. Innovation radiates from the Polaris engineers introducing a new RZR suspension or apparel designers collaborating across company lines to introduce new products.

But while a smoother ride or a new boot might more easily grab a consumer's attention, the packaging system that Polaris Distribution Centers employ to get products to those consumers radiates innovation too.

Engineers can measure excellence in miles per hour, but Polaris distribution centers measure it in productivity improved, worker safety strengthened and environmental impact limited. Hitting these goals has long been an industry-wide focus, but in 2017, Polaris found a system that helps give its distribution centers one more way to meet those goals.

The system is centered around the use of Packsize machines to maximize packaging efficiency. Packsize machines can best be described as a vending machine for packaging and shipping. Palletized cardboard feeds the machine, and the machine cuts and glues sheets into any one of hundreds of box size options.

"Every day, we have the challenge of receiving customer purchases and finding the right packaging for that product," said Paul Eickhoff, Polaris vice president of Global PG&A Distribution. "We used to have to hunt for a box that was most likely too big but our best option. Now, with the Packsize machine, we can create the perfect packaging on demand."

With the machines, Polaris workers can create the packaging they will use seconds before they need it. This eliminates the manhours needed for stocking and shipping inventory which, in turn, eliminates potential safety hazards and keeps the packaging process simple for workers.

"We are always trying to integrate people and machines. We don't want them fighting each other but, instead, working together for the most efficient system," Eickhoff said. "With the Packsize machines, workers can focus on boxes with products in them and not the empty boxes in inventory."

With less cardboard being shipped and more boxes fitting on fewer trucks, freight costs for Polaris have dropped, as well. Eickhoff estimates that Packsize machines have saved Polaris $500,000 annually in freight costs – allowing them to focus more dollars on their innovative products.

With fewer trucks also comes fewer CO2 emissions and a more ecofriendly packaging and distribution process.

In a recent study conducted by DS Smith and Forbes Insights, it was found that oversized packaging accounts for over 100 million tons per year of unnecessary CO2 in the atmosphere. With the Packsize machines, Polaris no longer has oversized packaging – saving truck space and CO2 emissions.

"The great thing about the Packsize Machine is that we're not paying for waste," Eickhoff said. "Packsize machines keep us efficient – and there's an environmental benefit, as well. We're saving dollars, man hours and eliminating CO2 emissions. That's a big win from packaging innovation."