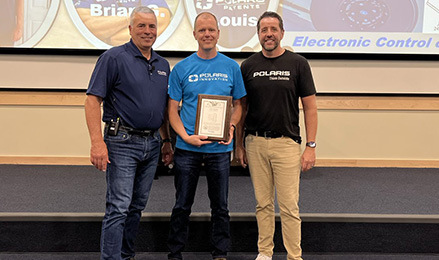 Polaris Marks Record Year for U.S. Patent Awards
>
Mike Donoughe, Polaris' chief technical officer and head of Electrification, passed away unexpectedly on July 2, 2022. His spirit for innovation was inspiring and his leadership helped his team achieve a record-setting year. His passion, however, shined brightest when it came to showcasing the success of his team, which he had the opportunity to do at the 2022 Patent and Innovation Awards Event held in Roseau, Minnesota on June 28 and in Wyoming, Minnesota on June 30.
Polaris Marks Record Year for U.S. Patent Awards
It was a record-setting year for the Polaris at last week's annual Patent and Innovation Awards event. Mike Donoughe, Polaris' chief technical officer and Head of Electrification, wanted that accomplishment to resonate with everyone in attendance. With each name and patent award he read aloud, he encouraged the audience to join him in a rousing response:
70 U.S. patents granted to Polaris engineers in the past year.
"That's a record."
9 patents granted to just one Polaris engineer, the most awarded to an individual Polaris employee in a single year.
"That's a record."
212 patent plaques distributed.
"That's a record."
As the list continued, the significance grew. It was a remarkable moment in the room full of engineers and other innovation contributors from across Polaris and will remain a memorable day for Polaris.
"The fact that this organization has been awarded almost 2,000 patents since our founding really speaks to the innovative spirit and everything that has made this company what it is today," Polaris CEO Mike Speetzen said during the awards ceremony. "The heart of this company is innovation, it's about the product you design and the experiences you create for our riders – and so everything you do is continuing to push this company forward."
Annually Polaris gathers to celebrate innovation and patents granted by the U.S. Patent and Trademark Office over the last year. Patents are awarded to Polaris and our employees for work on products and technology across the Polaris portfolio, including ATV, boats, RANGER, RZR, Slingshot, Indian Motorcycle, snowmobiles, PG&A, and Government & Defense, and much more.
Innovation powered by invention
Brian K., chief engineer, Electric Powertrain (ePT), was named Outstanding Inventor, that only eight other employees have been awarded in Polaris' history. The Outstanding Inventor award recognizes and rewards employees who make exceptional contributions to innovation and patented technology and includes the number of invention disclosures and patents the individual is named on and their impact to Polaris, as well as their role, tenure, and innovation leadership at Polaris.
Brian started in the Polaris Engineering Development Program in 2006. He, along with his engineering colleagues, has worked to deliver cutting edge rider-centric features to market in new ways. His first patent application was submitted in 2007, and to date, his total number of U.S. patents sits at an impressive 24 – with 23 of those for Polaris and one that he received coming out of grad school. Brian's patents come from his major contributions to the design of Polaris' military vehicles, the electronically controlled suspension system known as DYNAMIX, Vehicle-to-Vehicle Communications, RIDE COMMAND, and transmissions. In the past year, he has continued to focus on Polaris' efforts in electrification.
"It's simply a great honor to be recognized, and an award that I'm extremely grateful for and humbled to have received," Brian said. "As I reflect, many of the past outstanding inventors were individuals who I truly admire as peers, teammates, mentors, and partners in the spirit of innovation at Polaris. I'm so grateful that Polaris has given me the time to innovate over the years, the professional latitude to explore new ideas, and the confidence in our teams to bring those ideas to life in our products. It's truly an honor."
Brian went on to say, "As engineers, we are driven by a competitive spirit to get out in the vehicles and change the industry. Polaris continues to give us the opportunity and time to innovate, and so we do!"
To close the event, Donoughe thanked the team for their efforts and encouraged them to capture that passion and put it to good use to help others throughout engineering and across the company.
"In 1954, a star was born by the innovative spirit of David Johnson, Edgar and Allan Hetteen. Fast forward to today, to 2022, and that star is still shining brightly," Donoughe said to the team gathered for the celebration of the spirit with which Polaris' founders began the company. "The reason it is still shining brightly is because of all of you, your passion, your innovative spirit."