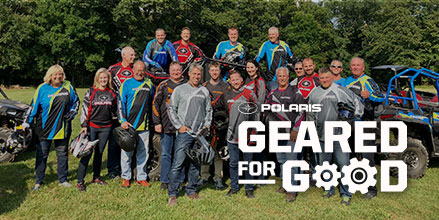 Polaris is Geared for Good
>
Minneapolis, MN (April 22, 2019) –Polaris is passionate about creating memorable experiences that impact the lives of people across the globe. Those experiences are inspired by both the innovative products we make and the good that we do. At Polaris, we are Geared for Good.
This good comes to life through our products, our practices, our partnerships and our people.
In 2018 alone, we:
drove Greenhouse Gas (GHG) Emissions savings of 4,500 metric tons of CO2-equivalent at our facilities – a 4% savings from our 2017 baseline
recognized more than 100 employees with Quality Star awards for demonstrating our commitment to safety and quality in everything we do
launched RANGER 150 EFI – the industry's first youth vehicle to feature app-enabled parental controls of added riding safety
disbursed more than $800,000 in tuition reimbursement in support of employees' educational pursuits
gave more than $3M in monetary support and product donations to our local communities through the Polaris Foundation
All of this makes us proud to launch our new Geared for Good framework which guides our corporate stewardship efforts and captures actions we take – large and small – to create value and serve the interests of our stakeholders.
Check out our full 2018 Corporate Responsibility Report to learn more about Polaris Geared for Good.
Stay tuned for additional Geared for Good stories highlighting how Polaris continues to create an impact.