Polaris Challenges You to "Think Outside" with its New Brand
>
Minneapolis, MN (July 28, 2019) - In 1954, two brothers and a best friend had a problem to solve. Avid outdoorsmen, the three needed a better way to travel through the deep snow of Northern Minnesota during the long winter months. Combining skilled hands and their collective ingenuity, Edgar and Allan Hetteen and David Johnson built the first Polaris snowmobile, pieced together from parts in their machine shop.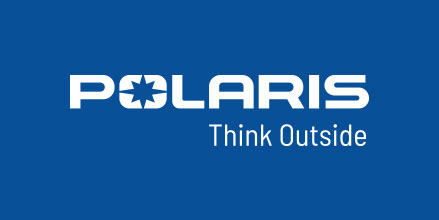 Over the next 65 years, that same ingenuity and adventurous spirit drove Polaris forward, amassing a number of industry firsts and inspired ideas along the way: a snowmobile trip across Alaska, the first automatic ATV, the first ATV with electric fuel injection, and the game-changing, industry-defining sports-recreational side-by-side. We relaunched the Indian Motorcycle brand and created a new product category with Slingshot. Today, enjoyment of the outdoors remains at the core of Polaris. In addition to snow, Polaris is helping people travel across the sand, trail, dirt, road, and water. What started with a single snowmobile has morphed into more than 30 brands across a variety of product lines, along with providing ride and drive experiences through Polaris Adventures and Indian Motorcycle Rentals.
Throughout it all, Polaris has always forged our own path, creating new ways to help people experience the outdoors to the fullest. But after decades of growth and diversification, it was time to clearly define the unifying thread that runs through all our diverse line of products, services and experiences, and tells the story behind the larger Polaris brand.
That effort produced a new Polaris brand – one that combines a historic commitment to excellence and getting people outside with a drive to deliver unique experiences and services to new audiences. The new brand features an updated corporate brand purpose, corporate name, logo and emblem, as well as a new tagline – Think Outside.
"Our founders built the first snowmobile so they could embark further into the snow-covered woods of northern Minnesota, and we have spent the last 65 years continuing to bring that pioneering approach to everything we do, from creating the first automatic ATV and sport-recreational side-by-side vehicle to introducing RIDE COMMAND and other technology solutions to assist in the adventure," said Chairman and Chief Executive Officer of Polaris Scott Wine. "Today, Polaris offers a wide range of products and services designed to help our customers experience ultimate enjoyment outside. Our evolved Polaris branding, Think Outside, articulates the unifying thread that runs across every product, experience and service we offer."
The idea behind Think Outside has always been at the core of what Polaris does, and now it's inviting more people to embrace that mindset. It's a rally cry, a call for each of us to experience nature and embrace new challenges.
"Think Outside is reflective of our pioneering approach to advance how our customers work and play outside. It highlights our unbreakable bond with the outdoors and our past, current and future focus on ingenuity. Whether you are getting out on the sand, snow, water, trails or road, Polaris is driven to help people find innovative ways to do more outside," said Wine. "The new brand tells our story in a way that connect us with our current consumers while also inviting new ones into the Polaris community. Over the next 10 years, we aim to grow our Polaris customer base by nearly 50%, both through people who currently know and enjoy powersports and by introducing new consumers to the space and all that Polaris has to offer."
Starting today, the updated logo and new tagline will appear across Polaris' advertising, websites and social channels. The logo will gradually roll out to other areas of the business including products that currently display the Polaris logo, buildings and other physical signage over the next several years.