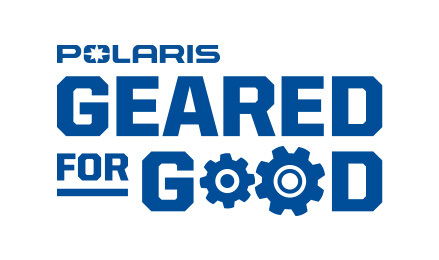 2021 Geared For Good ESG Report
>
Today, we are releasing our 2021 Geared For Good ESG Report highlighting our Geared For Good spirit and the ways in which we operate as good stewards for our industry, employees, riders, communities, and the outdoors.
At Polaris we are passionate about continually innovating way to help riders enjoy and access the outdoors. Such innovations reflect the idea of THINK OUTSIDE. THINK OUTSIDE represents our call to experience nature and embrace new adventures. It comes to life through the products and experiences we create.
Last year, Polaris introduced our refined corporate strategy, which now includes Geared For Good as one of our six strategic objectives, illustrating our focus on being good stewards for our industry, employees, riders, communities, and the outdoors.
As we continue to elevate our Geared For Good objectives, we introduced a new environmental, social and governance (ESG) framework in 2021 that features four key areas:
THINK PRODUCT
THINK PRODUCTION
THINK PLACES
THINK PEOPLE
We invite you to read our 2021 report to see how we continue moving the needle on our Geared for Good efforts. A few highlights include:
Achieving record low safety recordable incident rates across many of our facilities and continuing our COVID-19 pandemic response efforts to help protect the health and safety of our employees.
Beginning a five year, $5 million partnership with the National Forest Foundation (NFF) to provide grants and project funding to support outdoor recreation and conservation work.
Continuing our progress to build a diverse, inclusive and welcoming work environment at Polaris through our R.I.D.E. Together initiative.
Introducing the first electric vehicle from our Zero Motorcycles partnership: the all-electric RANGER XP Kinetic.
Conducting our latest employee engagement survey. After expanding the scope to include employees from integrated businesses, results revealed several key strengths and areas of opportunities that we will use as we focus on continuous opportunity.
The annual Corporate Responsibility Report provides an opportunity to look back at the accomplishments and recognize growth, innovation and success. At Polaris, we also view it as a time to look ahead, to reaffirm our overall commitment to be Geared For Good.