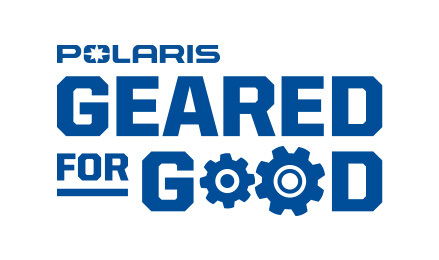 Polaris 2020 Corporate Responsibility Report
Throughout Polaris, 2020 was defined by the resiliency of our team and the employees who came together to not only keep fellow coworkers healthy and safe, but also by taking the Geared for Good spirit to heart, reaching into their communities to help.
The COVID-19 pandemic brought unprecedented challenges and change to the world. Polaris, as with all companies, transitioned to new ways of working, implemented heightened safety and cleaning procedures to protect our employees, and found new ways to support our dealers, suppliers and customers during a time of considerable uncertainty.
Our team's response represented the hallmarks of our culture – Polaris' Guiding Principles of Best People, Best Team, and Safety and Ethics Always – and showed that THINK OUTSIDE means many things to our employees as it applies to life not only within Polaris, but beyond.
We are proud to highlight both the ways we navigated COVID-19 as well as the team's incredible work to continue moving the needle on our Geared for Good efforts. We invite you to learn more about Polaris – our products, our people and our culture – in the 2020 Corporate Responsibility Report.
Below are a few highlights:
Reached two of our three environmental goals in advance of their targeted 2022 completion date – a 5% reduction in greenhouse gas emissions and a 5% improvement in energy efficiency.
Donated more than $3 million through the Polaris Foundation to efforts and organizations that support our focus areas of youth safety, community development, environment and land access and diversity, equity and inclusion.
Enhanced our commitment around diversity, equity and inclusion in our operations, our customer base and our communities.
Achieved record-low safety recordable incident rates across many of our facilities.
Issued our first-ever Sustainability Accounting Standards Board (SASB) disclosure, a common disclosure framework to help provide stakeholders with transparency on key material topics that aligns to the broader business world.
The annual Corporate Responsibility Report provides an opportunity to look back at the accomplishments and recognize growth, innovation and success. At Polaris, we also view it as a time to look ahead, to reaffirm our overall commitment to being Geared for Good.