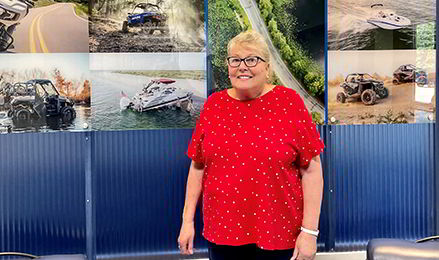 The People Behind POLARIS: Employee Spotlight Series – September 2022
Bonnie H.
>
Today, September 16, Bonnie H. celebrates 30 years of working in the Warranty department at Polaris. Her story is one that underscores the camaraderie felt among Polaris employees and the dedication with which they support Polaris dealers and customers.
Bonnie recalls that in 1992, she was in between jobs. Her husband, said to her, "Why don't you go and apply at Polaris? It's such a great company." So, she headed over to the Polaris headquarters, then located near Medicine Lake in Plymouth, Minn.
Polaris HR at that time consisted of a single person – and when Bonnie walked in to inquire about the job, the HR person said, "Oh, hi, Bonnie, I remember you from the hardware store. I think warranty might be hiring, let me go check." The HR person came back and told her they needed someone to enter the vehicle registrations that came in the warranty department. "I didn't even know how to turn on a computer!" says Bonnie with a laugh, as she remembers that she got a phone call that afternoon to start the next day.
As it turns out, not being computer savvy at that point was just fine – she learned quickly. The registrations were filled out by hand and mailed via the U.S. Postal Service into Polaris. From there, Bonnie would hand key each and every registration into the computer. "We'd receive six to eight bins of mail each day," Bonnie says of the mountain of registrations that would pour in from new Polaris vehicle owners. "In those days, when new snow units would roll out, we'd have 60,000 registrations to enter."
When it came to the warranty requests, dealers would fill out the claims and mail them in," says Bonnie. "Once they reached us, the warranty team would audit them and we'd key them in just the same."
A career path that stands the test of time.
Now, decades later, the process is done completely by computer. Bonnie has seen technology refine the registration and warranty process – but she still gets to interact with dealers regularly. "Bonnie's name is one that internal employees and dealers bring up all the time," says Bridget M., vice president, Service, who has herself worked at Polaris for 29 years. "They always ask how she's doing and always comment on how helpful and fun she has been to work with over the years."
Bonnie says that the best thing about working at Polaris is the people. "Everyone is friendly and always willing to help one another," she says. "Everyone looks out for each other." Bonnie says she considers is the education program as one of the best company benefits, as well as the profit-sharing opportunities and health benefits too.
In her 30 years at Polaris, she's also seen four CEOs at Polaris and admires each of them for the different ideas they brought to the company, "They all had different ways of doing things, and helped move the company to where it is today." A favorite company memory for Bonnie is when Polaris surpassed the $1 billion milestone.
She's watched as co-workers have been hired, gotten married, and started families. "I think of them as family," says Bonnie. "I love to get everyone's Christmas cards each year, it's really a special time."
Co-workers and friends.
Scott M. has worked alongside Bonnie for 18 years – since he started at Polaris. As warranty auditors, they cover warranty claims that come in from dealerships, handle registrations, and more. "We've always gotten along," he says, of working with Bonnie. "We've had a really good friendship through the years and we make a really good team."
"I've worked with Bonnie for nearly 30 years and I can't even begin to imagine how many people's lives she's touched in such a positive way," says Bridget, vice president, Service. "Whether it's her immediate co-workers, people she helps across the company, or the countless dealership employees she has served, Bonnie becomes everyone's favorite."
Bridget shares that Bonnie has one of those unique personalities where she really becomes everyone's second mom. "She genuinely cares for others and wants everyone to succeed," Bridget says. "She is so patient and continues to train many employees and dealers how to effective process warranty. You can tell by Bonnie's attitude and work ethic that she loves Polaris and our dealer partners."
Scott agrees. "She's kind of the 'mom' of Service," he says. "She's kind to everyone and is concerned about everyone," he says.
After 30 years, Bonnie is finally working 'part time,' which for her is still four days a week, and each day starts at 7:30 a.m. She takes Fridays off to spend more time on the golf course with her husband and says this lighter schedule allows for more time with her grandchildren. Despite that people always ask when she'll retire, she says she's just having too much fun working and has no plans to slow down.
Interested in joining Team Polaris? Check out www.polaris.com/careers for opportunities at Polaris.