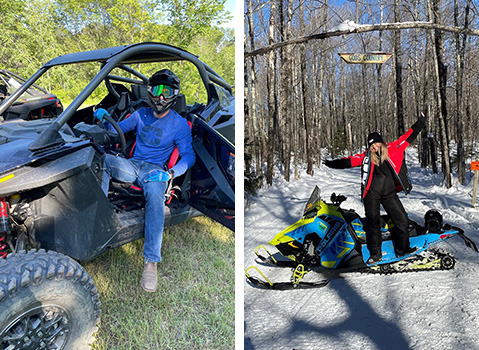 Employee Spotlight – Owners Connections Taylor A. and Sean A.
>
Polaris' Owners Connection team works directly with our customers to provide them with the best possible experience. Today we are chatting with two employees, Taylor and Sean, whose roles within Owners Connections has them interacting with our customers every day. Polaris has genuine care for its customers and people like Taylor and Sean are the ones that make sure we are giving customers ample focus.
Meet Taylor and Sean!
Polaris: You both are members of the Owners Connection team, could you give us some insight into what your roles look like here at Polaris?
Taylor: I was a contractor on the Owner Connections team until July of 2021. I then switched over to our Product Pros team which is a small group within Owner Connections. As a Product Pro, part of my role is to help customers make pre-sale decisions, as well as make sure they're happy post-purchase. We do everything from answering questions about products and accessories and running the live chat, to helping consumers decide which of Polaris' vehicles is best for them and following up on post-sale surveys.
Sean: I'm one of the supervisors on the ORV Owner Connections team. As Taylor said, we spend our days getting to connect directly with our off-road vehicle and snowmobile owners. It's cool to connect with our customers directly and see how passionate they are about their vehicles. Some of my favorite customers to talk with are the ones who just got their first Polaris machine – you can hear the excitement in their voices!
Polaris: Would you be able to tell us a little bit about the role that the Owner Connections team plays in Polaris and within the ORV team? Why is this an important part of how we function and the impact on the company as a whole?
Sean: Our team plays a big role in helping to cultivate a strong consumer experience directly with Polaris. Everybody's here to help. At the end of the day, most people you meet around here are super passionate about the powersports industry itself. That's really what makes me tick at the end of the day. We also are here to help our customers if they do run into an issue, whether it's with their product or an experience. They want to connect with someone directly and that's why we are here! We do it all, from going over products, to turning a negative experience into a positive one! Working for Polaris, I have been able to see the feedback come in from customers and then watch that feedback turn into action. We want to deliver the best customer experience and we do that by making changes when customers voice a need for them.
Taylor: While working specifically on the Product Pros team, we are what the name says: a Product Pro! We are that direct line into Polaris for a customer and being that resource when they have a question about a product is what makes us an asset. It's awesome that I can be a reason why someone might come back to Polaris or buy a new product.
Polaris: Both of you started working at Polaris within the last three years, can you talk a little about your time with Polaris?
Sean: I joined Polaris in July of 2019 on the Supply Chain team and was working through various transitions. This was quite a large-scale strategic initiative! While I started in Sourcing, I was able to move up into a career that's in a different area of business than where I started. I was looking to take on a new challenge and expand into more of a people-management role. My former boss suggested that I look into the Owners Connection team to get closer to the front end of our business. That experience made me realize how much Polaris fosters career progression and encourages the development of my aspirations.
Taylor: I would agree with Sean. In addition to working on the Product Pros team, I was presented with an opportunity to help support on a project with our ORV Marketing and Partnerships team – completely different than my current role. It is helping me to develop a whole new skill set and learn a different side of the business. A piece of advice I would give any employee would be to soak up those experiences you get here at Polaris!
Polaris: Do you have a favorite way to THINK OUTSIDE?
Sean: At the end of the day, I love being outdoors, whether it's cruising down the trails on a GENERAL, snowmobiling in the mountains, hiking, fishing, mountain biking, or being on the boat – just sign me up. If it has an engine and some wheels or a track, sounds good. And I want to have everyone experience our products and continue to cultivate that excitement around what this industry truly means.
Taylor: I love to get on our vehicles! Growing up, I raced dirt bikes and snowmobiles, which is a cool correlation to now working at Polaris. Now that I work here, it's fun to experience the new products and vehicles that we are constantly coming up with! Being in a career that requires immense product knowledge, getting out on the vehicles and learning, is what sets you apart in our role. It helps you to communicate with customers while also making you more creative and innovative.