Polaris Offers Program to Help Employees Expand Skills
At Polaris, we have fun driving change and innovation. We support passionate employees who want to work with dedicated and enthusiastic teams. As Polaris continues to grow its workforce it also works to support existing team members through career expansion programs. Staying true to Polaris' guiding principle of Best People, Best Team, our Roseau and Huntsville locations offer internal welding education programs to help provide additional opportunities and skill development.
Polaris Huntsville introduced a new employee training program in 2020, Polaris Weld School. The program was created to provide Polaris Huntsville team members hands-on training that opens doors for internal development opportunities across its manufacturing workforce.
In response to growing product demand, the facility brought on new team members, many new to manufacturing careers, looking for growth and development in the production field. McKinley James, plant director of Polaris Huntsville said, "We at Polaris Huntsville are committed to impacting the community by providing social and economic growth through means of employment. We value our partnerships with our local colleges and look forward to continuing to offer growth opportunities and skill development for employees."
"My mother has been welding for 15 years and I always wanted to become a Welder, but I thought I had to pay to go to school. I started as a contractor in an entry-level position, I worked hard, and Polaris offered to put me through Polaris Weld School," explained Destiny Logan, a 2021 graduate of the Polaris Huntsville Weld School. "At Polaris, I have seen a lot of advancement, you can get to a lot of different levels fast, which is different from other companies and what drove me to Polaris."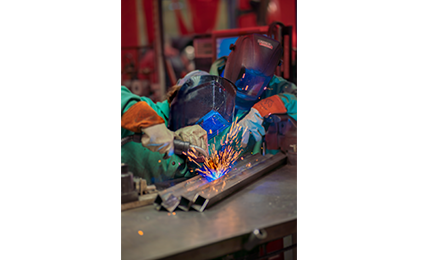 A similar program has been running at Polaris' facility in Roseau. In 2012 Polaris Roseau experienced a shortage of skilled welders and saw an opportunity to offer a career expansion program to those who were interested. Roseau's Polaris Welder Program offers weld training and certification to existing Polaris employees. Through the years this program has allowed Polaris Roseau to offer on-the-job learning and career growth.
Valerie Komplien, a graduate of the Roseau Polaris Welder Program thinks that "everyone in the weld department should take the course, even the experienced welders. The value of coaching on the right techniques, angles, settings, and understanding sound weld principles are so valuable to be successful and deliver quality to our customers. I definitely would recommend the program to others interested in learning to weld."
To date, nearly 100 employees have graduated from the weld programs offered at both Roseau and Huntsville locations. Polaris is continuously looking for ways to provide additional programs, training and offerings for career advancement opportunities for its employees across the globe.