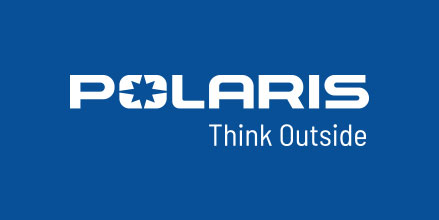 Polaris Donation of Vehicles Expands Salvation Army's Response to Disasters
Contributions of off-road vehicles empowers organization to reach communities isolated by ongoing natural disasters
Alexandria, Va. (March 4, 2021) – Over the last nine years, Polaris' contributions of nearly $1 million in off-road vehicles has enabled the Salvation Army's disaster relief effort. Whether a wildfire, earthquake, flood, hurricane, or the ongoing COVID-19 pandemic, The Salvation Army's ability to deliver emergency supplies into remote areas of need has greatly benefitted from its partnership with Polaris.
"In the last decade, we've endured everything from hurricanes and earthquakes to tornadoes and wildfires," said Commissioner Kenneth Hodder, National Commander of The Salvation Army. "Now, we're battling these natural disasters on top of a raging pandemic. We can't thank our partners like Polaris enough for the aid they provide to help immediate and long-term recovery needs. Not only does it enable us to assist communities as they rebuild during long-term recovery processes, but it also inspires hope."
Polaris' contributions have been a vital asset to the Army's disaster response teams, increasing its capacity to distribute emergency supplies and support search and rescue operations. Last year alone, Polaris contributed 17 off-road vehicles to assist in the Western and Southern Territory's response to the country's worst hurricane and wildfire seasons in recent history. Polaris' vehicles have also been an asset during long-term recovery and cleanup processes communities are often faced with after disaster strikes.
"Polaris has long supported the charitable efforts of The Salvation Army, and we are proud that our donations of off-road vehicles, generators and funds have assisted in serving affected communities," said Lucy Clark Dougherty, President, Polaris Foundation and SVP, General Counsel, "We are looking forward to continued partnership and service to disaster-stricken communities."
To date, Polaris has provided:
10 vehicles for response to Hurricane Sandy in 2012
10 vehicles for response to tornadoes in Oklahoma in 2013
11 vehicles and several pallets of Polaris Power Generators for response to tornadoes in Oklahoma in 2014
10 vehicles for disaster response in the Western United States in 2016
10 vehicles and 20 Polaris Power Generators for response to Hurricane Matthew in 2016
Nine vehicles for use at The Salvation Army's Northwood Camp in 2017
17 vehicles for response to disasters in the Western and Southern United States in 2020
10 Polaris Power Generators for response to deadly winter storms in Texas and surrounding states in 2021
On top of ongoing emergency disaster response, The Salvation Army is providing continued relief efforts amid COVID-19. Since last March, the organization has provided 225 million meals, 1.7 million additional nights of shelter, and emotional and spiritual care to almost one million people nationwide.
For more information on The Salvation Army's response to ongoing disasters and COVID-19, or to learn how you can help, visit salvationarmyusa.org.
About The Salvation Army
The Salvation Army annually helps more than 30 million Americans overcome poverty, addiction and economic hardships through a range of social services. By providing food for the hungry, emergency relief for disaster survivors, rehabilitation for those suffering from drug and alcohol abuse, and clothing and shelter for people in need, The Salvation Army is doing the most good at 7,600 centers of operation around the country. During times of disaster, 100 percent of designated donations to The Salvation Army are used for immediate response and long-term efforts. In the first-ever listing of "America's Favorite Charities" by The Chronicle of Philanthropy, The Salvation Army ranked as the country's largest privately funded, direct-service nonprofit. For more information, visit SalvationArmyUSA.org. Follow us on Twitter @SalvationArmyUS and #DoingTheMostGood.
About Polaris
As the global leader in powersports, Polaris Inc. (NYSE: PII) pioneers product breakthroughs and enriching experiences and services that have invited people to discover the joy of being outdoors since our founding in 1954. With annual 2020 sales of $7.03 billion, Polaris' high-quality product line-up includes the Polaris RANGER, RZR and GENERAL side-by-side off-road vehicles; Sportsman all-terrain off-road vehicles; Indian Motorcycle mid-size and heavyweight motorcycles; Slingshot moto-roadsters; snowmobiles; and deck, cruiser and pontoon boats, including industry-leading Bennington pontoons. Polaris enhances the riding experience with parts, garments and accessories, along with a growing aftermarket portfolio, including Transamerican Auto Parts. Polaris' presence in adjacent markets includes military and commercial off-road vehicles, quadricycles, and electric vehicles. Proudly headquartered in Minnesota, Polaris serves more than 100 countries across the globe. www.polaris.com