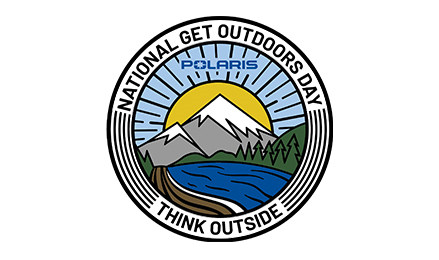 Polaris Celebrates National Get Outdoors Day 2022
A Closer Look at The Conservation Fund. Highlighting the types of projects that the Betting on a Sunny Day will benefit
Glass-like waters that reflect a cloudless sky, rugged mountain trails that showcase beauty at every turn, abundant forests with miles of trails to explore – outside, where adventures await. To enjoy the outdoors is to acknowledge the effort of the people and organizations dedicated preserving important lands for conservation, recreational use, and for the enjoyment of generations to come.
In celebration of National Get Outdoors Day on Saturday, June 11, and as part of a broader and ongoing support of the conservation of natural lands, Polaris has launched the Betting on a Sunny Day campaign. Polaris teamed up with The Weather Channel to determine 10 of the cloudiest cities in the U.S. and Polaris is betting that all 10 will see sun on June 11.
Benefitting The Conservation Fund, a nonprofit organization that has protected more than 8.7 million acres across country, the campaign encourages people to place a 'bet' that the 10 cloudiest cities in the U.S. will come up sunny on June 11. For each bet placed, Polaris will donate $2 to The Conservation Fund (up to $10,000). Additionally, The Polaris Foundation will match (up to $5,000) any Polaris employee donation made to The Conservation Fund through Polaris Gives.
The Conservation Fund works to implement conservation solutions that protect important habitats, provide public access and offer community benefits across the country, blanketing its' efforts all 50 states.
Learn more about some of The Conservation Fund's recent projects:
Minnesota's Heritage Forest — Minnesota
In 2020, The Conservation Fund acquired PotlatchDeltic's remaining acreage in Minnesota — 72,000 acres called Minnesota's Heritage Forest — to ensure these lands remain forested and are sustainably managed as working timberlands. As one of the largest land conservation acquisitions in recent state history, the purchase will protect water quality and wildlife habitat, contribute to local economies and allow recreational access.
Stateline Forest – Georgia and Alabama
This working forest of more than 10,300 acres in Haralson and Polk counties, Georgia, and in Cleburne County, Alabama, is a high priority for conservation, as it provides habitat for many rare plants, bats and aquatic species. The Conservation Fund purchased this assemblage of working timberlands through its Working Forest Fund®, a conservation initiative dedicated to mitigating climate change, strengthening rural economies and protecting natural ecosystems by the permanent conservation of at-risk forest landscapes.
In the heart of West Virginia, across the Appalachian region, communities are dealing with the transition away from coal and exploring alternatives for economic redevelopment, working directly with community members, and local, state and federal partners to demonstrate that conservation and economy support each other. The Conservation Fund purchased over 32,000 acres in Logan, Lincoln and Mingo counties in the southern part of the state to help create the state's largest, conserved block of prime habitat for elk restoration while also working towards community redevelopment.
Columbia Gorge Forest – Washington and Oregon
One of The Conservation Fund's most unique and complicated conservation projects centers around 96,000 acres of working forests in the Columbia River Gorge of Washington and Oregon. The Conservation Fund, through its affiliate Lupine Forest LLC, acquired over 35,500 acres of sensitive forestland to fundraise, develop and implement a range of permanent conservation strategies with public agencies and the Columbia Land Trust that will seek to secure public recreational access, preserve the natural, climate and community values, and create sustainable forest management.