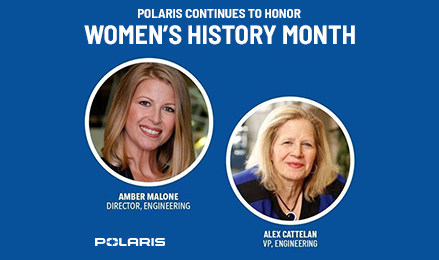 Celebrating Female Innovation & Ingenuity at Polaris: Part ll
As Women's History Month Continues, we celebrate the contributions and impact women have made at Polaris and in the Powersports industry. We spoke with two accomplished engineers at Polaris who are making their own trails and helping Polaris lead the industry into electrification leadership.
How did you get started in engineering and how did you know it's what you wanted to do?
Alex: I wanted to go into English Literature, but my mother – who wanted my sister and me to be very strong, financially independent women — convinced me to use my skills in math and science to be creative in a different way. She suggested engineering and after taking some classes in school, I never looked back.

Amber: I only discovered what engineers did because I went to work with my father for 'Take Your Daughter to Work Day' when he ran a calibration lab at Honeywell. It was my first exposure to what he did, and it was exciting to see how I could take the creative part of myself and combine it with making a difference for a team. As I grew up, I initially started work in a different field, but after having my kids, I decided I wanted to build a career and went back to school for electrical engineering. After graduating, I started at Polaris and have been here for over 13 years.
As technology and the industry are evolving, you're working on the cutting edge of new tech with electrification. What has that experience been like for you?
Alex: We're working on a lot of things that aren't just new to Polaris but are evolving at a rapid pace for everyone. As quickly as it moves, it's a balance of keeping up with what we're doing now, while also looking ahead to make sure we don't miss future opportunities. And we're competing with some big, strong companies for the talent we need to further these efforts. As a leader, it is also about focusing on recruiting and attracting the right talent in these new tech areas.

Amber: In newer tech areas, the personalities seem to be even stronger and being assertive enough to have a positive impact is even more challenging. The technology evolves so fast that you can't be the expert in all the areas, so you have to hold your own, trust what you know, ask a lot of questions, and get comfortable being uncomfortable. It's a great growth opportunity.
Just under half the labor force in the US is female, but only 11% of the Engineering workforce is female. Given this gender gap, how did you achieve your success?
Alex: Can I answer for Amber? I heard somebody once say that to be a female pilot you have to be 10 times better than your male counterpart. And when I look at Amber, I see hard work, perseverance and one of the smartest and most agile and adaptable people I know.

Amber: Alex is incredibly driven, and she is just a powerful person. She pushes and knows her capabilities and who she is. She puts it out there every day in a way that is incredibly valuable to those around her.
What advice would you give the next generation of female leaders and/or what advice would you give to women trying to break into engineering and technology?
Alex: Be yourself and trust your instincts. Know what you want and ask for it. It's advice that I would give myself if I could start over again. Ignore when people tell you you're not good enough or when they try to back you down. Ignore the people who try to make you think you need to prove yourself to them.

Amber: I would say that it is hard work and perseverance. You may have to stretch out of your comfort zone to be heard and to push for what you want in return. You need to ignore the voices telling you that you don't deserve it. Also, know that you don't have to be a superhero 24 hours a day to make this work. There will be times when you're tired of swimming against the current and that's ok, but if you have the right support network and are willing to take the downtime you need, you'll float a little while and then get back out there. You can't expect perfection out of yourself to the point that it overwhelms you.
You've mentioned the importance of support networks. What do those networks look like for you?
Alex: My network is like a trusted advisors club. It's important to me that they know my strengths but even more important that they know my weaknesses and vulnerabilities. My club is made up of people who I've worked with for years, close friends, family, people I trust and who know me well enough to know what I need to hear and how to say it to me.

Amber: I work to build a purposeful network of support, both men and women. I have formal mentorship relationships as well as less formal, trusted relationships and sounding boards. I think of it as a personal board of directors built of people that you really trust to understand you to help you assess what you want to do in situations. Those are the people that can help you stay true to yourself when your brain might be getting in the way.
What are you most proud of in your career so far?
Alex: Before I took the role at Polaris, I talked with one of my mentors and he told me "Alex, you've proven everything you need to prove in every organization you've worked in. And unless you want to, there's nothing left to prove in automotive so go have some fun." It made me realize I had made a difference and earned respect in the industry for what I'd done. Hearing that made me realize how far I'd come and all that I'd accomplished. At Polaris, I'm most proud of my team over the past year. We have done incredible things with minimal resources, and still, everyone comes to the table every day ready and willing to do their best.

Amber: One of the things I'm most proud of is the mentoring and leading of people, some of whom I've hired into the organization. It's really cool to look back at the impact you've been able to have on someone else, whether it was through helping them develop a new skill, remove obstacles, or keep them challenged and engaged in their work. I'm also really proud of the work I've done to build up our internal model-based software development capability. I didn't do it on my own, there was a team of us that built it, but I did a lot of work to clear the way and make it happen. I'm proud of the work we did and the value it brings to Polaris.