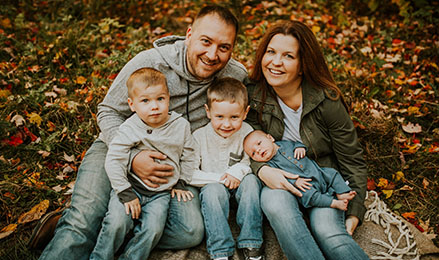 The People Behind Polaris – Spotlight on Electrification
>
The Polaris all-electric RANGER XP Kinetic is a first in the powersports industry, and the initial pre-sale to customers sold out in just two hours. This week, we announced that RANGER XP Kinetic has started production at our manufacturing facility in Huntsville, Alabama, and will start shipping to dealers for delivery to customers. We had the opportunity to meet with two of the people behind bringing in this ground-breaking vehicle to market to talk about electrification and innovation at Polaris.
Meet Kyle S., Enterprise Electrification Program Manager, and Alex M. Director of Electrification Strategy & Partnerships.
Thank you, Alex and Kyle, for taking a few minutes out of very busy schedules to talk with us. Congratulations! How are you feeling about this month's big milestone in Polaris' electrification journey – starting production of the RANGER XP Kinetic?
Kyle: As I reflect on all the learnings that we've worked through as a team and as a company to bring this product to market, it's a little humbling, but also exciting to get these vehicles out to customers. The entire project team is eager to see these units in customers' hands and performing in the wild, so to speak.


Alex: It feels great to achieve this significant milestone. I am so proud of team that has worked so hard to get us here. It's been years in the making, supported by hundreds of individuals across our global organization and the team at Zero Motorcycles. I am grateful for their commitment to creating this amazing vehicle.
Tell us a little bit about your roles at Polaris.
Alex: As director of Electrification Strategy and Partnerships at Polaris, I lead the enterprise coordination and execution of Electrification strategic activities. At the end of the day, I am helping to coordinate our multi-year electrification strategy, monitor global electrification technology and regulatory trends, and identify and cultivate key strategic partnerships that enhance our electrification ecosystem.
Kyle: Until just recently, I was the program leader for the RANGER XP Kinetic, which means I owned the project from concept selection to production. I have now taken on a new role as enterprise program manager for electrification.
In my new role, I am shifting from the day-to-day execution responsibilities at a program level to overseeing the kickoff and the finalization of the EV programs across the Off Road business. I'll be helping set up the teams and programs for future EV products, including making sure that we're on track and meeting all the deliverables for customers. I also have responsibility for EV programs as they near production, making sure we meet our milestones and deliver a good dealer and customer experience. Another aspect of my role is keeping up with market/industry trends in the EV space and understanding those impacts to our long-range product plan. As we identify benefits and challenges in the industry, I work with the team to make sure Polaris is prepared for and leveraging those changes in future programs.
Talk about your career path that led you to supporting the company's EV strategy.
Alex: I am a change agent, and I have always focused on innovation and continuous improvement. I've held various roles across different businesses in my 12 years at Polaris, including five years in PG&A [Parts, Garments & Accessories], four years in Off Road, and the past three years in corporate development. I have sought opportunities that enhance the customer experience through new business development while enhancing operational excellence. Cumulatively, those experiences allowed me to build a deep and broad understanding of Polaris.
Early on, I contributed to establishing a new PGA distribution center supporting our East Coast dealer network and championed a new SIOP system to optimize purchasing operations. Then to a product development role, where I was responsible for growing our accessory snow and slingshot product portfolios. From there, I led the business transformation program within Off Road, which focused on delivering a more compelling product experience through enhanced feature & option offerings direct from the factory.
Those experiences have ultimately helped me understand how to integrate large scale change and I am fortunate to be able to work alongside this very talented team.
Kyle: One thing that I really like about Polaris is the opportunity I've had to be involved with many different off-road programs throughout my career. I started out in the engineering development program working on snowmobiles in Roseau followed by working with the powertrain team in Monterrey, MX. I then worked in our military defense group, with a final rotation in a system engineering role developing suspension for RZR. I have had various project roles on utility side by side, military vehicles, and supported some of our safety and quality initiatives on RZR. Lastly, I led the youth programs for two years launching new products and programs in that segment.
I wanted to do something new and unique and at the time that meant leading our special vehicle program team (SVT). The first program I lead with that team was RANGER XP Kinetic, which was how I ended up with EV. Now EV has become its own segment, and I welcomed the challenge of my new enterprise EV role and am excited to see what new opportunities it brings.
What have you learned about innovation as part of the EV program, and how does that relate to the future of electrification at Polaris?
Alex: Innovation is embedded in Polaris' culture; it is who we are. It's part of that pioneering spirit the company has had all along. Electrification innovation is a highly dynamic space. Externally, it's one of the most rapidly evolving technology landscapes. And internally, it is a new technology and vocabulary for many to learn across our organization.
Yet, EV is full potential as it provides many new and unique consumer benefits and the technology completely changes the riding experience. We will continue prioritizing the overall customer experience use our customer knowledge and insights to drive our decision-making within the innovation cycles to continue creating a sustainable competitive advantage in our current markets and explore new use cases that expand into new markets.
Kyle: Everybody's working on pretty cool stuff at Polaris, but I believe that the EV space is offering up opportunity for Polaris to really flex its innovation muscles. Over the years I've seen that anytime we're faced with a significant technical challenge and come up with a solution, that typically means we have something we can patent. The more challenges we face and the more patents we generate, typically means it's an innovative program. And this program has its share of all that!
Applying our program learnings to find additional opportunities to apply electrification that are also profitable and sustainable is key. We're not thinking of electrification as a one-and-done with RANGER XP Kinetic.
What do you look for in recruiting, and what advice do you have for talent looking for opportunities to work in innovative programs at Polaris?
Kyle: In general, I would say that being in such a new and dynamic field requires a certain mindset from an applicant. You have to welcome challenge, not be afraid to ask questions, reach out to make connections across the company or across the industry. So many opportunities are available via partnerships and information sharing; you just need to be a good communicator. Opportunities are abundant at Polaris, with so many people who are working on cool ideas. Find out where there are opportunities to get involved with innovation, whether they just need somebody to do a little bit of drawing or put together a business case or whatever, be willing to go outside your technical comfort zone.
I also suggest arming yourself with any tools that you can, whether it's taking classes, reading up to understand where the industry's at, even watching YouTube videos and reading articles, that all helps too.
Alex: Innovation is fun. It's exciting. You need to be curious and energized by the potential for change. You're creating a new path or an extension of what Polaris has built our history around. But it's not a linear, finely tuned business process that falls into sequenced decision-making. Innovation comes with its own challenges. Approach it with a learning mindset and be willing to adjust your methodology.
Our focus is to push the boundaries around where Polaris and our industry can evolve. There's a lot of excitement and potential in the EV space and figuring out where electrification can take us is a priority for Polaris. There's a need for all types of capabilities – we are bolstering our team in engineering and across our organization – we're constantly saying yes to new challenges.
RANGER XP Kinetic pre-orders sold out in just two hours. Is that demand surprising? Why or why not?
Alex: I wouldn't say we were surprised by it. The strong reaction from the marketplace was exciting and validating of the team's product vision. We did a number of studies and were well-informed on why utility should be our first major application for EV. It started with understanding who the customer was – defining what they were looking for from a product and then being able to deliver that for them. In addition, the Off Road team developed a fantastic year-long marketing campaign, driving significant interest around the product. So when we opened up the order form, it was awesome to see the reaction from the consumer base.
I think the RANGER XP Kinetic is going to be one of new benchmarks in the industry as the riding experience is so unique and the because of the benefits electrification brings into this segment.
Kyle: We all were very happy to see that affirmation that we had gone in the right direction. First out of the gate, we had to decide early on what would be the best platform for EV integration. Based on that demand, choosing our utility side by side segment proved it was the right choice.
What does THINK OUTSIDE mean to you, especially as it relates to electrification in the powersports industry?
Kyle: It's about keeping an open mind and to think outside the box. Initially, I thought the technology was cool, but couldn't relate to how an electric vehicle applied to me. But as I worked through the vehicle specifications and capabilities, and started operating one, I discovered ways it improved my experience and new ideas for using it.
For example, when I go for a ride with my wife in a RANGER XP Kinetic, with helmets on in an open cab, we can easily have a conversation at 30 miles an hour without having to yell over the noise.
Another example is the accessory heater kit that allows you to be in the vehicle with the cab heater on and the vehicle "idling," with no motor noise. So you can sit in a warm vehicle all day when hunting, fishing, or doing family activities in cold weather.
We're thinking of not just immediate customer needs, but also what else customers can do with the vehicles that we haven't even thought of yet. For instance, the zero emissions of an electric vehicle might unlock opportunities to ride and experience new places that are currently not accessible because of the noise or emissions of gas-powered vehicles.
Alex: THINK OUTSIDE to me means exploration and experiences. I have ridden since I was a kid. Some of my best memories are rooted in going to new places and experiencing the thrill of powersports with my family, friends, or the broader powersports community.
The experience and community are transformed by electric technology. It expands our addressable markets and enhances our competitive advantages within existing markets. The RANGER XP Kinetic is only the start of this journey. It delivers on every facet of utility enhancements as the entire RANGER product lineup does, but electric technology unlocks another level of enjoyment for riders. Get out there and try it!